STORY HIGHLIGHTS
About 20 journalists are missing in Syria, many believed held by ISIS, the CPJ says
The brutal killing of James Foley recalls the murders of Daniel Pearl and others
ISIS links Foley's killing to U.S. airstrikes in Iraq and threatens another American captive
"I don't think the White House is going to pull back on this," a CNN security analyst says
(CNN) -- The beheading of American journalist James Foley by ISIS militants has stirred grim memories, bringing into focus once again the risks faced by reporters in modern conflicts.
Foley's death recalls the murder of Daniel Pearl, the Wall Street Journal correspondent who was kidnapped in Pakistan in 2002.
Both journalists were decapitated. Videos of their killings were then posted online by extremist groups.
In Pearl's case, it was al Qaeda. In Foley's, it was ISIS, a splinter group disowned by al Qaeda earlier this year.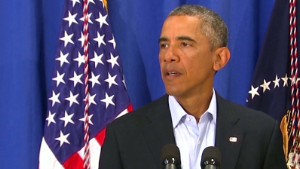 Obama: No faith teaches this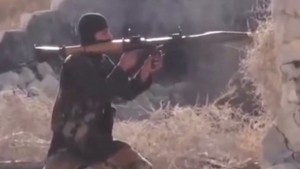 'The world's most ruthless terrorists'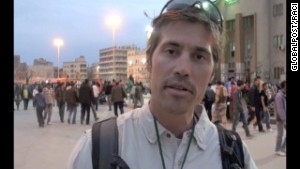 W.H. reacts to journalist's beheading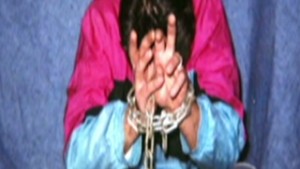 2011: Who really killed Daniel Pearl?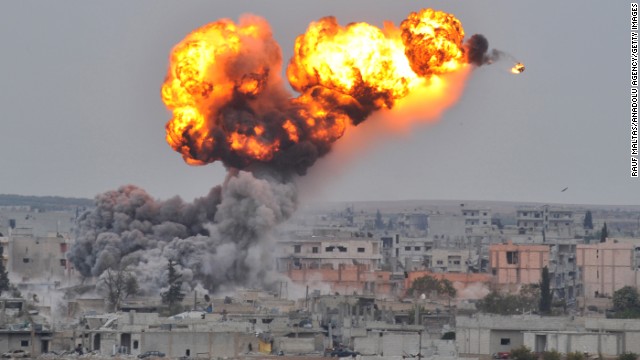 Fire and smoke rise from the Syrian city of Kobani following airstrikes against the ISIS militant group on Thursday, October 30. ISIS militants and Syrian Kurdish fighters have been battling for control of the city near the Turkish border, and the United States and several Arab nations have been bombing ISIS targets to take out the group's ability to command, train and resupply its fighters.
Iraqi special forces search a house in Jurf al-Sakhar, Iraq, on October 30 after retaking the area from ISIS. ISIS has been advancing in Iraq and Syria as it seeks to create an Islamic caliphate in the region.
Smoke rises during fighting in Kobani on Monday, October 27.
ISIS militants stand near the site of an airstrike near the Turkey-Syria border on Thursday, October 23.
An explosion rocks Kobani during a reported car-bomb attack by ISIS militants on Monday, October 20.
People watch Kobani from a hill near the Turkey-Syria border on October 20.
Kurdish fighters walk to positions as they fight ISIS forces in Kobani on Sunday, October 19.
A U.S. Air Force plane flies above Kobani on Saturday, October 18.
Heavy smoke rises in Kobani following an airstrike by the U.S.-led coalition on Saturday, October 18.
Cundi Minaz, a female Kurdish fighter, is buried in a cemetery in the southeastern Turkish town of Suruc on Tuesday, October 14. Minaz was reportedly killed during clashes with ISIS militants in nearby Kobani.
Turkish police officers secure a basketball stadium in Suruc on October 14. Some Syrian Kurds have been held there since crossing from Syria into Turkey. Tens of thousands of people have fled Kobani, known in Arabic as Ayn al-Arab, to escape ISIS.
Kiymet Ergun, a Syrian Kurd, celebrates in Mursitpinar, Turkey, after an airstrike by the U.S.-led coalition in Kobani on Monday, October 13.
Smoke rises from Kobani on Sunday, October 12.
Syrian Kurds from Kobani stand outside the grounds of a refugee camp in Suruc on Saturday, October 11.
Alleged ISIS militants stand next to an ISIS flag atop a hill in Kobani on Monday, October 6.
In this photo released by the U.S. Air Force on Saturday, October 4, a U.S. Navy jet is refueled in Iraqi airspace after conducting an airstrike against ISIS militants.
A Kurdish Peshmerga soldier who was wounded in a battle with ISIS is wheeled to the Zakho Emergency Hospital in Duhuk, Iraq, on Tuesday, September 30.
Iraqi Shiite militiamen aim their weapons during clashes with ISIS militants in Jurf al-Sakhar on Sunday, September 28.
Syrian Kurds wait near a border crossing in Suruc as they wait to return to their homes in Kobani on Sunday, September 28. Tens of thousands of people have fled Kobani, known in Arabic as Ayn al-Arab, to escape ISIS.
Syrian Kurds wait behind border fences to cross into Suruc on September 28.
Tomahawk missiles, intended for ISIS targets in Syria, fly above the Persian Gulf after being fired by the USS Philippine Sea in this image released by the U.S. Navy on Tuesday, September 23.
Turkish Kurds clash with Turkish security forces during a protest near Suruc on Monday, September 22. According to Time magazine, the protests were over Turkey's temporary decision to close the border with Syria.
Syrian Kurds fleeing ISIS militants wait behind a fence in Suruc on Sunday, September 21.
A elderly man is carried after crossing the Syria-Turkey border near Suruc on Saturday, September 20.
A Kurdish Peshmerga fighter launches mortar shells toward ISIS militants in Zumar, Iraq, on Monday, September 15.
An ISIS flag flies on the other side of a bridge at the front line of fighting between ISIS and Kurdish Peshmerga fighters in Rashad, Iraq, on Thursday, September 11.
U.S. Secretary of State John Kerry reads on a flight en route to Iraq on Wednesday, September 10. Kerry traveled to the Mideast to discuss ways to bolster the stability of the new Iraqi government and combat ISIS.
Kurdish Peshmerga fighters fire at ISIS militant positions from their position on the top of Mount Zardak, east of Mosul, Iraq, on Tuesday, September 9.
An Iraqi fighter jet flies over Amerli, Iraq, on September 3. Amerli had been under siege by ISIS militants.
Iraqi volunteer fighters celebrate breaking the Amerli siege on Monday, September 1. ISIS militants had surrounded Amerli, 70 miles north of Baquba, Iraq, since mid-June.
Kurdish Peshmerga forces stand guard at their position in the Omar Khaled village west of Mosul on Sunday, August 24.
Kurdish Peshmergas fight to regain control of the town of Celavle, in Iraq's Diyala province, on August 24.
Peshmerga fighters stand guard at Mosul Dam in northern Iraq on Thursday, August 21. With the help of U.S. military airstrikes, Kurdish and Iraqi forces retook the dam from ISIS militants on August 18. A breach of the dam would have been catastrophic for millions of Iraqis who live downstream from it.
Displaced Iraqis receive clothes from a charity at a refugee camp near Feeshkhabour, Iraq, on Tuesday, August 19.
A fighter with Kurdish Peshmerga forces battles ISIS militants near Mosul on Monday, August 18.
Peshmerga fighters inspect the remains of a car that reportedly belonged to ISIS militants and was targeted by a U.S. airstrike in the village of Baqufa, north of Mosul, on August 18.
Kurdish Peshmerga fighters fire at ISIS in Khazair, Iraq, on Thursday, August 14.
Volunteers of the Iraqi Red Crescent Society unload boxes of goods before distributing them August 14 to families who fled from ISIS.
From the flight deck of the USS George H.W. Bush, which is in the Persian Gulf, two U.S. fighter jets take off for a mission in Iraq on Monday, August 11. U.S. President Barack Obama authorized airstrikes against Islamic militants and food drops for Iraqis who are trapped by the militants.
Aziza Hamid, a 15-year-old Iraqi girl, cries for her father while she and some other Yazidi people are flown to safety Monday, August 11, after a dramatic rescue operation at Iraq's Mount Sinjar. A CNN crew was on the flight, which took diapers, milk, water and food to the site where as many as 70,000 people were trapped by ISIS. But only a few of them were able to fly back on the helicopter with the Iraqi Air Force and Kurdish Peshmerga fighters.
Thousands of Yazidis are escorted to safety by Kurdish Peshmerga forces and a People's Protection Unit in Mosul on Saturday, August 9.
Iraqi Shiite volunteers who have joined government forces to fight ISIS take part in a training session near Basra, Iraq, on Thursday, August 7.
Thousands of Yazidi and Christian people flee Mosul on Wednesday, August 6, after the latest wave of ISIS advances.
A Baiji oil refinery burns after an alleged ISIS attack in northern Selahaddin, Iraq, on Thursday, July 31.
A Syrian rebel fighter lies on a stretcher at a makeshift hospital in Douma, Syria, on Wednesday, July 9. He was reportedly injured while fighting ISIS militants.
Iraqis who fled fighting in the cities of Mosul and Tal Afar try to enter a temporary displacement camp in Khazair on Wednesday, July 2.
Peshmerga fighters check cars at the entrance of a temporary displacement camp in Khazair on Thursday, June 26.
Kurdish Peshmerga take their positions behind a wall on the front line of the conflict with ISIS militants in Tuz Khormato, Iraq, on Wednesday, June 25.
Peshmerga fighters clean their weapons at a base in Tuz Khormato on June 25.
New army recruits gather in Najaf, Iraq, on Wednesday, June 18, following a call for Iraqis to take up arms against Islamic militant fighters.
An MH-60R Sea Hawk helicopter lands on the aircraft carrier USS George H.W. Bush in the Persian Gulf on Tuesday, June 17.
Newly recruited Iraqi volunteer fighters take part in a training session in Karbala, Iraq, on June 17.
Members of ISIS prepare to execute soldiers from Iraq's security forces in this image, one of many reportedly posted by the militant group online. CNN cannot independently confirm the authenticity of the images.
Iraqi men chant slogans outside of an army recruiting center to volunteer for military service Thursday, June 12, in Baghdad.
Kurdish Peshmerga forces, along with Iraqi special forces, deploy their troops and armored vehicles outside of Kirkuk, Iraq, on June 12.
Children stand next to a burnt vehicle during clashes between Iraqi security forces and ISIS militants in Mosul on Tuesday, June 10.
Civilians from Mosul escape to a refugee camp near Irbil, Iraq, on June 10.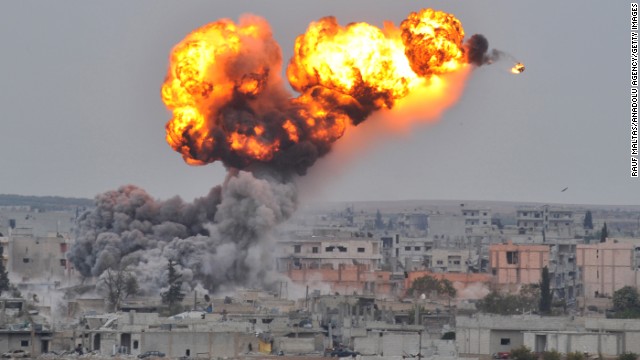 Photos: The ISIS terror threat
'I wish I had more time'
In the video posted Tuesday on YouTube, Foley is seen kneeling next to a man dressed in black. Foley reads a message, presumably scripted by his captors, that his "real killer'' is America.
"I wish I had more time. I wish I could have the hope for freedom to see my family once again," he can be heard saying in the video, which CNN is not airing.
He is then shown being beheaded.
U.S. National Security Council spokeswoman Caitlin Hayden said that intelligence agencies are "working as quickly as possible" to determine the video's authenticity.
"If genuine, we are appalled by the brutal murder of an innocent American journalist and we express our deepest condolences to his family and friends," she said.
Shock waves from Pearl murder
The 2002 murder of Pearl, only months after the September 11 attacks, provoked shock and revulsion around the world because of its brutality and the profession of its victim.
"What it demonstrates is that the business of reporting on war has changed fundamentally," the veteran war correspondent Scott Anderson wrote in the New York Times Magazine following Pearl's killing.
"The powers that be in a conflict zone no longer regard the media as a neutral observer but rather as a strategic component -- something to be manipulated or co-opted or simply got rid of," Anderson wrote.
But Pearl's murder, and the worldwide attention it received, also "catalyzed the resurgence" of the beheading of captives by Islamic militants, Timothy Furnish, a historian, wrote in a 2005 article for the Middle East Quarterly.
During the Iraq War, militants decapitated three Americans -- the businessman Nicholas Berg and construction company employees Eugene Armstrong and Jack Hensley -- as well as numerous other foreigners and countless Iraqis.
In Saudi Arabia, al Qaeda terrorists beheaded an American businessman, Paul Johnson Jr., in 2004.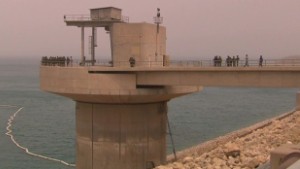 ISIS loses control of Mosul Dam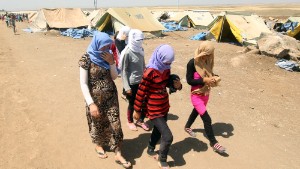 UNHCR: Iraq aid mission one of largest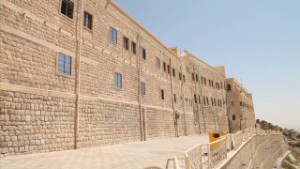 Christian village evacuates ahead of ISIS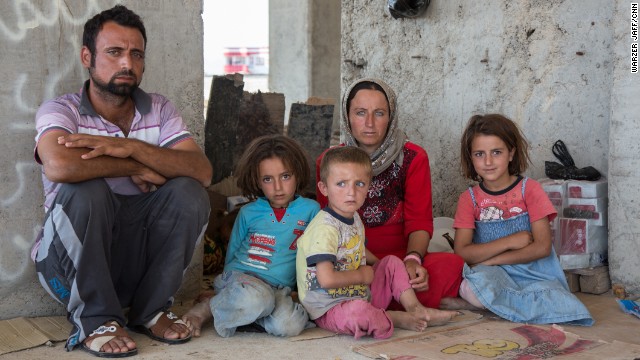 Instantly made homeless, tens of thousands of Yazidi families have sought shelter in Iraqi Kurdistan after being chased from their homes, often at gunpoint, by ISIS. Kurdish photographer Warzer Jaff spent a week documenting the exodus of the Yazidis from their ancient homeland. This portrait shows the family of former soldier Hajji Khalaf, 28, from Sinjar. With him is daughter Alisa, 3; son Ezel, 4; wife Thawra, 24; and daughter Alifa, 6.
"I am fascinated with the deep sadness in their eyes," Jaff says. "You don't see one single happy face."
A mother shows the identity card that belonged to her 20-year-old daughter Baran, who was killed by shrapnel while pulling a child to safety.
"I don't want to live with Arabs anymore. They take our land, they kidnap our woman. And they kill us, why should I live with them?" asked a 75-year-old Yazidi named Ali Khalid.
Nova Sharif, a 19-year-old high school student from Sinjar, now living in the Nawroz refugee camp in Syria.
This 6-day-old girl was born on Sinjar Mountain. Her mother might name her "Hajar," meaning migrant or as the family interpreted it, "Exile."
Baby Hafar with her mother, Nariman Barkath, 20; her husband, Khairi Khalaf, 22; and Khairi's little sister.
Dalia Jalal, 12, seen in the Nawroz refugee camp in Syria.
A rare moment of childlike innocence: "I like the bright colors and the flowers," said this girl, after eyeing the long dress.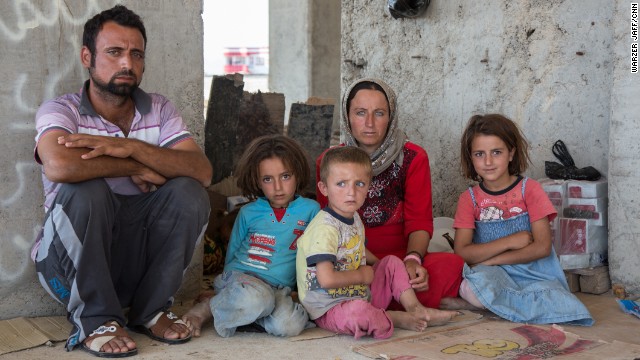 Yazidi refugees braced for life in exile
ISIS's brutality
Now, the focus is on ISIS, which has become notorious for its savage practices in Syria and Iraq, including putting victims' severed heads on poles.
The extremist group, which calls itself the Islamic State, has taken control of large areas of Syria and Iraq, bringing with it ruthless slaughter of civilians and persecution of minorities.
It has carried out executions, including beheadings, as part of its effort to establish an Islamic caliphate that stretches from Syria into Iraq. In many cases, the group has videotaped the executions and posted them online.
The ISIS threat in northern Iraq grew severe enough for the United States to step in with airstrikes to help Kurdish and Iraqi forces.
That decision apparently prompted ISIS to retaliate with the brutal killing of Foley, who disappeared in northwest Syria in November 2012.
"Our hearts go out to the family of journalist James Foley. We know the horror they are going through," said Pearl's mother, Ruth, according to a Twitter post Tuesday by the Daniel Pearl Foundation.
Message to Obama
ISIS has also threatened to kill another U.S. journalist, who appears in the video showing Foley's death. The life of the other American -- believed to be Steven Sotloff, who was kidnapped at the Syria-Iraq border last year -- depends on what U.S. President Barack Obama does next, the militant in the video suggests.
But CNN U.S. Security Analyst Bob Baer said he didn't expect the video would make the Obama administration change tack.
"I don't think the White House is going to pull back on this, even though there probably will be more executions, as promised by ISIS," said Baer, a former CIA operative. "I think this was all foreseen when we started hitting targets in Iraq."
The Committee to Protect Journalists said it estimates that approximately 20 journalists, both local and international, are missing in Syria. Many of them are believed to be held by ISIS, it said.
At least 69 other journalists have been killed covering the war in Syria, according to the committee.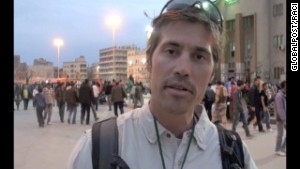 James Foley
Daniel Pearl
Among the missing is Austin Tice, an American freelance journalist who was contributing articles to The Washington Post. Tice disappeared in Syria in August 2012. There has been no word of from him since his abduction.
Some foreign journalists held captive in Syria have been released.
'Shock value'
But ISIS's decision to behead Foley and publicize it online is an ominous development.
"The purpose of terrorism is to strike fear into the hearts of opponents in order to win political concession," Furnish wrote in his 2005 article on beheadings by Islamic militants. "As the shock value wears off and the Western world becomes immunized to any particular tactic, terrorists develop new ones in order to maximize shock and the press reaction upon which they thrive."
Analysts have suggested that terrorists have used beheading previously because of its horrifying effect on the public.
Their acts have fueled debate about the significance of beheading in Islamic history and theology.
A Slate article on the subject in 2009 said that two apparent references to decapitation in the Quran "are traditionally understood as inspirations to ferocity and not literal calls for beheading."
The article also points out that decapitation has Western roots, too.
It was used for capital punishment in France, Britain and other European countries. It was also allowed in Utah in the 19th century. But it no longer exists as a punishment in the West.
In the Middle East, beheading as an execution option remains part of the criminal legal codes in Saudi Arabia, Yemen, Iran and Qatar. But only Saudi Arabia continues the practice.
But Foley's savage killing at the hands of ISIS didn't come after a trial by law.
"James was an innocent civilian who was bravely performing his job as a journalist," said Sen. Kelly Ayotte, a Republican from New Hampshire, the state where Foley grew up. "This barbaric and heinous act shocks the conscience and highlights the truly evil nature of the terrorists we confront."
READ: James Foley: A 'brave and tireless' journalist
READ: April 2014: AP journalist killed, another wounded on eve of Afghanistan elections
CNN's Chelsea J. Carter contributed to this report.