Africa's contemporary art is booming ... so buy it while you can
July 16, 2014 -- Updated 1044 GMT (1844 HKT)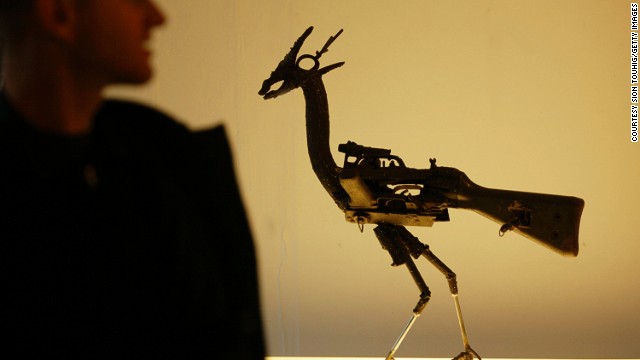 The contemporary art coming from Africa today is as varied and exhilarating as from any other place in the world, says Chibundu Onuzo. Here a creation by Mozambican Goncalo Mabunda, famous for his sculptures made of recycled AK47s.
Nigerian-born artist Sokari Douglas Camp stands with her sculpture "NO-O-WAR-R, NO-O-WAR-R" inside London's National Gallery.
Nike Davies-Okundaye, Nigeria's most famous traditional textile designer, poses at her gallery in Lagos.
Contemporary Ethiopian artist Tamrat Gezahegn poses with some of his paintings at the Netsa Art Village in Addis Ababa, Ethiopia.
Portrait of award-winning Nigerian visual artist, writer and photographer Victor Ehikhamenor
The success story of contemporary African art comes at a time when the continent's culture is on the rise, says Onuzo, as evidenced by the growing popularity of actors like Oscar-winning Lupita Nyong'o ...
... and singers like Nigerian afro-pop sensation D'Banj.
'Bird that Wants to Survive'
Contemporary African art
Nigeria's 'Mama Nike'
Alternative media
Pulsating creations
New Hollywood 'It Girl'
African entertainers
STORY HIGHLIGHTS
African contemporary art is thriving, says author Chibundu Onuzo
She says that for the first time it is moving through proper distribution channels
"There is no doubt that African culture is on the rise," says Onuzo
Editor's note: Born in Lagos, Nigeria in 1991, Chibundu Onuzo is the author of "The Spider King's Daughter" (Faber, 2012.) The novel has won a Betty Task Award and been shortlisted for the Commonwealth Book Prize. The opinions expressed in this article are solely hers.
(CNN) -- I walked into the Gallery of African Art (GAFRA) on London's Cork Street in Mayfair two weeks ago. Opposite the Burlington Arcade, right at the heart of the art establishment, on gallery row itself, African art formerly seen as a niche interest, now officially playing with the big boys. And the best thing ... GAFRA is owned and run by a woman: Liberian born Bendu Cooper.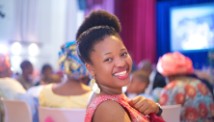 Chibundu Onuzo
Just down the road in Oxford Circus is Tiwani Contemporary, a gallery that specializes in Nigerian art, also run by a woman, this time Maria Varnava who spent her childhood in West Africa. Tiwani partners with the Centre for Contemporary Art in Lagos, again run by another woman, Bisi Silva. It would appear that women are at the vanguard of raising the profile of contemporary African art. And for those who may point out that three female curators do not a trend make, name checks to Chief Nike Okundaye, Touria El Glaoui and Rakeb Sile to list a few.
If female curators are a rarity, Africa-focused female curators are even more so. Yet the message of these women is not a gendered manifesto but a simple statement of fact: contemporary African art exists. Not only does it exist, it thrives. Not only does it thrive, it does pretty well at auctions, as the annual Bonham's 'Africa Now' auction attests to.
Read this: Dakar Biennale brings African art to world stage
Growing up, my conception of African art was limited to ivory masks and wooden sculptures. Art was what our ancestors did. African artists were dead and anonymous. A quick browse on the Wikipedia 'African art' entry does much to confirm this outmoded view. The page boasts a smiling mysterious mask from Gabon, a bellicose Ife bronze head from the 12th century and a Nok terracotta sculpture from the 6th century BC. The deader the better where the African artist is concerned it seems.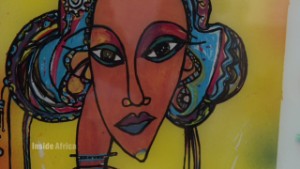 A hub for African art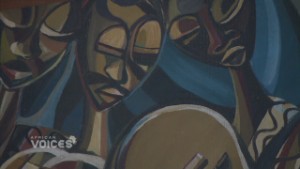 Proud Ghanaian promotes African art
Yet African art is alive. One cannot view the pulsating wall length panels of Victor Ehikhamenor, or the playful metal work of Sokari Douglas Camp and declare these pieces artifacts. Nor view the sculptures of Gonçalo Mabunda made from recycled AK47s and say these are artists working with only traditional materials. Nor listen to the acoustic art of Emeka Ogboh and say this new generation is confined to the usual mediums. The art coming from Africa today is as varied, vibrant, exhilarating and bewildering as contemporary art from anywhere in the world.
And not only is this art alive, it is for the first time, moving through proper distribution channels. No more the European treasure hunter, grabbing sacred artifacts, sacking sacred temples and carting off the spoils to institutions like the British Museum and the Louvre. Instead today, the business-like curator, the technologically savvy artist, with work cleared through customs on both ends and profits split sensibly.
This unfolding success story of contemporary African art comes at a good time for the continent. No matter what one might say of the trajectory of some African governments, there is no doubt that African culture is on the rise. First the rise of afro-pop music (D'banj, Fuse) then the rise of the African actor (Lupita N'yongo, Chiwetel Ejiofor) and now perhaps the rise of the contemporary African artist (Victor Ehikhamenor, Tamrat Gezahegn) .
To the female curators at the forefront of the movement, I salute you. And to the public, grab their works while you can.
Read this: Dakar Biennale brings African art to world stage
Read this: Why can't Nigerians watch country's biggest movie?
The opinions expressed in this commentary are solely those of Chibundu Onuzo.

Today's five most popular stories
Part of complete coverage on
African Voices
October 7, 2014 -- Updated 1151 GMT (1951 HKT)

Starting a business is never easy, but in Tanzania, the obstacles for women can be particularly fierce.
October 13, 2014 -- Updated 1253 GMT (2053 HKT)

Through a variety of exhibitions including one signed off by the artist himself, Nigeria is presenting J.D. Okhai Ojeikere to the world one last time.
September 8, 2014 -- Updated 1322 GMT (2122 HKT)

Neurosurgeon Kachinga Sichizya talks about caring for newborns and mothers from underprivileged backgrounds.
September 17, 2014 -- Updated 1508 GMT (2308 HKT)

Mulatu Astake may be the father of a musical genre: Ethio-jazz. But when he talks about the art form, he tends to focus on its scientific merits.
September 2, 2014 -- Updated 0953 GMT (1753 HKT)

Kenyan funny man Daniel "Churchill" Ndambuki chooses five emerging comics from the continent to keep an eye on -- they are going to be big!
July 16, 2014 -- Updated 1044 GMT (1844 HKT)

African contemporary art is thriving, says author Chibundu Onuzo.
September 15, 2014 -- Updated 1010 GMT (1810 HKT)

Photographer Ernest Cole made it his life mission to capture the injustice of apartheid in South Africa.
August 19, 2014 -- Updated 1239 GMT (2039 HKT)

Mulenga Kapwepwe has single-handedly created an explosion of arts in Zambia.
September 23, 2014 -- Updated 0936 GMT (1736 HKT)

In the largely male-dominated world of the motorsport, South African superbike racer Janine Davies is an anomaly.
July 18, 2014 -- Updated 1249 GMT (2049 HKT)

Adrian Steirn and the 21 ICONS team have captured intimate portraits of some of South Africa's most celebrated. Here he reveals the story behind the photographs.
July 24, 2014 -- Updated 0926 GMT (1726 HKT)

Explore a series of artistic street portraits designed to pay tribute to the people of the Sudanese capital.
August 5, 2014 -- Updated 1557 GMT (2357 HKT)

A growing list of popular African authors have been steadily picking up steam --and fans -- across the globe over the last several years.
August 29, 2014 -- Updated 1835 GMT (0235 HKT)

Artist Hendrik Gericke puts a spotlight on iconic musical legends from South Africa in these incredible monochrome illustrations.

Each week African Voices brings you inspiring and compelling profiles of Africans across the continent and around the world.