Pull up a chair with Paddington Bear: Book benches hit London
July 14, 2014 -- Updated 0553 GMT (1353 HKT)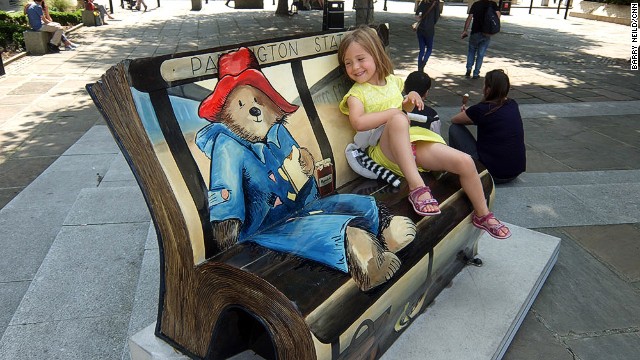 The marmalade sandwich-loving bear from Darkest Peru is celebrated in this bench on the south bank of London's Thames river.
The "Alice in Wonderland" bench near London's City Hallby was designed by surreal cartoonist Ralph Steadman.
Another children's favorite. The "How to Train your Dragon" bench can also be found close to City Hall.
Romantically-confused diarist Bridget Jones features on this book bench in Paternoster Square, in London's City financial district.
There's no obvious London connection here, but "The Cat in the Hat" and other Dr Seuss creations are perennial favorites everywhere. This bench can be found by the river, near City Hall.
Rudyard Kipling's classic jungle-based tales are pictured on this bench positioned by a crossroads in Greenwich Park, the home of London's Royal Observatory.
Visitors should leave this bench tidy if they don't wish to incur the displeasure of London's favorite nanny, Mary Poppins. This one can be found by flying down to St. Paul's Cathedral.
Jane Austen's much-loved tale of marriage and manners, "Pride and Prejudice," gets the bench treatment in Queen Square, Bloomsbury.
H.G. Wells's sci-fi masterpiece "The Time Machine" is depicted on a bench located -- appropriately -- in Greenwich, close to the Prime Meridian which defines Universal Time.
London's literary loungers: Paddington
'Alice in Wonderland'
London's literary loungers
Bridget Jones
Dr Seuss
'The Jungle Book'
Mary Poppins
'Pride and Prejudice'
'The Time Machine'
STORY HIGHLIGHTS
Fifty benches celebrating popular London-linked fiction have been scattered about London
Paddington Bear, Sherlock Holmes and Mary Poppins among literary creations celebrated by the benches
Seating trails will be in place until September after which the benches will be auctioned for charity
(CNN) -- As part of a scheme to encourage reading, 50 benches designed in the style of popular novels or kids' stories have been scattered around London.
Visitors to the city can find the book benches, which mainly celebrate London's rich literary heritage, by following a series of trails around areas with strong links to writing and writers.
Several prominent artists -- including Ralph Steadman, the surreal cartoonist and one-time sidekick of Hunter S. Thompson -- have been involved in creating benches that feature enduring characters such as Paddington Bear, Mary Poppins, Sherlock Holmes and James Bond.
The "Books about Town" trails, launched by two UK charities, the National Literacy Trust and Wild in Art, can be found in London's Bloomsbury, Greenwich, Riverside and City areas until mid-September 2014.
For those who can't get enough of literature-themed loungers, the benches will be auctioned off in October with proceeds going to help fight illiteracy.
MORE: Six ways to celebrate Shakespeare

Today's five most popular stories
Part of complete coverage on
November 24, 2014 -- Updated 0118 GMT (0918 HKT)

These quirky and beautiful subway stops make standing cheek-to-cheek with 45 strangers almost seem fun.
November 21, 2014 -- Updated 1314 GMT (2114 HKT)

Luxury vintage Land Rover tours explore Bedouin backwaters without bashing up precious dunes.
November 20, 2014 -- Updated 0250 GMT (1050 HKT)

Cities around the world have closed the brew gap, but the Oregon city's innovative scene continues to lead the beer parade.
November 19, 2014 -- Updated 2249 GMT (0649 HKT)

From gourmet hotdogs to Sevillian tapas, the food served in these London restaurants is worth lining up for.
November 20, 2014 -- Updated 1545 GMT (2345 HKT)

Plans are underway to build the world's tallest -- and quite possibly most terrifying -- roller coaster at an Orlando, Florida, theme park due to open in 2017.
November 18, 2014 -- Updated 1932 GMT (0332 HKT)

The 7th Annual Cruise Critic Editors' Picks Awards highlight the top cruise lines for North American travelers in 18 categories.
November 19, 2014 -- Updated 0206 GMT (1006 HKT)

Joining the ranks of pilgrims tackling Adam's Peak rewards with a spiritual awakening, or at least a stunning sunrise.
November 18, 2014 -- Updated 1313 GMT (2113 HKT)

Beautifully designed travel document reveals image of Northern Lights when placed under UV light.
November 18, 2014 -- Updated 0525 GMT (1325 HKT)

New concept offering luxury rooms in ancient dwellings helps spare beautiful villages from falling into ruin.
November 21, 2014 -- Updated 2247 GMT (0647 HKT)

Are you the butcher or the cattle? Tainted meat-obsessed fans are following the tracks of their favorite "Walking Dead" survivors.
November 17, 2014 -- Updated 0521 GMT (1321 HKT)

People never cease to find amazing ways to make water more incredible than it already is. Here are some powerful examples