Meet aviation's extreme collectors
May 26, 2014 -- Updated 0319 GMT (1119 HKT)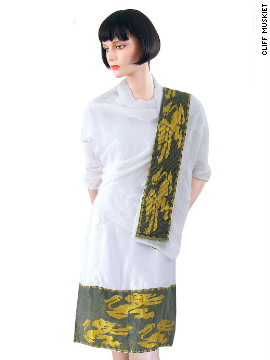 Cliff Muskiet owns 1,260 different airline uniforms from carriers around the globe. This number, modeled by his mannequin "Maria", is from Ethiopian Airlines.
Muskiet has been collecting uniforms for over 30 years. His first uniform was given to him as a child by his mother's friend, who was a stewardess. This piece is an old Air New Zealand uniform.
He's hoping to one day turn his collection (like this Bangkok Air number) into a coffee table book.
Braniff International Airways uniform.
Aviation fanatics Steve and Vicky Everson converted their home into a replica of a Boeing 737. They even had a flight simulator in the spare bedroom.
The duo are so enthralled by aviation that they even wed on the Concorde.
The couple recently opened up their collection to the public, who can take a ride in their simulator
Inside the mind of an aviation collector
Inside the mind of an aviation collector
Inside the mind of an aviation collector
Inside the mind of an aviation collector
Inside the mind of an aviation collector
Inside the mind of an aviation collector
Inside the mind of an aviation collector
STORY HIGHLIGHTS
Cliff Muskiet loves stewardess uniforms. He's collected over 1,000 over the years.
Vicky and Steve Everson bonded over their love of flight. The couple married in a retired Concorde.
The Eversons grew their collection into a museum space with flight simulator.
(CNN) -- For many travelers, jetsetting lost its glamorous allure decades ago.
Still, there are a handful of holdouts who still view flying through the lens of seductive aviation epics like "Catch Me If You Can".
For the likes of Cliff Muskiet and Vicky and Steve Everson, the charm of aviation's golden era can be resurrected through their plane-themed collections.
Muskiet, for instance, has amassed over 1,000 cabin crew uniforms, which he keeps stored at his home. His collection spans seven continents and as many decades.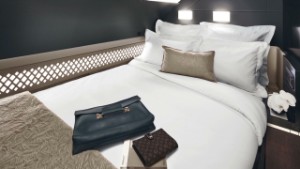 Airline offers mini-apartments in the sky
"At the moment, I want to have them with me, but eventually I would like to make a book -- maybe a coffee table book. To do that, though, I need a big bag of money," he says.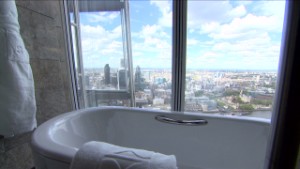 Innovative design transforms travel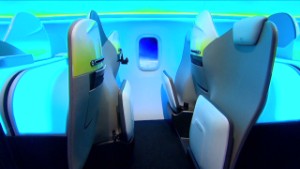 Turning cabin design inside-out
The Eversons, who wed inside a Concorde four years ago, make Muskiet's collection look tame. The couple, who met online and soon bonded over their shared love of plane paraphernalia, spent £40,000 ($67,000) converting their home in Lancashire, UK into a Boeing 737 airplane, complete with a flight simulator.
"The corridor used to be full of aircraft parts. We had to cut a door for the flight deck in the bathroom," admits Steve.
The collection grew so big that the couple eventually had to outsource it to an office space down the street. They have since started charging fellow flight fanatics for the chance to try out the simulator (they dub it the Flight Deck Experience).
"We wanted people to feel like they were boarding a real aircraft. It adds to the whole experience," says Steve.

Today's five most popular stories
November 26, 2014 -- Updated 1110 GMT (1910 HKT)

Don't surprise Germans and stick to the agenda in Japan. What international road warriors need to know.
November 14, 2014 -- Updated 0633 GMT (1433 HKT)

Eurostar, the high-speed train company connecting London with Brussels and Paris, has just upped its game.
October 20, 2014 -- Updated 1407 GMT (2207 HKT)

Japan is set to make its mark in the skies with its first new commercial jet for over 50 years, the Mitsubishi Regional Jet, aka the MRJ.
October 4, 2014 -- Updated 0516 GMT (1316 HKT)

Think hotels are deliberately blocking your personal Wi-Fi networks so you'll buy theirs?
October 31, 2014 -- Updated 1749 GMT (0149 HKT)

How would you like to trim three hours off the current commercial jet flight time between Paris and Washington, D.C.?
October 3, 2014 -- Updated 1443 GMT (2243 HKT)

It's been a big week for makeovers in the world of aviation.
August 29, 2014 -- Updated 1525 GMT (2325 HKT)

Aviation isn't known as the most eco-friendly industry; running an airline produces an incredible amount of waste. But some are doing something about it.
August 19, 2014 -- Updated 1514 GMT (2314 HKT)

Airports aren't exactly stress-free zones, but drones, tracking and virtual reality could help make them better places.
August 12, 2014 -- Updated 0906 GMT (1706 HKT)

In many ways, airplanes are a retailer's dream come true. They serve a captive -- often bored -- audience with a disposable income.
July 30, 2014 -- Updated 1835 GMT (0235 HKT)

Takeoff on one of Airbus' new A350WXB test planes is a strangely quiet experience.