Ayrton Senna: World pays tribute to a legend
May 5, 2014 -- Updated 1238 GMT (2038 HKT)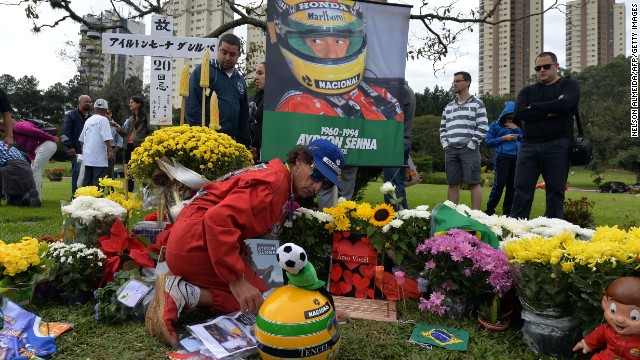 Fans have flocked to Ayrton Senna's grave in recent days to mark the 20th anniversary of the triple world champion's death. The Brazilian passed away after a crash at the Imola Circuit in 1994 during the San Marino Grand Prix.
Senna is revered in his homeland for the style and passion he displayed during his three world championship wins. He is buried in the Murumbi Cemetery in his hometown of Sao Paulo.
A monument to Senna's impact on Formula One stands at the Imola Circuit, close to where the 34-year-old fatally crashed.
The Azul Brazilian airline unveiled an aircraft which bears the iconic color scheme of Senna's racing helmet on its nose.
Senna's sister Viviane was on hand at the grand unveiling of the plane. She is the head of the Ayrton Senna Institute, which partners with major corporations to give educational opportunities to millions of children across Brazil
The day before Senna's death, Austrian driver Roland Ratzenberger also passed away following a crash. When track officials examined Senna's car following his accident, they found an Austrian flag the Brazilian had planned to unfurl in honor of Ratzenberger.
Remembering Ayrton Senna
Remembering Ayrton Senna
Remembering Ayrton Senna
Remembering Ayrton Senna
Remembering Ayrton Senna
Remembering Roland Ratzenberger
STORY HIGHLIGHTS
The 20th anniversary of the death of Ayrton Senna marked across the world
The triple world champion died following at crash at the Imola Circuit in 1994
Legends of motorsport flocked to the track to pay their respects to Senna
Austrian driver Roland Ratzenberger died the before Senna
Follow us at @WorldSportCNN and like us on Facebook<