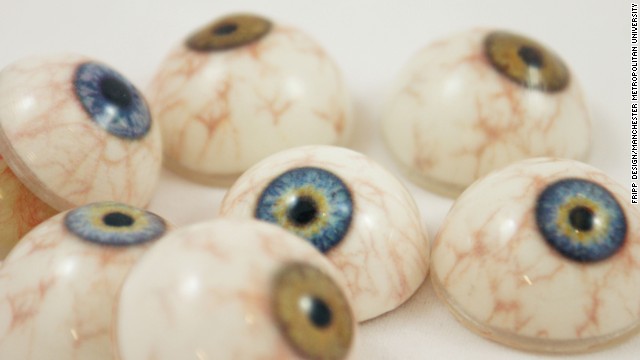 Scientists are 3-D printing body parts ranging from plastic skulls to artificial eyes. Fripp Design and Research and Manchester Metropolitan University say they are able to 3-D print up to 150 prosthetic eyes an hour.
Fripp Design is also 3-D printing prosthetic ears, made from pigments, starch powder and silicone.
Lawrence Bonassar, of Cornell University, has created ears made from living cells, grown from 3-D printed molds.
Doctors at University Medical Center Utrecht, in Holland, completely replaced a patient's skull with a 3-D printed plastic version.
Wake Forest School of medicine in the United States is developing a printer that will print skin straight onto the wounds of burn victims. Pictured, a researcher works on a prosthetic "burned" hand.
South Africa's Robohand 3-D prints cheap mechanical prosthetic hands, arms and fingers.
Robohand has collaborated with American Mike Ebeling to provide affordable printed arms to war amputees in Sudan.
Washington State University has 3-D printed structures from layers of bio-compatible calcium phosphate, including a hip stem (left) and bone scaffolds.
Printed eyes
Artificial ear
Artificial ear
Plastic skull
Printed skin
Robohand
Project Daniel
Bones
STORY HIGHLIGHTS
A company in China reportedly used 3-D printers to make 10 houses in a day
Sally Kohn: 3-D printers have potential to address problems like hunger, pollution
She says scientists are even experimenting with printing human tissues, organs
Kohn: Millions worldwide can benefit from 3-D printed houses or foods
Editor's note: Sally Kohn is a CNN political commentator, progressive activist and columnist. Follow her on Twitter @sallykohn. The opinions expressed in this commentary are solely those of the author.
(CNN) -- A company in China reportedly used giant 3-D printers to make 10 houses in one day. This leads to two obvious questions.
First, how big were those printers? The answer is: 10 meters wide by 6.6 meters high. A mixture of cement and construction waste were sprayed to build the walls layer by layer.
And second, if 3-D printers could be used to create a neighborhood of full-sized, detached single family homes in less time and money than it would conventionally take, could 3-D printers help end homelessness?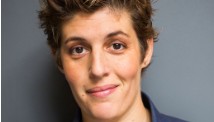 Sally Kohn
I'm not Pollyanna-ish when it comes to ending poverty. Many of the world's problems stem from decades of government policies that fostered inequality and neglect, dynamics that cannot be easily fixed by one solution.
At the same time, I'm completely obsessed with 3-D printers, probably because I don't fully understand them, so they seem like magic sent to us from the future by Captain Picard. If these printers can make even a dent in some of the world's most pressing challenges, they would be even cooler in my book.
So, what major social and economic problems might we potentially print our way out of? Here are some possibilities.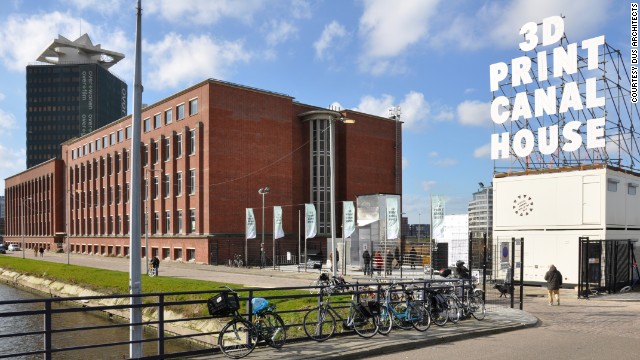 The site of the world's first 3D printed house in northern Amsterdam.
Three large building blocks have already been printed using the custom built "KamerMaker" machine. They will eventually be joined together to form a 13 room canal house.
An artists impression of what the final house will look like when completed. The entire project is expected to take three years to build.
Spaces are left in between the interior and exterior walls for electric wiring and pipes. This space will eventually be filled with concrete.
An artists impression of the interior of the DUS Architects 3D printed house.
The blocks that have been printed so far measure roughly 2.5 meters tall high and 1.7 meters wide and have attracted visitors including U.S. President, Barack Obama.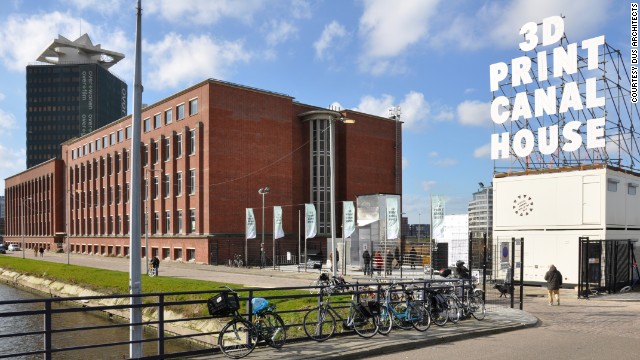 Dutch architects to build 'world's first' 3D printed house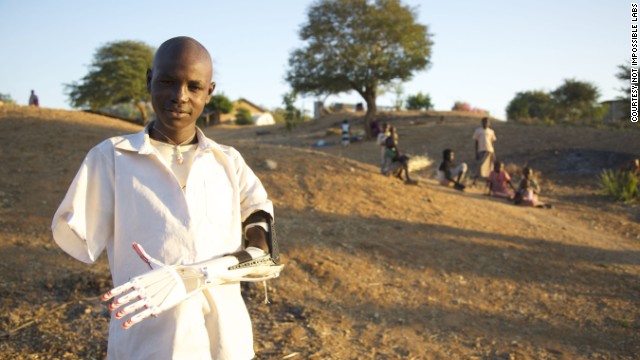 Daniel is a Sudanese boy who lost both arms when a bomb exploded a few meters from him. When American Mick Ebeling heard Daniel's story, he decided to do something to help.
Ebeling traveled to Sudan in October 2013, and used a 3-D printer to fabricate a prosthetic arm for Daniel.
The moment when Daniel used his printed arm to feed himself for the first time in two years.
To make the project sustainable, Ebeling taught locals to 3-D print, so they could make arms and hands for other amputees.
The end result: a sustainable project that could give countless amputees access to prosthetic limbs.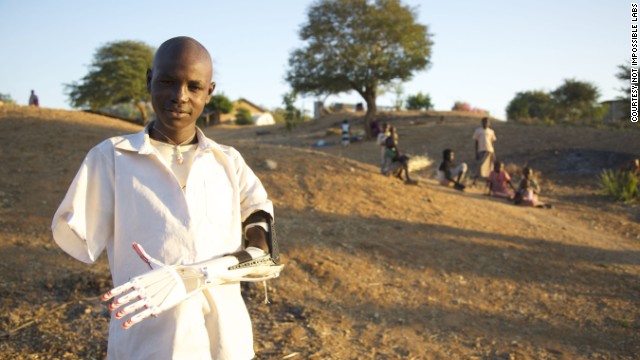 How a 3-D printed arm gave hope to boy maimed in bomb blast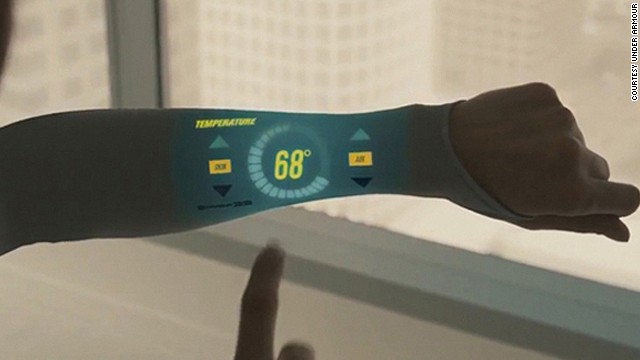 Most people feel anxious when their smartphone is out of arm's reach. But what if it was actually on your arm, woven into the very fabric of your sweater? Sportswear designers Under Armour are already on the case. They recently unveiled their touchscreen t-shirt concept, Armour39, which measures your athletic performance. It's just one recent example of how design, technology and science are coming together to form a new generation of consumer products that look set to shape the future.
Marcus Fairs, editor-in-chief of design magazine Dezeen, says that wearable technology will be a defining feature of future design. Fairs points to the likes of MC10, whose founder Professor John Rogers designed the stretchable circuit, and whose mission statement is to "extend human capabilities by making high-performance electronics virtually invisible, conformal, and wearable". The Biostamp is a digital temporary tattoo that stretches and twists seamlessly with our bodies to monitor our health.
While augmented reality devices such as Google Glass may for now be the preserve of middle-aged men from Silicon Valley, Fairs is convinced this sort of technology will be the norm in years to come. Among Google's early competitors is the Vuzix smart glasses. Vuzix M100, which won the award for "Best of Innovations" in the design and engineering category at CES 2013, sync with apps on your smartphone and display them before your eyes.
One step on from wearable technology is technology concealed inside the body altogether. In this way, Tokyo designers Takram have devised a solution to a future where drinking water is scarce. The Shenu: Hydrolemic System includes inserts for your nasal cavity to preserve water lost through breathing, a urine condenser and a radiating collar to lower body temperature and abate perspiration.
The emergence of sophisticated 3D-printing tools is also likely to shape consumer technology in unexpected ways, says Design Museum curator Deyan Sudjic. While domestic 3D printers are largely "just making combs and shoehorns" for now, Sudjic says that in the future we will be using them to manufacture much more complex devices. The CubeX Duo, which won "Best Emerging Tech" at the Consumer Electronics Show (CES) this year, is one of the more accessible 3D printers around, designed to be used at home by the average consumer.
As 3D printing advances, so too will our ability to produce accurate 3D digital models. For those of you whose skills are lacking in the digital design department, the FARO Focus3D is a high-speed laser scanner that can create three dimensional digital models of existing objects, meaning that we can produce exact measurable copies of whatever we want.
Industrial designer Ross Lovegrove says that the best future designs will be a marriage of science, health and manufacturing, the likes of which we are beginning to see with relatively low-cost and stylish health monitoring devices. Award-winning company Fitbit specializes in products to aid fitness, in particular the Fitbit Flex, a wireless-enabled wearable tracking device that measures your daily movements. Lights on the device indicate how you are stacking up against your personal goals.
Lovegrove says that the outwardly unassuming Nike Flyknit running shoes are also an indication of the shape of things to come in terms of the design thinking that went into building. "The way they are woven. They put strength and structure where it is required. There are no aglets so they only need to be constructed with one material," he says.
The Nest thermostat is another device that brings together elegant design with super-smart technology. It has the ability to remember, to learn about your lifestyle and adjust the temperature of your environment accordingly. Designed by former king of the iPod Tony Fadell, the thermostat turns down while you are away and can be controlled remotely via your smartphone. It looks cool too.
Of course the next step from learning about your lifestyle is actually feeling it. These headphones from Neurowear can read your subconscious mind. Yes, really. With a sensor that measures brainwaves they detect your mood and select music from your playlists to match it.
But the future isn't all high-tech gadgetry. Some of the best innovations will still draw heavily on technology from the past. This is modern-day clay oven won the coveted D&AD award earlier this year. Designers have given a 21st century makeover to a product whose age-old function is still the best. By inserting a porous stone disc, it acts in the same way as a traditional wood fired oven.
Another update of an ancient yet unbeatable design -- the wheel. Devised by Vitamins design, this is the first ever foldable wheelchair wheel, earning it this year's transport Design of the Year Award at London's Design Museum.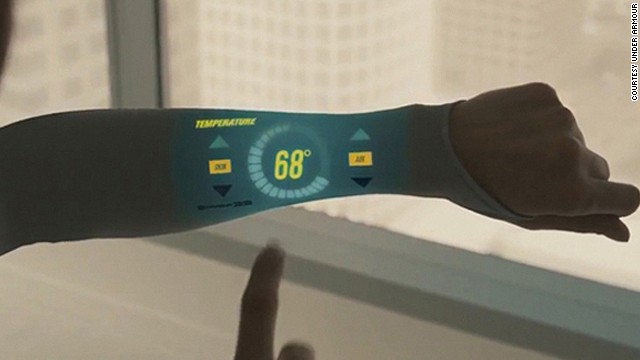 Tomorrow's world: designs that will define our future
Hunger
At South by Southwest this year, I got to eat candy that came out of a printer, courtesy of the folks at Deloitte. Last fall, writer A.J. Jacobs documented in The New York Times an entire meal he and his wife ate that was produced by 3-D printers, including pizza, pasta and dessert. While Jacobs needed the help of several companies and their Ph.D. staff to produce his meal, on Kickstarter, one startup tried to get funding for the "Foodini:" a 3-D food printer for home chefs.
For now, the technology is too expensive, and like many trends the exploration is happening more in high-end settings (3-D printed caviar, anyone?). But as the costs come down and the technology improves, could there be a 3-D printer making nutritious food in every village around the globe? Perhaps.
Homelessness
It's quite a feat for the Chinese company to build 10 homes in one day, but they're not the only innovators.
Earlier this year, Professor Behrokh Khoshnevis at the University of Southern California built a giant 3-D printer that can produce a basic house in one day. And in Amsterdam, construction has begun on what appears to be the first multistory -- and aesthetically pleasing -- 3-D printed house. Of course, homelessness is far more complex than simply a lack of housing. But the ability to create "affordable housing" even more affordably would not only help homeless people but also low-income individuals.
Disease
I understand stem cells even less than I understand 3-D printing, so I'm not going to say much here except to note that scientists are experimenting with what seems to be impossible but apparently isn't: printing human organs.
CNN.com reported on how bioprinters use an "ink" of stem cells to print 3-D shapes that can be placed into the human body, where hopefully the cells will be accepted by the existing tissues. Bioprinting has a lot of potential. In 2013, a little girl born without a windpipe got one thanks to a 3-D printer that rendered one out of the girl's own stem cells.
A foundation has created a $1 million prize to be awarded to whomever comes up with the first 3-D printed functioning liver, which would be a big deal to the 17,000 Americans waiting for liver transplants — and a huge sign of hope to millions of people worldwide with all kinds of organ needs because of diseases and conditions.
Pollution
There are many causes of climate change, one of which is pollution from industrial production. 3-D printing offers many promising alternatives to more traditionally wasteful and dirty manufacturing methods.
Rather than having to throw out entire products when one piece needs replacing ("planned obsolescence"), 3-D printing will make it easier to replace parts. Even complex products can be produced and assembled locally rather than shipped from across the continent, which would reduce the carbon footprint. (The raw materials will need to be shipped, but they take up less room.)
Money
Printing money is as illegal in three dimensions as it is in two. And while 3-D printing may never eliminate the need for money, it may change the demand for it.
Think about how the Internet reduced the cost of information or how Spotify has reduced the cost of music. Or how cell phones are prevalent all over the world. Imagine years into the future when 3-D printers are just as affordable and available as cell phones. Communities could meet their basic needs -- not just for food but everyday items -- with far less money.
Imagine a 3-D printer making plates and cups and toothbrushes and hammers and nails and much more for entire communities, to be shared or bartered for rather than purchased with cash. And for goods that are bought and sold, 3-D printing could maybe reduce costs without affecting production wages (I'm looking at you, Wal-Mart).
The possibilities are so exciting that the World Bank has considered the implications of 3-D printing for reducing poverty and sharing prosperity.
Let's hope 3-D printing will truly be as revolutionary as we hope.
Follow us on Twitter @CNNOpinion.
Join us on Facebook/CNNOpinion.