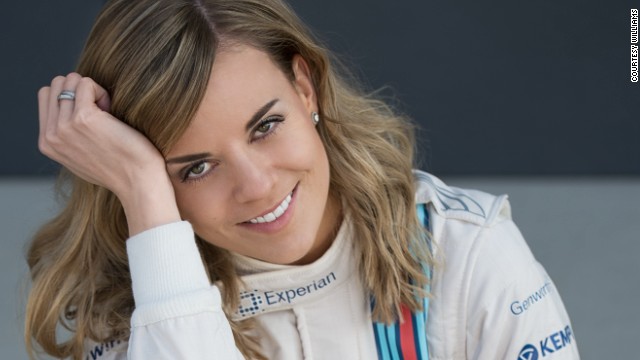 British driver
Susie Wolff
became Formula One's first female competitor in 20 years when she took part in
the first practice sessions at the British Grands Prix
. Find out more about her amazing journey to the F1 track...
Born in Scotland in 1982 as Susie Stoddart, her parents ran a motorbike shop -- and it wasn't long before she got the racing bug.
At eight years old, she and her brother got their first go-karts. It would mark the start of her life in competitive motorsport.
At 18 she was ranked 15th in the world at karting, racing against future F1 stars Lewis Hamilton, Nico Rosberg and Kimi Raikkonen.
After spells in Formula Renault and Formula 3000, she landed in DTM (German Touring Car) racing with Mercedes Benz in 2006. She finished her first race in the top 10.
In 2010, Wolff became the first female driver to score points in DTM in almost 20 years.
The 2010 season became her most fruitful so far, and she ended ahead of teammates Ralf Schumacher and David Coulthard -- both former F1 stars.
In 2010, she married Williams F1 board member Toto Wolff, who is now working for rival team Mercedes.
Wolff has described F1 as the "ultimate goal," and says she was determined to follow that dream.
Wolff signed for the Williams F1 team as a development driver in April 2012. "Sometimes in life you just need a chance. Claire and Frank (Williams) gave me that chance," she told CNN.
Her responsibilities that year involved testing the aerodynamics of the car to be driven by Pastor Maldonado and Bruno Senna, and driving the Williams race simulator.
Wolff had her first F1 test at the end of 2012 and was given an expanded role for the 2013 season.
In 2013, she was the first person to drive the team's new car.
"I was also unsure if the strain was going to be too much," she says. "But already on my first lap out of the pits I knew it was going to be manageable."