Astronomers find 'diamond engagement ring' in space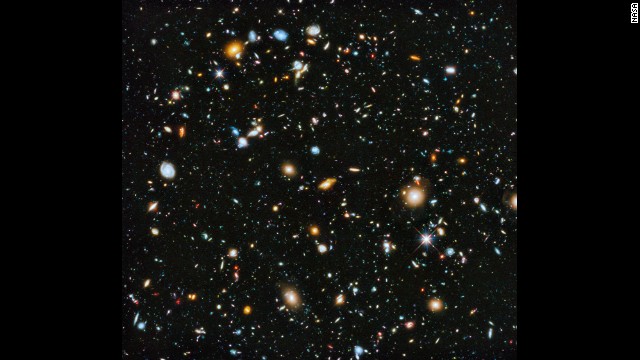 Astronomers using the Hubble Space Telescope have pieced together this picture that shows a small section of space in the southern-hemisphere constellation Fornax. Within this deep-space image are 10,000 galaxies, going back in time as far as a few hundred million years after the Big Bang. Click through to see other wonders of the universe.
Planetary nebula Abell 33 appears ring-like in this image, taken using the European Southern Observatory's Very Large Telescope. The blue bubble was created when an aging star shed its outer layers and a star in the foreground happened to align with it to create a "diamond engagement ring" effect.
deepest-ever picture taken of a cluster of galaxies. The cluster,
called Abell 2744, contains several hundred galaxies as they looked 3.5 billion years ago; the more distant galaxies appear as they did more than 12 billion years ago, not long after the Big Bang.
This long-exposure image from the Hubble Telescope is the
NASA's NuSTAR telescope array generated the first map of radioactivity in the remnants of an exploding star, or supernova. Blue in this image of Cassiopeia A represents radioactive material.
A supernova was spotted on January 21 in Messier 82, one of the nearest big galaxies. This wide view image was taken on January 22.
The M82 supernova, seen here, has been designated SN2014J because it is the 10th supernova detected in 2014. At 11.4 million light years from Earth, it is the closest Type Ia supernova recorded since systematic studies with telescopes began in the 1930s.
NASA's Nuclear Spectroscopic Telescope Array, or NuSTAR
, took this image in high-energy X-rays, shown in blue. The image was combined with images from another space telescope, the Chandra X-ray Observatory.
Is that a giant hand waving at us? Actually, it's what's left of a star that died and exploded a long time ago. Astronomers nicknamed it the "Hand of God."
The center of the galaxy is mysterious
, researchers say, because it has a double nucleus -- a supermassive black hole that may be ringed by a lopsided disc of stars, giving it the appearance of a dual core.
The Hubble Space Telescope captured this image of the Southern Pinwheel Galaxy, one of the largest and closest galaxies of its kind.
Hubble scientists say this is the best-ever view of the Tarantula Nebula, which is located in one of our closest galactic neighbors, the Large Magellanic Cloud.
moderate-sized spot is about as big as Earth
. They occur when strong magnetic fields poke through the sun's surface and let the area cool in comparison to the surrounding area.
Those spots on our sun appear small, but even a
This Hubble image looks a floating marble or a maybe a giant, disembodied eye. But it's actually a nebula with a giant star at its center. Scientists think the star used to be 20 times more massive than our sun, but it's dying and is destined to go supernova.
Wonders of the universe
Wonders of the universe
Wonders of the universe
Wonders of the universe
Wonders of the universe
Wonders of the universe
Wonders of the universe
Wonders of the universe
Wonders of the universe
Wonders of the universe
Wonders of the universe
STORY HIGHLIGHTS
Planetary nebula Abell 33 is 2,500 light-years away
It comes from a star that will become a white dwarf
The star is throwing out its atmosphere, forming the bubble
(CNN) -- Planetary nebula Abell 33 has taken on romantic proportions.
The European Southern Observatory's Very Large Telescope has captured a spectacular image of a planetary nebula aligned with a star in such a way that it looks like a diamond engagement ring.
Abell 33 came from a star that's going to become a white dwarf, which is one way that a star can evolve at the end of its life. White dwarfs are small, dense and hot, and they cool down over billions of years.
The star entering this last phase of its life blows off its atmosphere into space. This results in glowing gas clouds known as planetary nebulae, such as this one that looks like a round bubble or ring.
In the image, the original star appears in the center of the blue bubble. It is more luminous than our sun, and its ultraviolet radiation gives a glow to the ring of atmosphere that has been cast out. Scientists are not yet sure if it's actually a double star or just a chance alignment in the image.
It's not common for a planetary nebula to be as perfectly round as this one. The symmetry of a planetary nebula is usually disturbed -- for example, by the way its star spins or if there are multiple stars in the system.
As for the "diamond" in this image, it's a different star called HD 83535, which happened to align with the nebula in this image.
Abell 33 is about 2,500 light-years away, so no one will be coming near it anytime soon.
It's as if the universe liked the star and put a ring on it.
Astronomers find first asteroid with rings
Dwarf planet discovered at solar system's edge
Follow Elizabeth Landau on Twitter at @lizlandau