Airbus to cram more seats into A380 superjumbo
April 2, 2014 -- Updated 0141 GMT (0941 HKT)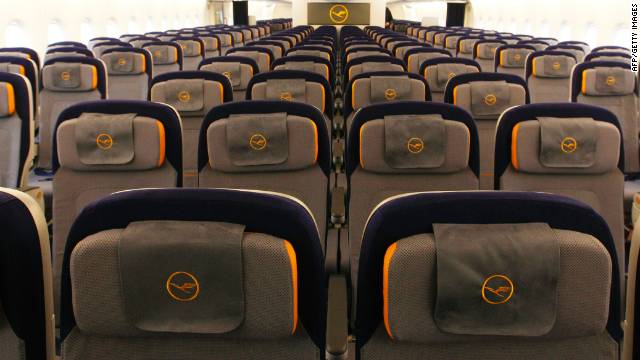 Like many other airlines, Lufthansa's Airbus A380 economy-class formation has 10 seats per row. The plane's manufacturer says that next week it will unveil a more neighborly 11-seat-row economy-class configuration.
The proposed new seating plans are unlikely to affect the A380's business-class passengers.
Airbus says the blocks of five seats could actually prove popular with families. (Because kids are so good at sharing tight spaces with their siblings for hours at a time.)
The A380 is the world's largest passenger plane, capable of carrying more than 600 passengers. Even with all extra seats filled, the plane still wouldn't be carrying its full load capacity, Airbus says.
Cozy to get cozier
Airbus knows its business
All together now
Get ready for more
STORY HIGHLIGHTS
Airbus says it will unveil new economy class seating configuration that puts 11 seats in a row of its A380 superjumbo
Extra seats will be added by partially raising the floor of the cabin to maximize fuselage width
Analyst says extra seats show economic realities have caught up with luxury plans for the huge aircraft
(CNN) -- It's already capable of carrying more passengers than any other commercial aircraft, but the Airbus A380 could be about to squeeze in a few extra.
In a move that adds a dose of economic reality to airline dreams of luxuriously pimped superjumbos, the plane's manufacturer says that next week it will unveil a new 11-seat-row economy-class configuration.
By raising the three seats next to each window a few inches to take advantage of extra fuselage space, Airbus says it will create enough room to accommodate five people in the middle of the plane.
While the prospect of spending a long haul flight stuck in the middle seat might be unappealing for passengers, Airbus says it makes sense for airline revenues.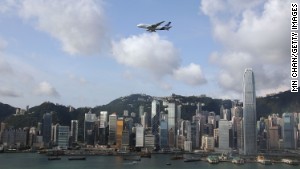 Experts say sales of the A380 have been disappointing since it was launched in 2007.
"Several customers are saying they are interested in looking at ways of making the aircraft more productive," Airbus spokesman Justin Dubon tells CNN.
Murdo Morrison, editor of Flightglobal magazine, says the new configuration indicates that financial realities are catching up with airlines, which once promised to fill their A380s with casinos and double beds.
He says sales of the European manufacturer's flagship have been disappointing since the plane was launched in October 2007.
"With the price of fuel going up so much, the focus for airlines is economizing and trying to get as many passengers as possible into an aircraft," he tells CNN.
Raised capacity
Dubon says the extra seats, which won't compromise on the existing 18-inch width of current chairs, would raise economy-class capacity by 7%.
This would mean 30 more seats in a standard cabin layout, but even when full would put the A380 well short of its maximum load capacity.
"The middle seats will be the last ones filled," he says, adding that the center seats could prove popular with families.
Airbus declined to reveal which airlines were pushing for increased capacity, but says 11-seat mockups will go on display at the Aircraft Interiors Expo in Hamburg, Germany, from April 8-10.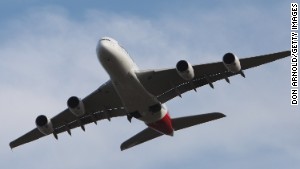 Airbus says it's been approached by airlines looking for ways to make the A380 more cost effective.
Morrison says that while few passengers will rush to claim the center seats, there will be no significant increase in discomfort.
"The drawback of any five-seat block is, if you are in the middle, you've always got two people to climb over, but you've already got that if you're in the window seat of a block of three," he says.
"Ultimately it is the airline's decision -- they have to get the balance between adding seat capacity and what the passengers will put up with.
"If you pack in too many it becomes claustrophobic and that could have a detrimental affect on the airline."

Today's five most popular stories
Part of complete coverage on
September 23, 2014 -- Updated 1007 GMT (1807 HKT)

Which cities provide the most memorable party times? A self-proclaimed "nightlife connoisseur" names his top 10.
September 22, 2014 -- Updated 0344 GMT (1144 HKT)

Whether you're looking for a post-meeting pint or a wild night out, creativity is on the menu at these hot Hong Kong venues.
September 23, 2014 -- Updated 1028 GMT (1828 HKT)

Artists and migrants are moving out as a once-crumbling neighborhood goes upscale.
September 20, 2014 -- Updated 0502 GMT (1302 HKT)

They irrigate our farms, are an important means of transport and a source of eco-friendly power.
September 19, 2014 -- Updated 0828 GMT (1628 HKT)

Open House festivals allow snooping in homes and landmarks normally closed to public
September 19, 2014 -- Updated 0422 GMT (1222 HKT)

Ancient competitions held and yurt town set up to rejuvenate nomadic cultures.
September 19, 2014 -- Updated 0102 GMT (0902 HKT)

Playful sea lions, fearless boobies and the only ocean-going lizards in the world -- these islands offer amazing experiences for naturalists and tourists alike.
September 18, 2014 -- Updated 1200 GMT (2000 HKT)

A foreign language can be the best aphrodisiac, so we traveled the world in search of the hottest accents.
September 23, 2014 -- Updated 0657 GMT (1457 HKT)

Hidden from the rest of the world for decades, Myanmar's Lethwei boxing is experiencing a revival globally.
September 17, 2014 -- Updated 1117 GMT (1917 HKT)

This aging cargo work whale makes more than 60 flights each week, carrying parts for all of the Airbus programs.
September 15, 2014 -- Updated 0026 GMT (0826 HKT)

Former brothels, public toilets and war bunkers now provide eccentric watering holes for those willing to drink deep.
September 12, 2014 -- Updated 0338 GMT (1138 HKT)

Whether filled with electric blue sulfur flames or hissing lava, these mega mountains offer incredible vistas.