'Death Then, Life Now': Intimate images capture the new Rwanda
March 21, 2014 -- Updated 1106 GMT (1906 HKT)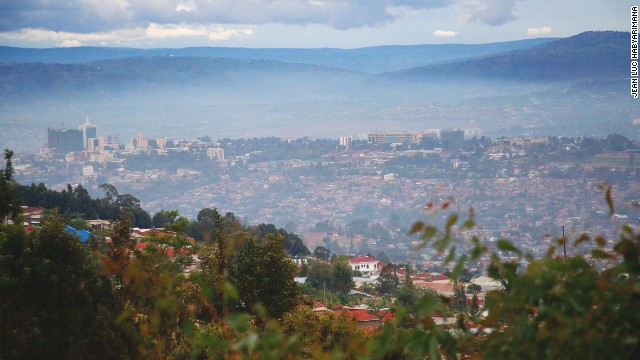 "Rwanda in Photographs: Death Then, Life Now," is a new exhibition showcasing images of daily life in today's Rwanda as seen through the eyes of local photographers.
A photograph by Jacqueline Rutagarama, a photographer and film entrepreneur whose work looks at women in business.
Fabrice Musafiri, 25, works with photography and film at the Genocide Memorial archives in Rwandan capital Kigali.
Describing himself as a street photographer, his work for the exhibition looks at life in Biryogo, a Kigali neighborhood that comes alive at night.
John Mbanda, 48, is a photojournalist working for Rwandan daily The New Times.
Painter Yves Manzi works as an artist, designer and curator for National Museums of Rwanda.
He is interested in capturing the changes in the built environment and how the traces of the past can be shown today.
Timothy Chester is a photojournalist for The New Times. His series on Kigeme Refugee Camp captures the excitement generated by the arrival of donated clothes.
Professional photographer Cyril Ndegeya is passionate about taking pictures of traffic accidents.
Jean Bizimana is a 22-year-old student in business communication. His work for the project captures daily family life, aiming to show that while progress has been made in his country, there are still people living in poverty.
Mussa Uwitonze, who grew up in an orphanage after his parents' death during the genocide, wants to use photography to promote change in the society.
George Baryamwisaki is a 38-year-old photojournalist, whose exhibition work shows survivors of the genocide with their beloved cows.
The exhibition also hosts a new series of portraits by celebrated Nigerian photographer Andrew Esiebo called "Returnees."
The series features Rwandans from all walks of life who've come back to help in the rebuilding of their country.
Jean Luc Habyarimana
Jacqueline Rutagarama
Fabrice Musafiri
Fabrice Musafiri
John Mbanda
Yves Manzi
Yves Manzi
Timothy Chester
Cyril Ndegeya
Jean Bizimana
Mussa Uwitonze
George Baryamwisaki
Andrew Esiebo
Andrew Esiebo
STORY HIGHLIGHTS
A new exhibition in London showcases the work of Rwandan photographers
It aims to challenge global perceptions about post-genocide Rwanda
The photographers question the way their country is portrayed internationally
"Rwanda in Photographs: Death Then, Life Now" runs until the end of next month
(CNN) -- Go to Google and type in Rwanda and the word genocide creeps in instantly. Do a similar search in Google Images and your screen is quickly inundated with piles of scattered hacked bodies, grisly mountains of skulls and long columns of fleeing refugees.
It's been 20 years since the devastating violence that left about one million people dead in Rwanda, but global perceptions of the tiny country in east-central Africa are often still stuck in 1994. Images of horror and ruin, as captured by the lenses of foreigners, are still circulating internationally, even though the country has come a long way since those dark days.
To address this, a new exhibition opens Friday in London, showcasing insightful snapshots of daily life in today's Rwanda as seen through the eyes of local photographers. Called "Rwanda in Photographs: Death Then, Life Now," the show aims to "communicate the complexities of survival after mass violence," organizers say, while helping international audiences to "understand the scale and scope of the country's journey."
The exhibition features arresting images by more than 10 professional and amateur photographers who back in November took part in an eight-day workshop led by the prominent Nigerian photographer Andrew Esiebo and the Kenya-based American photojournalist Brendan Bannon.
It was a platform to allow people to come together to tell their stories.
Andrew Esiebo, photographer
"We worked with the Rwandan photographers to give them the opportunity to visually tell how they see their country," explains Esiebo, whose work has been exhibited around the world. "It was a platform to allow people to come together to tell their stories," he adds.
"Often, if you see images coming from Rwanda, the majority has been taken by non-Rwandans -- this is a chance for them to question the way their country is being interpreted."
The final result is a collection of diverse images ranging from intimate portraits to eye-catching landscapes that provide an insight into the complex changes that are currently underway in Rwanda -- snapshots of the rising capital Kigali, where new buildings pop up and assertive women take a leading role in urban commercial life, are accompanied by scenes of rural life, where poverty and hardship endure.
The exhibition also features "Returnees," a series of portraits taken by Esiebo capturing Rwandans from all walks of life who've come back to help in the redevelopment of their country.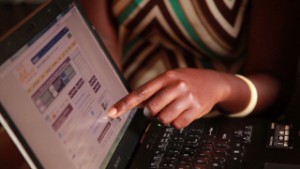 Can 'African Craigslist' turn a profit?
"The people make the country," says Esiebo, who decided to extend his stay in the landlocked country after the workshop to shoot the "Returnees" and also produce a Rwandan version of his popular series of photographs of West African barber shops.
"It was quite interesting to see young, vibrant people coming to add value to the society," he says. "It's one of the most fulfilling projects I've seen myself doing lately, especially in the frame of questioning what people see about Rwandans."
Click through the gallery above to see some of the photographs featured in the exhibition.
"Rwanda In Photographs: Death Then, Life Now" is presented by the Cultural Institute at King's at the Inigo Rooms, Somerset House East Wing, London from 21st March -- 30th April . The exhibition is open daily 12.00-18.00, and until 8pm on Thursdays. Admission is free. Find out more about it here.
READ THIS: Orphaned siblings create Rwanda's Craigslist
READ THIS: Rwanda's B-Boys - From the streets to break beats

Today's five most popular stories
Part of complete coverage on
African Voices
October 13, 2014 -- Updated 1253 GMT (2053 HKT)

Through a variety of exhibitions including one signed off by the artist himself, Nigeria is presenting J.D. Okhai Ojeikere to the world one last time.
September 8, 2014 -- Updated 1322 GMT (2122 HKT)

Neurosurgeon Kachinga Sichizya talks about caring for newborns and mothers from underprivileged backgrounds.
September 17, 2014 -- Updated 1508 GMT (2308 HKT)

Mulatu Astake may be the father of a musical genre: Ethio-jazz. But when he talks about the art form, he tends to focus on its scientific merits.
October 24, 2014 -- Updated 1212 GMT (2012 HKT)

U.S. response to Ebola is key for setting global example, writes global health advocate Idris Ayodeji Bello.
October 21, 2014 -- Updated 1222 GMT (2022 HKT)

One of the most debilitating medical conditions in sub-Saharan Africa isn't fatal. In fact, it's easily curable.
September 2, 2014 -- Updated 0953 GMT (1753 HKT)

Kenyan funny man Daniel "Churchill" Ndambuki chooses five emerging comics from the continent to keep an eye on -- they are going to be big!
July 16, 2014 -- Updated 1044 GMT (1844 HKT)

African contemporary art is thriving, says author Chibundu Onuzo.
November 3, 2014 -- Updated 1355 GMT (2155 HKT)

Amos Wekesa has seen a lot of changes in his country. Today, the self-made millionaire oversees Great Lakes Safaris, one of the largest tour operators in Uganda.
September 15, 2014 -- Updated 1010 GMT (1810 HKT)

Photographer Ernest Cole made it his life mission to capture the injustice of apartheid in South Africa.
September 23, 2014 -- Updated 0936 GMT (1736 HKT)

In the largely male-dominated world of the motorsport, South African superbike racer Janine Davies is an anomaly.
October 24, 2014 -- Updated 1019 GMT (1819 HKT)

For anyone that needs convincing that African art is the next big thing, they need look no further than 1:54, the London-based contemporary African art fair.
August 5, 2014 -- Updated 1557 GMT (2357 HKT)

A growing list of popular African authors have been steadily picking up steam --and fans -- across the globe over the last several years.
August 29, 2014 -- Updated 1835 GMT (0235 HKT)

Artist Hendrik Gericke puts a spotlight on iconic musical legends from South Africa in these incredible monochrome illustrations.

Each week African Voices brings you inspiring and compelling profiles of Africans across the continent and around the world.