World's best honeymoon spot is ...
April 16, 2014 -- Updated 0049 GMT (0849 HKT)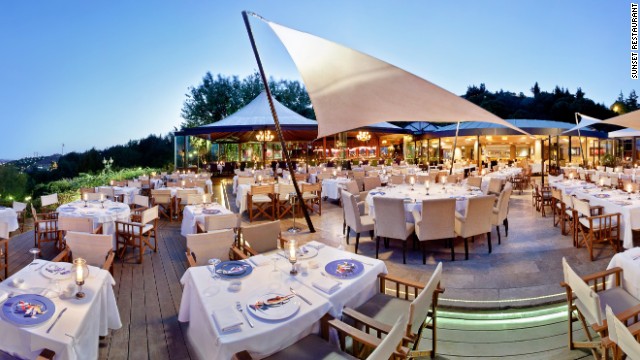 You don't need to worry about finding a romantic dinner in Turkey's largest city. Here's a selection of the
finest restaurants in Istanbul
.
Eighteen kilometers off the coast of Placencia in southern Belize, tiny Laughingbird Caye is one of the most photogenic islands in the Caribbean. But if Belize is too mainstream, here are
things Italy does best
will help you prepare.
Sunset over the medieval arch bridge Ponte Vecchio in Florence rarely disappoints visiting lovebirds. If you're planning a visit, this list of
From Santorini in "Summer Lovers" (1982) to Skopelos in "Mama Mia" (2008), Greek islands star in numerous romantic movies as well as real-life getaway fantasies. If you're not sure which to choose, our
If there were a pictographic encyclopedia of the world, this is what you'd see under the "dream honeymoon" entry -- a villa in the middle of Maldives' crystal clear water. Things could get even more spectacular, if this
10. Istanbul
9. New Zealand
8. Tahiti, French Polynesia
7. Caribbean Islands
6. Italy
5. Hawaii
4. Bali, Indonesia
3. Paris
2. Greek Islands
1. Maldives
STORY HIGHLIGHTS
Maldives won a comprehensive victory in Agoda.com survey as top honeymoon destination
Of 20 places offered for a honeymoon, Montreal was selected less than 1% of the time
Where would you want to spend a honeymoon? Vote in our Facebook poll
(CNN) -- For some it's Paris, for others Rome.
For others it gets no more exotic than the local Indian restaurant.
But where would you like to spend your honeymoon?
Or where did you spend it?
A recent survey from booking site Agoda.com revealed that 20% of 15,000 customers from around the world picked the Maldives as their "dream honeymoon location."
The survey was limited to 20 pre-selected locations, mixing cities, countries and other locales, and interviewees couldn't add their own.
We want to widen the choice to anywhere in the world and ask: where would you go for a once-in-a-lifetime, post-wedding holiday with your partner?
Click here to go to our Facebook poll, add your destination and vote.
Top honeymoon destinations according to Agoda.com
Maldives -- 20.3%
Greek Islands -- 7.8%
Paris -- 7.6%
Bali -- 7.1%
Hawaii -- 6.6%
Italy -- 6.5%
Caribbean Islands -- 5.7%
Tahiti -- 5.6%
New Zealand -- 5.2%
Istanbul -- 3.8%
Phuket -- 3.5%
Australia -- 3.4%
Prague -- 2.8%
Las Vegas -- 2.7%
New York -- 2.5%
Spain -- 2.5%
Cancun -- 2.4%
Rio de Janeiro -- 2.2%
Croatia -- 1.0%
Montreal -- 0.9%

Today's five most popular stories
Part of complete coverage on
October 28, 2014 -- Updated 0149 GMT (0949 HKT)

Luxury Action will turn your travel scripts into reality and film them. As long as you're willing to travel to this country ...
October 27, 2014 -- Updated 0913 GMT (1713 HKT)

As entertainment capital of the world, Los Angeles draws some of the best comic talent on the planet. Here's where to see it live.
October 27, 2014 -- Updated 0342 GMT (1142 HKT)

Not many people choose flights based on the quality of an airline's catering -- but those who do should check out Saveur's Culinary Travel Awards.
October 27, 2014 -- Updated 0251 GMT (1051 HKT)

On the island of rice, curry, tropical fruit and fresh seafood, eating is an honor to the taste buds.
October 23, 2014 -- Updated 1558 GMT (2358 HKT)

Sparsely populated (by humans at least), this East Africa country offers so much more than just Mt. Kilimanjaro.
October 24, 2014 -- Updated 1432 GMT (2232 HKT)

It's crowded and outdated, but Berlin's hexagon-shaped Tegel air hub has won a place in the city's heart.
October 23, 2014 -- Updated 0847 GMT (1647 HKT)

Shrine to a dead cat and a homage to fromage among Dutch capital's eccentric exhibitions.
October 22, 2014 -- Updated 0603 GMT (1403 HKT)

Slovenian Kickstarter project encourages travelers to hop on their suitcase and cruise through terminals to connecting gates.
October 20, 2014 -- Updated 1808 GMT (0208 HKT)

The guidebook asked staff, contributors and authors for well-known and lesser-known recommendations.
October 20, 2014 -- Updated 1607 GMT (0007 HKT)

An airport in Asia has stolen the crown from Manila's Ninoy Aquino, voted 'world's worst' three years in a row.