World's best honeymoon spot is ...
April 16, 2014 -- Updated 0049 GMT (0849 HKT)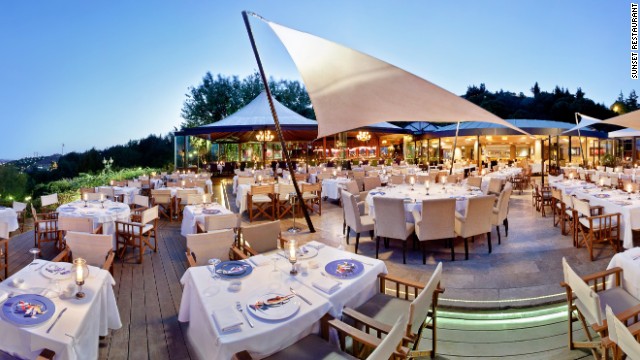 You don't need to worry about finding a romantic dinner in Turkey's largest city. Here's a selection of the
finest restaurants in Istanbul
.
Eighteen kilometers off the coast of Placencia in southern Belize, tiny Laughingbird Caye is one of the most photogenic islands in the Caribbean. But if Belize is too mainstream, here are
things Italy does best
will help you prepare.
Sunset over the medieval arch bridge Ponte Vecchio in Florence rarely disappoints visiting lovebirds. If you're planning a visit, this list of
From Santorini in "Summer Lovers" (1982) to Skopelos in "Mama Mia" (2008), Greek islands star in numerous romantic movies as well as real-life getaway fantasies. If you're not sure which to choose, our
If there were a pictographic encyclopedia of the world, this is what you'd see under the "dream honeymoon" entry -- a villa in the middle of Maldives' crystal clear water. Things could get even more spectacular, if this
10. Istanbul
9. New Zealand
8. Tahiti, French Polynesia
7. Caribbean Islands
6. Italy
5. Hawaii
4. Bali, Indonesia
3. Paris
2. Greek Islands
1. Maldives
STORY HIGHLIGHTS
Maldives won a comprehensive victory in Agoda.com survey as top honeymoon destination
Of 20 places offered for a honeymoon, Montreal was selected less than 1% of the time
Where would you want to spend a honeymoon? Vote in our Facebook poll
(CNN) -- For some it's Paris, for others Rome.
For others it gets no more exotic than the local Indian restaurant.
But where would you like to spend your honeymoon?
Or where did you spend it?
A recent survey from booking site Agoda.com revealed that 20% of 15,000 customers from around the world picked the Maldives as their "dream honeymoon location."
The survey was limited to 20 pre-selected locations, mixing cities, countries and other locales, and interviewees couldn't add their own.
We want to widen the choice to anywhere in the world and ask: where would you go for a once-in-a-lifetime, post-wedding holiday with your partner?
Click here to go to our Facebook poll, add your destination and vote.
Top honeymoon destinations according to Agoda.com
Maldives -- 20.3%
Greek Islands -- 7.8%
Paris -- 7.6%
Bali -- 7.1%
Hawaii -- 6.6%
Italy -- 6.5%
Caribbean Islands -- 5.7%
Tahiti -- 5.6%
New Zealand -- 5.2%
Istanbul -- 3.8%
Phuket -- 3.5%
Australia -- 3.4%
Prague -- 2.8%
Las Vegas -- 2.7%
New York -- 2.5%
Spain -- 2.5%
Cancun -- 2.4%
Rio de Janeiro -- 2.2%
Croatia -- 1.0%
Montreal -- 0.9%

Today's five most popular stories
Part of complete coverage on
November 24, 2014 -- Updated 0118 GMT (0918 HKT)

These quirky and beautiful subway stops make standing cheek-to-cheek with 45 strangers almost seem fun.
November 21, 2014 -- Updated 1314 GMT (2114 HKT)

Luxury vintage Land Rover tours explore Bedouin backwaters without bashing up precious dunes.
November 20, 2014 -- Updated 0250 GMT (1050 HKT)

Cities around the world have closed the brew gap, but the Oregon city's innovative scene continues to lead the beer parade.
November 19, 2014 -- Updated 2249 GMT (0649 HKT)

From gourmet hotdogs to Sevillian tapas, the food served in these London restaurants is worth lining up for.
November 20, 2014 -- Updated 1545 GMT (2345 HKT)

Plans are underway to build the world's tallest -- and quite possibly most terrifying -- roller coaster at an Orlando, Florida, theme park due to open in 2017.
November 18, 2014 -- Updated 1932 GMT (0332 HKT)

The 7th Annual Cruise Critic Editors' Picks Awards highlight the top cruise lines for North American travelers in 18 categories.
November 19, 2014 -- Updated 0206 GMT (1006 HKT)

Joining the ranks of pilgrims tackling Adam's Peak rewards with a spiritual awakening, or at least a stunning sunrise.
November 18, 2014 -- Updated 1313 GMT (2113 HKT)

Beautifully designed travel document reveals image of Northern Lights when placed under UV light.
November 18, 2014 -- Updated 0525 GMT (1325 HKT)

New concept offering luxury rooms in ancient dwellings helps spare beautiful villages from falling into ruin.
November 21, 2014 -- Updated 2247 GMT (0647 HKT)

Are you the butcher or the cattle? Tainted meat-obsessed fans are following the tracks of their favorite "Walking Dead" survivors.
November 17, 2014 -- Updated 0521 GMT (1321 HKT)

People never cease to find amazing ways to make water more incredible than it already is. Here are some powerful examples