World's best honeymoon spot is ...
April 16, 2014 -- Updated 0049 GMT (0849 HKT)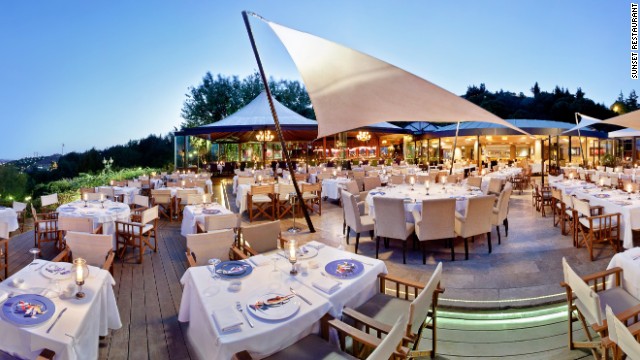 You don't need to worry about finding a romantic dinner in Turkey's largest city. Here's a selection of the
finest restaurants in Istanbul
.
Eighteen kilometers off the coast of Placencia in southern Belize, tiny Laughingbird Caye is one of the most photogenic islands in the Caribbean. But if Belize is too mainstream, here are
things Italy does best
will help you prepare.
Sunset over the medieval arch bridge Ponte Vecchio in Florence rarely disappoints visiting lovebirds. If you're planning a visit, this list of
From Santorini in "Summer Lovers" (1982) to Skopelos in "Mama Mia" (2008), Greek islands star in numerous romantic movies as well as real-life getaway fantasies. If you're not sure which to choose, our
If there were a pictographic encyclopedia of the world, this is what you'd see under the "dream honeymoon" entry -- a villa in the middle of Maldives' crystal clear water. Things could get even more spectacular, if this
10. Istanbul
9. New Zealand
8. Tahiti, French Polynesia
7. Caribbean Islands
6. Italy
5. Hawaii
4. Bali, Indonesia
3. Paris
2. Greek Islands
1. Maldives
STORY HIGHLIGHTS
Maldives won a comprehensive victory in Agoda.com survey as top honeymoon destination
Of 20 places offered for a honeymoon, Montreal was selected less than 1% of the time
Where would you want to spend a honeymoon? Vote in our Facebook poll
(CNN) -- For some it's Paris, for others Rome.
For others it gets no more exotic than the local Indian restaurant.
But where would you like to spend your honeymoon?
Or where did you spend it?
A recent survey from booking site Agoda.com revealed that 20% of 15,000 customers from around the world picked the Maldives as their "dream honeymoon location."
The survey was limited to 20 pre-selected locations, mixing cities, countries and other locales, and interviewees couldn't add their own.
We want to widen the choice to anywhere in the world and ask: where would you go for a once-in-a-lifetime, post-wedding holiday with your partner?
Click here to go to our Facebook poll, add your destination and vote.
Top honeymoon destinations according to Agoda.com
Maldives -- 20.3%
Greek Islands -- 7.8%
Paris -- 7.6%
Bali -- 7.1%
Hawaii -- 6.6%
Italy -- 6.5%
Caribbean Islands -- 5.7%
Tahiti -- 5.6%
New Zealand -- 5.2%
Istanbul -- 3.8%
Phuket -- 3.5%
Australia -- 3.4%
Prague -- 2.8%
Las Vegas -- 2.7%
New York -- 2.5%
Spain -- 2.5%
Cancun -- 2.4%
Rio de Janeiro -- 2.2%
Croatia -- 1.0%
Montreal -- 0.9%

Today's five most popular stories
Part of complete coverage on
October 13, 2014 -- Updated 0925 GMT (1725 HKT)

Based on the votes of over 330 industry experts, the 2014 winners include bars from 27 cities in 14 countries.
October 12, 2014 -- Updated 2231 GMT (0631 HKT)

Careening down an active volcano at 95 kph on a thin board? It happens only at Cerro Negro in Nicaragua.
October 10, 2014 -- Updated 1337 GMT (2137 HKT)

Tips and techniques for those who want to turn their vacation into a rewarding family history lesson.
October 9, 2014 -- Updated 1953 GMT (0353 HKT)

From savory power snacks to beloved Indian ice cream, here's how to do Delhi street food right.
October 8, 2014 -- Updated 2208 GMT (0608 HKT)

Long before our traveling friends had Facebook and Instagram to taunt us, they had postcards.
October 8, 2014 -- Updated 0625 GMT (1425 HKT)

After slurping down noodles in 1,000 stores, the "ramen guy" untangles the complex flavors of Japan's diverse dish
October 13, 2014 -- Updated 1655 GMT (0055 HKT)

Mayor of Paris says 125-year-old landmark's new attraction will prove to critics the city still has some magic.
October 10, 2014 -- Updated 0244 GMT (1044 HKT)

These days, some of the best running trails can be found in the world's busiest places.
October 7, 2014 -- Updated 0625 GMT (1425 HKT)

Midlife crisis males have nothing on Bugatti-obsessed brothers behind vast sports car collection.
October 7, 2014 -- Updated 1311 GMT (2111 HKT)

When it comes to air travel, courtesy and common sense are often the first two things to fly out the departure gates.