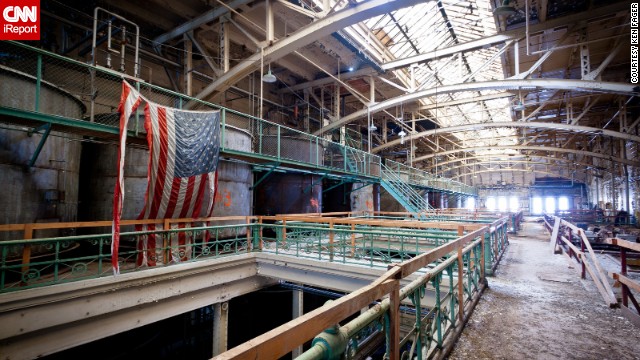 Once the largest domestic brewer of beer by volume, the Schlitz Brewery in Milwaukee ceased operations in 1982. "This is one of my favorite locations of all time," said
Ken Fager
, who visited in 2012. The building was demolished last year.
These bowling pins and ball were set for a match in the gymnasium of an abandoned Cleveland area school.
Fager spotted this Wisconsin factory five years ago, when it was still operating. After it closed, many tools and pages of inventory were left behind, including meeting minutes and other employee documents. "Even before closing, it looked old and abandoned," said Fager.
A ledger left behind at an asylum in Green Bay, Wisconsin, documents business transactions from the 1950s and '60s. Fager visited during the building's demolition last year. "The building was relatively barren and did not have much to photograph throughout. This is one of those discoveries that makes you question, 'How and why is this important record still here?' "
Nicholas Hanson
visited the abandoned Milwaukee Solvay Coke and Gas building back in March 2013. "I love documenting abandoned buildings and land. It's so interesting. It tells a story. A sad, but beautiful story of what once was," he said.
Photographer
Here is a shot of the inside of the Milwaukee Solvay Coke and Gas building in Wisconsin.
Jill Massa
visited the abandoned Grossinger's Catskill Resort Hotel in Liberty, New York, back in September 2011. "I feel like photographers like myself might like the decay of the buildings left how they once were, but unfortunately many abandoned buildings have too much graffiti because too many kids go and vandalize them. It's upsetting," she said.
Photographer
Jen Huls
explored this Steubenville, Ohio, mill in 2013 not long before it was demolished for scrap. "I'm fascinated with industrial abandonment, mostly because it shows how far America has come and how stagnant our country is as a producer of goods. It wasn't that long ago that people could make a decent living in this country making things ... I think America's abandonments say more about this countries penchant for capitalism above all else."
Bill R. Carter
visited in July. He made this picture with a high-dynamic range filter.
The hospital closed in the 1980's and is available for paranormal investigations and film making by reservation. Photographer
"I have a passion for documenting these forsaken locations, hospitals being my favorite because of the history and stories to be heard," Carter said.
"I love photographing abandoned locations that have been left in ruin," added Carter, a photographer in Fort Worth, Texas. "The textures, eroded paint, and equipment make amazing photographic art."
The Penn Hills Resort in Analomink, Pennsylvania, was once one of the most popular honeymoon destinations in the Poconos, recalling an era when carpeted walls and heart-shaped bathtubs were the rage. It closed in 2009 after the owners fell on hard times. "When the resort shut down, the owners just walked away, leaving the entire property wide open,"
A pianist himself, Dolan couldn't resist photographing and playing an old piano sitting in the hotel bar. "I attempted to play the intro to 'Backstreets' by Bruce Springsteen," Dolan said, "but the keys went down and never came back up."
Dolan photographed Hotel Sterling in Wilkes-Barre, Pennsylvania, three weeks before the 2013 demolition. Not much was left. This small corner of the hotel's once grand lobby holds a fireplace that