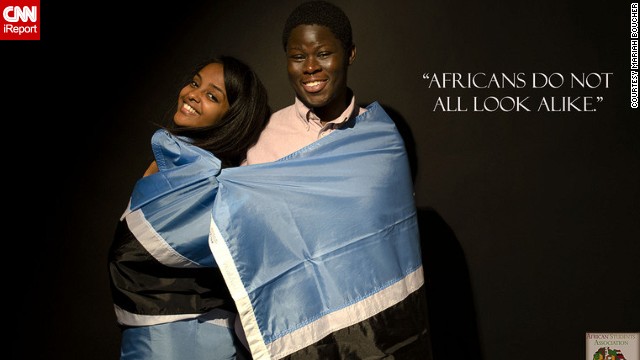 The African Students Association of Ithaca College in New York has launched a photo campaign called "The Real Africa: Fight the Stereotype."
The social media campaign wants to create awareness about the common stereotypes surrounding Africa and its people.
The students decided to launch the initiative after receiving questions such as, "Do you speak African?" or hearing remarks that described the continent as a country.
The participants, aged 18 to 21, posed with different flags from across the continent.
"What we wanted to do was embrace the individual flags of the countries of Africa," says Rita Bunatal, PR for the organization.
"We wanted to show the beauty and the power of the flag. We also wanted to break one of the biggest misconceptions about the continent, which is that Africa is a country," says Bunatal.
Each posing student used their photo as an opportunity to express a statement dispelling views they found offensive.
"It was up to them," says Bunatal. "Whatever they were tired of listening, things that they were tired of hearing, that they wanted to correct."
"We wanted to give facts, to correct, to give knowledge," says Bunatal, "trying to educate and stop people from saying these other things."
"All of the quotes are really powerful," she adds.
Students dispelling misconceptions
Students dispelling misconceptions
Students dispelling misconceptions
Students dispelling misconceptions
Students dispelling misconceptions
Students dispelling misconceptions
Students dispelling misconceptions
Students dispelling misconceptions
Students dispelling misconceptions
Students dispelling misconceptions