China builds bigger Buddhas to entice tourists
February 7, 2014 -- Updated 0712 GMT (1512 HKT)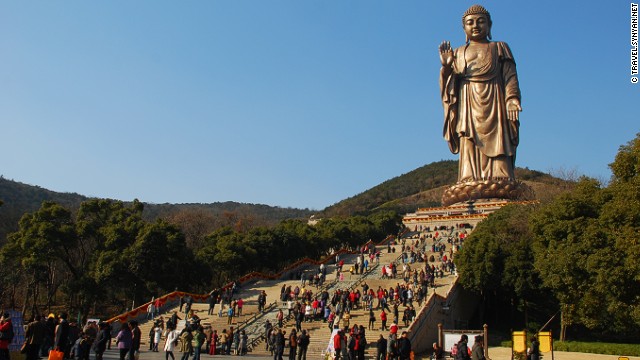 The Grand Buddha at China's Lingshan Park, Wuxi, Jiangsu province, has inspired tourism officials to build at least 10 other large Buddha statues across China. The 88-meter-tall Buddha is made of 725 tonnes of bronze sheet. The park greeted 3.8 million visitors last year, raking in more than RMB 1.2 billion ($194.4 million).
The Leshan Giant Buddha in Mount Emei is part of a UNESCO world heritage site in China's Sichuan province. The 71-meter-high sitting Buddha was carved out of a hillside around 1,200 years ago.
Spring Temple Buddha in Lushan county, Henan Province is the world's largest statue at 208 meters tall. The Buddha, which is 128 meters tall, stands on a 20-meter-high lotus, a 25-meter-high pedestal and a second 35-meter pedestal reshaped from the hill it originally stood on.
The 108-meter-tall Guanyin on Hainan Island's Sanya has three faces: one facing inland to represent the protection of China, the other two facing the South China Sea to represent blessing the world. It's the fourth largest statue in the world.
Also known as the Big Buddha, this popular Hong Kong attraction sits across from the Po Lin Monastery on Lantau Island's mountain. The figure is 26.4 meters tall with a 7.6-meter lotus throne for a total height of 34 meters.
Officially called the Phra Puttamingmongkol Akenakkiri Buddha, the marble-clad Big Buddha Phuket is 45 meters high. Its hilltop location provides a 360-degree view of the island.
Bangkok's Wat Pho temple complex is home to Thailand's biggest reclining Buddha. The statue is 15 meters high and 43 meters long.
Located in the city of Kyonan, Chiba Prefecture, Nihonji Daibatsu at Mount Nokogiri is 31 meters high. This effigy of the Buddha of Healing was carved out the mountain in the 1780s.
Bodhi Tataung consists of two Buddhas in Monywa, Sagaing Region. Laykyun Setkyar Standing Buddha is a total of 129 meters tall. The 95-meter-long reclining Buddha nearby houses a temple, which has an entrance in the statue's rear end.
The big Buddha bandwagon
Leshan Giant Buddha, China
Spring Temple Buddha, China
Guanyin of the South Sea of Sanya, China
Tian Tan Buddha, Hong Kong
Big Buddha Phuket, Thailand
Reclining Buddha, Thailand
Nihonji Daibatsu, Japan
Bodhi Tataung, Myanmar
STORY HIGHLIGHTS
Construction of more than 10 Buddha statues are planned in China this year
China's Spring Temple Buddha is the world's tallest statue at a total of 208 meters high
Leshan Giant Buddha is over 1,200 years old and part of a UNESCO World Heritage Site
(CNN) -- Travelers who get kicks out of posing with huge Buddha statues have 10 more reasons to head to China this year.
The company responsible for Hong Kong's 34-meter-tall Tian Tan Buddha and Hainan's 108-meter-tall Guanyin of the South Sea of Sanya statue plans to throw up 10 more huge Buddha replicas during 2014, according to the Chinese magazine New Weekly (Chinese only).
The new builds have been inspired by the success, and profits, at Lingshan Park in Wuxi, Jiangsu province, which features an 88-meter-tall Buddha statue also built by Aerosun Corporation, and drew 3.8 million visitors last year.
The statue helped earn the park more than RMB 1.2 billion ($194 million) in 2013 according to the South China Morning Post.
Tourism excellence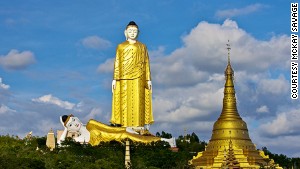 Spiritual and profitable.
Of the 408 visitors who reviewed the park on Tripadvisor.com, 205 people rated the attraction as "excellent."
"Lingshan tourist center is a great afternoon out, sure there is a lot of captive marketing but after spending that amount of money on such a beautiful place they deserve to make a few RMB out of us," wrote KeefieG from East London, South Africa in November.
Mr Xie X from Dobbstown was more skeptical: "This is a tourist trap if I ever saw one. I mean really, over two hundred RMB to see a statue? And not even any historical relevance," he wrote in his review.
Other big Buddhas
The world's tallest Buddha is also the world's largest statue -- China's Spring Temple Buddha in Lushan County, Henan Province totals 208 meters from the base of its pedestal to the top of its head.
The world's largest stone Buddha -- the 71-meter-high Leshan Giant Buddha -- can be found in Mount Emei Scenic Area, a UNESCO World Heritage Site in China's Sichuan Province.
It was carved out of a hillside more than 1,200 year ago.
Hong Kong's Tian Tan Buddha is a relatively diminutive 34 meters tall. Its total height would barely reach the Spring Temple Buddha's knees.
Nevertheless, the Hong Kong tourism board estimates more than one million people visit the Buddha each year, many of whom get there via the 20-minute Ngong Ping cable car ride.

Today's five most popular stories
Part of complete coverage on
November 24, 2014 -- Updated 0118 GMT (0918 HKT)

These quirky and beautiful subway stops make standing cheek-to-cheek with 45 strangers almost seem fun.
November 21, 2014 -- Updated 1314 GMT (2114 HKT)

Luxury vintage Land Rover tours explore Bedouin backwaters without bashing up precious dunes.
November 20, 2014 -- Updated 0250 GMT (1050 HKT)

Cities around the world have closed the brew gap, but the Oregon city's innovative scene continues to lead the beer parade.
November 19, 2014 -- Updated 2249 GMT (0649 HKT)

From gourmet hotdogs to Sevillian tapas, the food served in these London restaurants is worth lining up for.
November 20, 2014 -- Updated 1545 GMT (2345 HKT)

Plans are underway to build the world's tallest -- and quite possibly most terrifying -- roller coaster at an Orlando, Florida, theme park due to open in 2017.
November 18, 2014 -- Updated 1932 GMT (0332 HKT)

The 7th Annual Cruise Critic Editors' Picks Awards highlight the top cruise lines for North American travelers in 18 categories.
November 19, 2014 -- Updated 0206 GMT (1006 HKT)

Joining the ranks of pilgrims tackling Adam's Peak rewards with a spiritual awakening, or at least a stunning sunrise.
November 18, 2014 -- Updated 1313 GMT (2113 HKT)

Beautifully designed travel document reveals image of Northern Lights when placed under UV light.
November 18, 2014 -- Updated 0525 GMT (1325 HKT)

New concept offering luxury rooms in ancient dwellings helps spare beautiful villages from falling into ruin.
November 21, 2014 -- Updated 2247 GMT (0647 HKT)

Are you the butcher or the cattle? Tainted meat-obsessed fans are following the tracks of their favorite "Walking Dead" survivors.
November 17, 2014 -- Updated 0521 GMT (1321 HKT)

People never cease to find amazing ways to make water more incredible than it already is. Here are some powerful examples