Billie Jean King to Russia's LGBT community: You are not alone
January 28, 2014 -- Updated 1137 GMT (1937 HKT)
STORY HIGHLIGHTS
King is one of several gay members of the U.S. Presidential Delegation to Sochi
King says Obama's nomination of several gay athletes to the delegation sends a message
King says she is concerned with treatment of LGBT community in Russia
King: This is not only a gay rights issue but a human rights issue
Editor's note: Billie Jean King is a 2009 recipient of the Presidential Medal of Freedom, the highest U.S. civilian honor, and is a member of the U.S. presidential delegation to the Sochi Olympics. King is a former number one professional tennis player who won 39 Grand Slam titles and was the founder of the Women's Tennis Association, the Women's Sports Foundation and co-founder of World TeamTennis. The opinions expressed here are solely hers.
(CNN) -- Over the last few weeks there has been a great deal of media attention given to the members of the United States' presidential delegation to the Sochi Olympics. Yes, it does include people, like myself, who are openly gay and it also includes delegates who are openly straight. The important part here is the delegation is inclusive and it is representative of the face of America.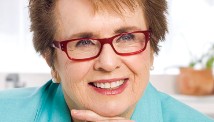 Billie Jean King
Delegate members Brian Boitano, Caitlin Cahow, Eric Heiden and Bonnie Blair are world-class athletes, Olympians who have all won medals when they represented our nation in Olympic competition. Janet Napolitano, William Burns, Ambassador Michael McFaul and Robert Nabors are respected leaders on the world stage. The delegation is an impressive collection of athletes and world leaders and it just so happens some of us are gay.
Our real role in going to Sochi is not to demonstrate or disrupt the Olympics, but to support the men and women of Team USA. I have been traveling to Russia since 1962 and I have complete respect for the Russian people. It is a privilege to be asked to be part of the Presidential Delegation and a personal thrill to be able to watch our Olympic team compete in Sochi.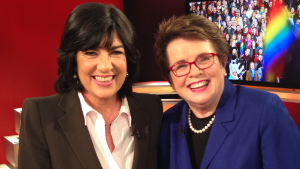 King to gay Russians: You are not alone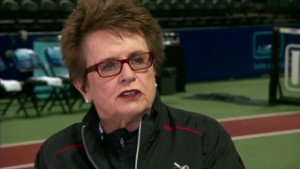 Billie Jean King on "my calling"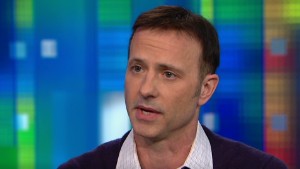 Boitano on being openly gay at Sochi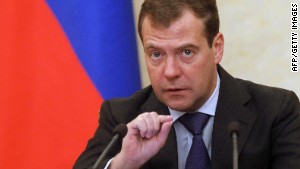 EXCLUSIVE: Medvedev on gay rights
READ MORE: What one gay Russian model thinks of law
Is our nation making a statement on Russia's anti-gay propaganda law by sending gay men and women to represent us in Sochi? Perhaps we are. As Brian Boitano said in a recent interview, "I think the statement is already being made by us being on the delegation — Billie Jean and Caitlin — and us standing together, united as gay people showing that there is freedom of speech and we are successful human beings and athletes. I think that speaks measures."
While I am not planning to protest or demonstrate, I am concerned with the treatment of the LGBT community in Russia and throughout the world. I want the LGBT community living in Russia to know they are not alone and I hope others realize this is not only a gay rights issue, but a global concern for human rights and equality.
As I said when I was named to the U.S. delegation, I hope these Olympics will be a watershed moment for the universal acceptance of all people.
READ MORE: Will social media foil Putin's Sochi plan?
Sometimes it is hard to do the right thing, especially if it may not be the most popular thing. The mere mention of the gay members of our delegation has people talking and you don't make progress in anything without having a constructive dialogue.
I have a saying that 98 percent of winning is showing up. So we will show up in Russia. We will support our athletes and cheer them as loudly as possible. And we will keep the equality conversation alive.
READ MORE: Is Russia about to pass another anti-gay law?
READ MORE: How safe is Sochi? Travelers weigh options
SEE MORE: Interactive map of region's security hotspots

Part of complete coverage on
September 24, 2014 -- Updated 0302 GMT (1102 HKT)

The U.S. and several Arab nations carried out airstrikes against ISIS in Syria, intensifying the campaign against the militant group.
September 23, 2014 -- Updated 1218 GMT (2018 HKT)

Her friends were raped and her brother was killed by ISIS, but 15-year-old "Aria" managed to escape.
September 23, 2014 -- Updated 1058 GMT (1858 HKT)

Emma Watson lent her name and her glittery profile to the cause of feminism at the United Nations.
September 23, 2014 -- Updated 0106 GMT (0906 HKT)

From Gadhafi to Ahmadinejad, Bush to Chavez: look back at memorable moments from past UNGA sessions. Richard Roth reports.
September 24, 2014 -- Updated 0327 GMT (1127 HKT)

Just days after NASA's Mars orbiter reached the Red Planet, India's first mission could follow suit and make history.
September 23, 2014 -- Updated 2314 GMT (0714 HKT)

Khorasan, al Qaeda's new branch, seeks new ways to attack America and Europe.

Alibaba officially became the biggest initial public offering of all time, confirming that in the final tally it raised $25 billion.
September 23, 2014 -- Updated 0257 GMT (1057 HKT)

Do the Chinese really like to mix their Bordeaux with Coca-Cola?
September 23, 2014 -- Updated 0936 GMT (1736 HKT)

In the largely male-dominated world of the motorsport, South African super bike racer Janine Davies is an anomaly.
September 23, 2014 -- Updated 1130 GMT (1930 HKT)

The Lilongwe Wildlife Center houses over 200 animal victims and helps rehabilitate them back into the wild.
September 23, 2014 -- Updated 1052 GMT (1852 HKT)

Each day, CNN brings you an image capturing a moment to remember, defining the present in our changing world.

Browse through images from CNN teams around the world that you don't always see on news reports.

Today's five most popular stories