Migrant worker from the Philippines triumphs in Israel's 'X Factor'
January 16, 2014 -- Updated 0404 GMT (1204 HKT)
STORY HIGHLIGHTS
Israeli version of talent show won by Rose Fostanes from the Philippines
Fostanes has lived in Israel for six years working as a caregiver
Rare for migrant workers to have a public profile in the country
Over 100,000 foreign workers are in Israel
(CNN) -- There are moments when reality television can highlight a country's sensitivities.
And Israel's version of the "X Factor" has done just that -- won not by a Jewish Israeli, but a migrant worker from the Philippines.
Filipina caregiver Rose Fostanes won the country's version of the talent show, Wednesday, making it through the early rounds singing tunes by Tina Turner and Christina Aguilera among others, before her rendition of "My Way" by Frank Sinatra in the grand finale.
"Thank you so much for all the Israelis who support me, thank you so much," said Fostanes on winning the competition. "Thank you so much also for giving us the chance to join in a competition like this."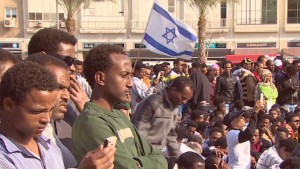 Israel refuses to grant refugees asylum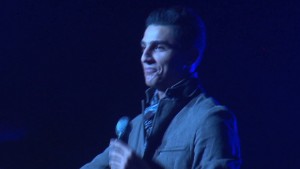 Arab Idol winner goes on U.S. tour
For a migrant worker to have any kind of public profile is highly unusual in Israel, but for one to win ones of the country's most popular talent shows is a surprise to many, including Fostanes.
Read more: All-American wows judges on 'Arabs Got Talent'
"I was surprised to be on 'X Factor.' First, I'm not an Israeli, and I don't even have residency," she said.
Most 'X Factor' winners can expect a record deal and a shot at being a professional singer, but Fostanes is in a different situation.
Her visa status means that despite being the most high-profile singer in the country at the moment, she cannot make money performing or recording in Israel, unless an exception is made.
If nothing else Fostanes says that she has received "a lot of love and care" from her fans in Israel.
However that is very different to how many migrant workers in the country feel. In recent weeks, there have been regular protests by activists, demanding greater rights for migrants, accusing the authorities of discrimination, and turning a blind eye to abuse.
According to a 2012 survey by the country's Central Bureau of Statistics there were 109,000 foreign workers in Israel.
Read more: 'Arab Idol' winner takes on the U.S.
The winner, who has been working in Israel for the past six years, says she has also experienced prejudice in the country and is unsure if her win might help change negative perceptions.
"I don't know. But I think there are good communications between employers and the caregivers now, since they saw me on 'X Factor,'"
At least for Fostanes -- singing her way into the hearts of Israelis -- attitudes have indeed changed.

Today's five most popular stories
October 28, 2014 -- Updated 1418 GMT (2218 HKT)

Not long ago camel milk was an unfancied staple, the preserve of Bedouin herders. Now its becoming a luxury.
October 9, 2014 -- Updated 0212 GMT (1012 HKT)

Managing over 2 million people during the Hajj takes some serious technology.
October 7, 2014 -- Updated 0611 GMT (1411 HKT)

More needs to be done so women from Saudi Arabia can become world champions in sports.
October 30, 2014 -- Updated 1729 GMT (0129 HKT)

Is nothing sacred? How tech allows narcissism to run riot.
September 26, 2014 -- Updated 1103 GMT (1903 HKT)

Where better to start a record-breaking solar powered flight than the desert?
September 24, 2014 -- Updated 1427 GMT (2227 HKT)

Ahmed Eldin is the 18-year-old behind the prog-rock band's new album cover. Shine on you crazy diamond.
September 17, 2014 -- Updated 1153 GMT (1953 HKT)

The Humans of New York photo project exposes the hopes and fears of ordinary people in Iraq and Jordan.
September 10, 2014 -- Updated 0206 GMT (1006 HKT)

Dubai's appetite for construction continues with multi-billion dollar boost to build the world's largest airport.
September 9, 2014 -- Updated 0302 GMT (1102 HKT)

The UAE is becoming a hub for plastic surgery with more Emiratis going under the knife each year.
August 21, 2014 -- Updated 1120 GMT (1920 HKT)

Meet Erdal Inci, a digital artist from Turkey who is transforming the medium.
August 14, 2014 -- Updated 1339 GMT (2139 HKT)

Iran is pumping billions of dollars into a scheme to save a lake. What's so important about it?