Controversial Chinese rocker, Cui Jian, won't sing at Lunar New Year TV gala
January 15, 2014 -- Updated 0857 GMT (1657 HKT)
STORY HIGHLIGHTS
Cui Jian declines to appear in state broadcaster's Lunar New Year television gala
Invite had surprised many as Chinese rock star sided with Tiananmen protesters in 1989
Annual show is one of world's most watched television programs
Marathon broadcast has been losing appeal among audiences in recent years.
Hong Kong (CNN) -- Chinese rock star, Cui Jian, has declined to appear on the state broadcaster's annual Lunar New Year television extravaganza, his manager told CNN Wednesday.
The invitation to perform had surprised many because Cui, sometimes called China's "father of rock", had sided with student protesters during the 1989 Tiananmen Square demonstrations.
"Mr. Cui Jian did indeed receive an invitation from the Spring Festival Gala. However, Mr. Cui Jian ultimately won't perform," his agent, You You, said in an email, without giving further details.
MORE: China's Bob Dylan still rocking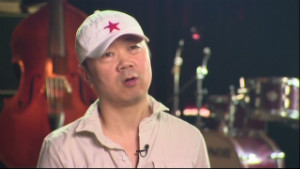 Cui Jian: China's first rock star
During the protests in 1989, students on hunger strike on the square adopted Cui's hit "Yiwu Suoyou" (Nothing to my Name) as their anthem.
At the height of the protests, Cui gave an impromptu performance in the square -- days before the government sent in tanks and troops to crack down on the demonstrators.
In the 1990s, authorities refused him permission to perform in big venues due to the political content of his lyrics, state newspaper Global Times reported on its website, although in recent years he has performed at some music festivals.
Lunar New Year, also known as Spring Festival in China, is the country's biggest holiday and families have traditionally gathered around the TV set on New Year's Eve to watch CCTV 's "Spring Festival Eve Gala."
MORE: Home, family mark Lunar New Year for Chinese
For years, it was China's most watched variety show, raking in huge advertising revenues and catapulting artists to stardom.
However, with its cheesy sketches and patriotic songs, the marathon broadcast has lost some of its appeal among audiences recently and organizers have tried to spice it up with performances by international stars like Celine Dion.

Today's five most popular stories
December 15, 2014 -- Updated 1144 GMT (1944 HKT)

A Chinese couple allegedly threw hot water on a flight attendant and threatened to blow up the plane, forcing the Nanjing-bound plane to turn back to Bangkok.
December 15, 2014 -- Updated 0503 GMT (1303 HKT)

China's 1.3 billion citizens may soon find it much harder to belt out their national anthem at will.
December 10, 2014 -- Updated 0021 GMT (0821 HKT)

Like Beijing today, Los Angeles in the last century went through its own smog crisis. The city's mayor says LA's experience delivers valuable lessons.
December 6, 2014 -- Updated 0542 GMT (1342 HKT)

At the height of his power, Zhou Yongkang controlled China's police, spy agencies and courts. Now, he's under arrest.
December 5, 2014 -- Updated 0826 GMT (1626 HKT)

China says it will end organ transplants from executed prisoners but tradition means that donors are unlikely to make up the shortfall.
December 5, 2014 -- Updated 0648 GMT (1448 HKT)

China's skylines could look a lot more uniform in the years to come, if a statement by a top Beijing official is to believed.
December 3, 2014 -- Updated 0855 GMT (1655 HKT)

Despite an anti-corruption drive, China's position on an international corruption index has deteriorated in the past 12 months.
November 26, 2014 -- Updated 1201 GMT (2001 HKT)

A daring cross-border raid by one of Russian President Vladimir Putin's associates has -- so far -- yet to sour Sino-Russian relations.
November 24, 2014 -- Updated 0051 GMT (0851 HKT)

A 24-hour Taipei bookstore is a hangout for hipsters as well as bookworms.
November 25, 2014 -- Updated 0153 GMT (0953 HKT)

China is building an island in the South China Sea that could accommodate an airstrip, according to IHS Jane's Defence Weekly.
November 19, 2014 -- Updated 1057 GMT (1857 HKT)

North Korean refugees face a daunting journey to reach asylum in South Korea, with gangs of smugglers the only option.
November 21, 2014 -- Updated 2319 GMT (0719 HKT)
China and "probably one or two other" countries have the capacity to shut down the nation's power grid and other critical infrastructure.