Can Cairo street eats be the next global foodie phenomenon?
January 13, 2014 -- Updated 0351 GMT (1151 HKT)
STORY HIGHLIGHTS
For many residents of Cairo, the best food is street food
It is not about style; it means to be quick, cheap and filling
Zooba cafe in Cairo turns street food into fine dining
Editor's note: Follow the Inside the Middle East team on Instagram
(CNN) -- In Egypt, the words "street food" and "gourmet" don't often go hand in hand.
Street food is not about style; it's meant to be quick, cheap and filling. However Chris Khalifa, a 30-year-old owner of Zooba cafe in Cairo, has tried to change that.
He saw a trend elsewhere in the world: chefs hit the streets and serve dishes out of food trucks.
"I noticed no one had ever tried to do this with Egyptian street food," said Khalifa. "I try to create a brand around a more gourmet Egyptian street food."
But instead bringing gourmet food to the street, Zooba turns street food into fine dining. Located in Cairo's upmarket Zamalek neighborhood, the cafe serves classic street fare like koshari and falafel with a new twist.
The dishes, like spinach-infused "baladi" bread or sweet potatoes roasted with a blowtorch, are prepared by professionally trained chefs, using top-quality ingredients.
Read more: Egypt's street art revolution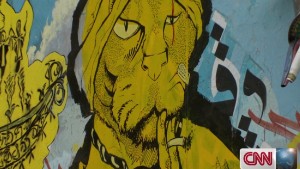 Cairo's thriving art scene
Khalifa's business partner, Moustafa El Rafaey, handles the creative side of running the restaurant. Trained at a culinary arts program in the United States, he initially found cooking Egyptian cuisine was quite daunting -- and foreign.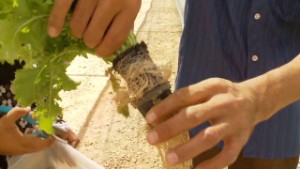 Egypt's farming revolution
"I was scared to be honest," said El Rafaey. "I had (a) good international background. To leave all this to cook... Egyptian food was a bit scary for me."
I put smiles on people's faces with my food
Moustafa Elrafaey
To develop the restaurant's menu, El Rafaey traveled across Egypt. He mastered local recipes, tried new flavors and searched for best ingredients. He relishes his experience, saying that preparing food is like creating an artwork.
"Anything that puts a smile on your face is an art. When you watch a good dance or listen to a good music that makes your smile," Elrafaey says. "And I put smiles on people's faces with my food."
"When we started, I honestly had no idea how people would respond to a gourmet 'ful,' 'tameya' or 'koshari,'" said Khalifa, who quit his banking job to start the restaurant. "The response has been good, people have been coming in."
Business is so good that they are thinking to expand, opening a second and a third branch of Zooba in Cairo. And perhaps one day, in Dubai or even London -- which means taking Egyptian street food to the world.

September 17, 2014 -- Updated 1153 GMT (1953 HKT)

The Humans of New York photo project exposes the hopes and fears of ordinary people in Iraq and Jordan.
September 15, 2014 -- Updated 0247 GMT (1047 HKT)

At first glance, the UAE seems ill-suited to ice hockey: the only snow and ice to be found is usually in fabricated form in a shopping mall.
September 10, 2014 -- Updated 0206 GMT (1006 HKT)

Dubai's appetite for construction continues with multi-billion dollar boost to build the world's largest airport.
September 8, 2014 -- Updated 0440 GMT (1240 HKT)

Does faith have a place on the sports field? One Muslim NFL star believes so.
September 9, 2014 -- Updated 0302 GMT (1102 HKT)

The UAE is becoming a hub for plastic surgery with more Emiratis going under the knife each year.
August 21, 2014 -- Updated 1120 GMT (1920 HKT)

Meet Erdal Inci, a digital artist from Turkey who is transforming the medium.
August 14, 2014 -- Updated 1339 GMT (2139 HKT)

Iran is pumping billions of dollars into a scheme to save a lake. What's so important about it?
August 8, 2014 -- Updated 0218 GMT (1018 HKT)

A volatile Middle East has changed the tenor of Ramadan programming in Egypt. Now, no topic is too taboo.
July 29, 2014 -- Updated 0253 GMT (1053 HKT)

Dubai has got some big animal attractions in its mega malls. But not everyone is wild about the idea.
July 28, 2014 -- Updated 0314 GMT (1114 HKT)

Orhan Pamuk, Turkey's Nobel Prize-winning author, is neither afraid to confront the human condition nor the state his country is in.

Today's five most popular stories