Can Cairo street eats be the next global foodie phenomenon?
January 13, 2014 -- Updated 0351 GMT (1151 HKT)
STORY HIGHLIGHTS
For many residents of Cairo, the best food is street food
It is not about style; it means to be quick, cheap and filling
Zooba cafe in Cairo turns street food into fine dining
Editor's note: Follow the Inside the Middle East team on Instagram
(CNN) -- In Egypt, the words "street food" and "gourmet" don't often go hand in hand.
Street food is not about style; it's meant to be quick, cheap and filling. However Chris Khalifa, a 30-year-old owner of Zooba cafe in Cairo, has tried to change that.
He saw a trend elsewhere in the world: chefs hit the streets and serve dishes out of food trucks.
"I noticed no one had ever tried to do this with Egyptian street food," said Khalifa. "I try to create a brand around a more gourmet Egyptian street food."
But instead bringing gourmet food to the street, Zooba turns street food into fine dining. Located in Cairo's upmarket Zamalek neighborhood, the cafe serves classic street fare like koshari and falafel with a new twist.
The dishes, like spinach-infused "baladi" bread or sweet potatoes roasted with a blowtorch, are prepared by professionally trained chefs, using top-quality ingredients.
Read more: Egypt's street art revolution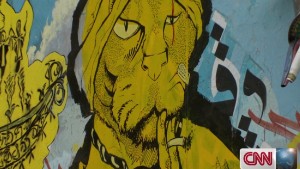 Cairo's thriving art scene
Khalifa's business partner, Moustafa El Rafaey, handles the creative side of running the restaurant. Trained at a culinary arts program in the United States, he initially found cooking Egyptian cuisine was quite daunting -- and foreign.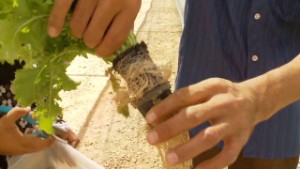 Egypt's farming revolution
"I was scared to be honest," said El Rafaey. "I had (a) good international background. To leave all this to cook... Egyptian food was a bit scary for me."
I put smiles on people's faces with my food
Moustafa Elrafaey
To develop the restaurant's menu, El Rafaey traveled across Egypt. He mastered local recipes, tried new flavors and searched for best ingredients. He relishes his experience, saying that preparing food is like creating an artwork.
"Anything that puts a smile on your face is an art. When you watch a good dance or listen to a good music that makes your smile," Elrafaey says. "And I put smiles on people's faces with my food."
"When we started, I honestly had no idea how people would respond to a gourmet 'ful,' 'tameya' or 'koshari,'" said Khalifa, who quit his banking job to start the restaurant. "The response has been good, people have been coming in."
Business is so good that they are thinking to expand, opening a second and a third branch of Zooba in Cairo. And perhaps one day, in Dubai or even London -- which means taking Egyptian street food to the world.

April 18, 2014 -- Updated 0940 GMT (1740 HKT)

Saudi Arabia is set to start construction on the world's tallest tower that will be one kilometer tall.
April 14, 2014 -- Updated 0244 GMT (1044 HKT)

You'll never guess where this record-breaking mural is.
April 10, 2014 -- Updated 0255 GMT (1055 HKT)

The Sea of Gallilee, where Christ reputedly walked on water, is today home to another miracle of sorts.
April 9, 2014 -- Updated 0208 GMT (1008 HKT)

In Syria, not all rebels carry guns, some carry cameras.
April 4, 2014 -- Updated 0336 GMT (1136 HKT)

For three decades or so, Syrian artist Safwan Dahoul has been painting pensive, haunting images -- all of which are titled "Dream".
April 3, 2014 -- Updated 0323 GMT (1123 HKT)

Before releasing an album most bands would talk about record sales. Egyptian band Cairokee talk about whether they will get arrested.
March 28, 2014 -- Updated 0404 GMT (1204 HKT)

Dubai's most impressive monuments are looking a little psychedelic this week.
March 20, 2014 -- Updated 0224 GMT (1024 HKT)

Volunteers and academics in exile hope The Free Syrian University can save a lost generation of students.
March 20, 2014 -- Updated 1543 GMT (2343 HKT)

What would classic Hollywood films look like if reimagined as tradtional Ottoman art?
March 17, 2014 -- Updated 1050 GMT (1850 HKT)

Nawal Ba Abbad on why its time to stop child marriage in Yemen.

Today's five most popular stories