Cute alert as Taiwan's first giant panda cub goes on show
January 15, 2014 -- Updated 0739 GMT (1539 HKT)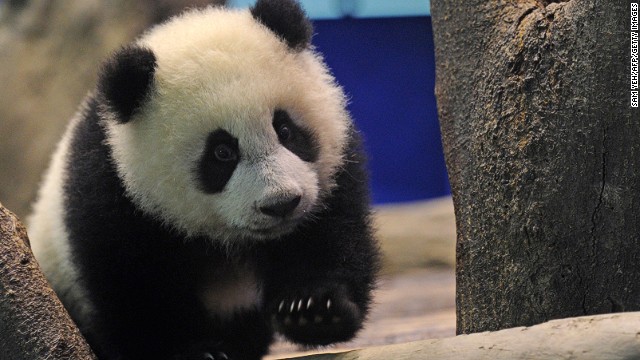 Taiwan's first native-born giant panda, six-month-old Yuan Zai, was unveiled to a rapt public at Taipei Zoo Monday.
More than 10,000 visitors lined up outside the zoo for a glimpse of the cute celebrity -- who spent much of the time slumbering.
Yuan Zai, who weighed 180 grams at birth, now tips scales at 14 kilos.
Yuan Zai can mean "rice ball" or "child of Yuan Yuan."
Yuan Zai was briefly separated from her mother, Yuan Yuan, after birth, but their
reunion proved to be heartwarming
. The cub was born into captivity in July 2013 through artificial insemination.
Hundreds of people watched Yuan Zai fall asleep with her mother.
Yuan Zai even beat the island's president, Ma Ying-jeou, in an online vote on the biggest news personalities of 2013.
Briefly awake here, the cub sleeps up to 20 hours each day.
Yuan Zai's parents, Tuan Tuan and Yuan Yuan, were gifted to Taiwan by Beijing in 2008.
Giant pandas are endangered species that mainly reside in China's Sichuan province.
Publicity shy
Crowd pleaser
In-cub-ator
Why did they call me that?
Bear hug
Would I lie on you, mummy?
Poll vaulter
Snooze-fest
Rare gift
Fighting for survival
STORY HIGHLIGHTS
First giant panda born on Taiwan unveiled to public at six months old
10,000 visitors queue to catch glimpse of baby bear Yuan Zai
Panda species, endemic to Sichuan province, is endangered in wild
(CNN) -- A chorus of "oohs," "ahs" and "I want ones" sounded from Taiwan Monday as the first giant panda to be born on the island, the six-month-old cub Yuan Zai, was unveiled to the public at Taipei Zoo.
Conceived via artificial insemination, the bear was delivered on July 7 last year.
Around 10,000 people lined up to see Yuan Zai Monday, the zoo said, some arriving hours before opening time.
Hundreds watched Yuan Zai's first appearance as she showed off her climbing skills on logs and trees, before crawling off to nap with her mother.
Visitors are to be capped at just under 20,000 people a day.
MORE: 10 things Taiwan does better than anywhere else
Panda fever
The birth of Yuan Zai, which means both "child of Yuan Yuan" and "rice ball," sparked panda fever on Taiwan.
The bear already has her own YouTube channel, documenting her cutest moments.
Yuan Zai is expected to generate NT$500 million ($16.6 million) through commercial opportunities within the next six months, the Taipei City government said.
The cub's mother, Yuan Yuan, and her mate, Tuan Tuan, were given to Taiwan by China in 2008.
Their names combined mean "reunion" in Chinese.
MORE: Insider Guide: Best of Taipei

Today's five most popular stories
Part of complete coverage on
October 20, 2014 -- Updated 1808 GMT (0208 HKT)

The guidebook asked staff, contributors and authors for well-known and lesser-known recommendations.
October 20, 2014 -- Updated 1607 GMT (0007 HKT)

An airport in Asia has stolen the crown from Manila's Ninoy Aquino, voted 'world's worst' three years in a row.
October 21, 2014 -- Updated 1620 GMT (0020 HKT)

It's time for a beef break, veal vacation, hog holiday or sinew sabbatical in a T-bone a-fide U.S. meatopolis.
October 20, 2014 -- Updated 1319 GMT (2119 HKT)

With so many awesome new attractions on the way, the next few years are going to be a roller coaster ride.
October 17, 2014 -- Updated 0107 GMT (0907 HKT)

Scientists are busy surveying Southeast Asia's Coral Triangle, home to 75 percent of all known coral species.
October 16, 2014 -- Updated 1350 GMT (2150 HKT)

Bounce Below transforms an abandoned slate mine into a surreal, springy world of fear and fun,
October 14, 2014 -- Updated 2316 GMT (0716 HKT)

With chopsticks or fingers? Wasabi or no? A double Michelin-starred Tokyo chef sets the record straight and shows us the sushi way.
October 13, 2014 -- Updated 2224 GMT (0624 HKT)

It may look like a gateway across time and space crafted with alien technology, but in reality it's a fruit and vegetable market.
October 13, 2014 -- Updated 0925 GMT (1725 HKT)

Based on the votes of over 330 industry experts, the 2014 winners include bars from 27 cities in 14 countries.
October 12, 2014 -- Updated 2231 GMT (0631 HKT)

Careening down an active volcano at 95 kph on a thin board? It happens only at Cerro Negro in Nicaragua.