Rory McIlroy announces engagement to Caroline Wozniacki on social media
January 1, 2014 -- Updated 1005 GMT (1805 HKT)
STORY HIGHLIGHTS
Golfer Rory McIlroy and tennis star Caroline Wozniacki get engaged
Took to social media as New Year began to make announcement
Pair have been dating since September 2011
Both endured difficult 2013 seasons in their respective sports
(CNN) -- Golfer Rory McIlroy and tennis star Caroline Wozniacki ushered in 2014 by announcing their engagement on social media.
In a sign of the times, they used their respective Twitter accounts to spread the news to their millions of followers, posting pictures of themselves with a ring.
Northern Ireland's McIlroy, who ended 2013 as the sixth-ranked golfer in the world, tweeted: "Happy New Year everyone! I have a feeling it's going to be a great year!! My first victory of 2014 .shesaidyes!!"
Read: Back in business: 'Wozilroy' together in Dubai
Former world number one Wozniacki, from Denmark, reported: "Happy New Year everyone! Rory and I started 2014 with a bang! ... I said YES!!!!"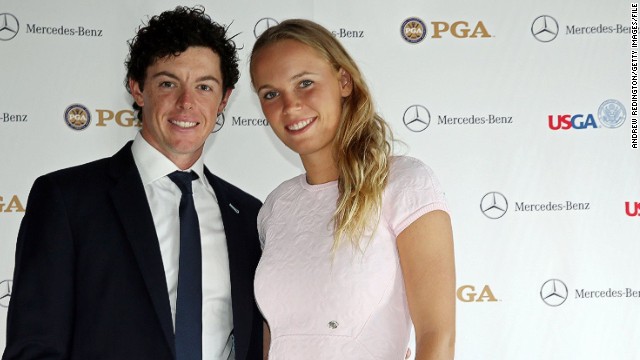 It's official -- double major winner Rory McIlroy and former world No. 1 Caroline Wozniacki are no more. McIlroy says he realized he wasn't ready for marriage when their wedding invitations were mailed out. When it comes to sport, the path of true love rarely runs smooth and in this gallery, CNN looks at sporting couples who have aced their relationships and those who have seen their private lives hit the rough.
American lovebirds Jimmy Connors and Chris Evert won both singles titles at Wimbledon in 1974 and were engaged, but by the time the grass-court grand slam came around in 1975 the wedding was off. Decades after splitting from the eight-time grand slam champion, Evert swapped the tennis court for the golf course...
After the break up of her marriage to British tennis player John Lloyd in 1987 and a divorce from Olympic skier Andy Mill in 2006, Evert tied the knot with Australian golf star Greg Norman. But it would not be a case of third time lucky for Evert as the pair separated in 2009 after 18-months.
Adam Scott followed in the footsteps of his hero Norman by sparking a golf and tennis romance of his own in 2010 with Serbia's Ana Ivanovic. The pair split after both saw their form suffer, before unsuccessfully reuniting in 2011. Scott captured the first major title of his career at the Masters in 2013.
When Australian Lleyton Hewitt began a romance with fellow tennis ace Kim Clijsters in 2000, the former world No. 1's country took the Belgian to their hearts. She was dubbed "Aussie Kim" and it looked like they were set to live happily ever after when a wedding was scheduled. The pair split in October 2004, but Clijsters would still find her happy ending...
Now retired, Clijsters is happily married to former American basketball player Brian Lynch, with whom she has two children.
Like Clijsters, Maria Sharapova found love on the basketball court. The four-time grand slam winner got engaged to former Los Angeles Lakers star Sasha Vujacic, before ending her relationship with the Slovenian in 2012. She is now dating fellow tennis star Grigor Dimitrov.
Radek Stepanek of the Czech Republic knows more than most about the trials and tribulations of a tennis fling. He was engaged to marry former world No. 1 Martina Hingis before the two called off their nuptials in 2007.
Undeterred, Stepanek started a second tennis fling with compatriot Nicole Vaidisova and the couple married in June 2010, but subsequently announced they had filed for divorce. Stepanek has since dated 2011 Wimbledon champion Petra Kvitova but they split in April.
Tennis super stars Andre Agassi and Steffi Graf are living proof that sporting couples can go the distance. The former world No. 1s married in 2001 and have two children together.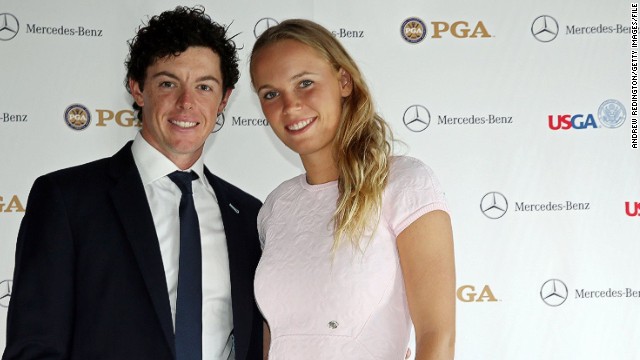 Courting romance: Ups and downs of tennis love affairs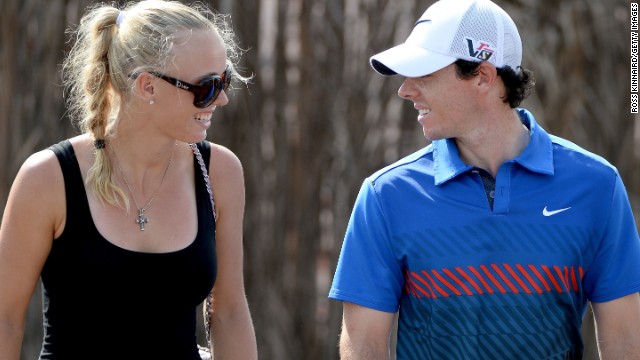 Despite rumors the pair had split, two-time major winner Rory McIlroy and former tennis World No. 1 Caroline Wozniacki were pictured together at the Dubai World Tour Championship. "It was nice," McIlroy was quoted as saying by The Guardian newspaper of Wozniacki's arrival. "She started her preseason a couple of days ago and was on court this morning at seven o'clock. It's good to have her here."
Despite Wozniacki's support, McIlroy had a frustrating day on the course, finishing on one-under-par and showing his disgust at some of his shots. Still after his round he said: "It's good that the game is back on track."
Wozniacki was all smiles as she followed McIlroy round the course. She is in Dubai beginning her preparations for the new tennis season. Her appearance confounded stories that the pair were no longer an item.
Dubai usually pulls out all the stops for the season-ending World Tour Championship and the Red Arrows staged a fly past before the action got underway at the Jumeirah course.
Henrik Stenson checks the wind during his opening round of four-under. He is the favorite to claim the Race to Dubai crown after a stellar season, which also saw him take the PGA Tour's FedEx Cup. If he were to win the European Tour's season finale he'd be the first golfer ever to do the double.
England's Ian Poulter is one player who could deny Stenson the title, and he is one shot behind the Swede after the opening day. If Poulter does win, Stenson will act as a drinks waiter on a night out for the pair thanks to a friendly bet they struck earlier in the year.
Another Englishman, Justin Rose, has an outside chance to topple Stenson but must finish fifth or higher to be in the running. Rose, the 2013 U.S. Open champion, finished day one in Dubai on two-under.
As ever, Dubai has laid on a few extra incentives for the golfers, who can win a BMW should they card a hole-in-one on the par three 17th. Stenson (pictured here) didn't manage it Thursday but as the order of merit leader he does get to stay in the top floor suite of the Atlantis hotel for the week, which normally retails for $35,000 (£22,000) per night.
Prior to the tournament a clutch of the world's top players were offered the chance to play some crazy golf, competing to see who could land their ball closest to a floating target in the ocean off the 22nd floor of the Atlantis hotel.
England's Lee Westwood won the contest, sending a seven iron four feet from the target 235 yards away. His prize was a five night stay at one of the hotel's underwater suites, complete with his own aquarium full of 65,000 fishy inhabitants.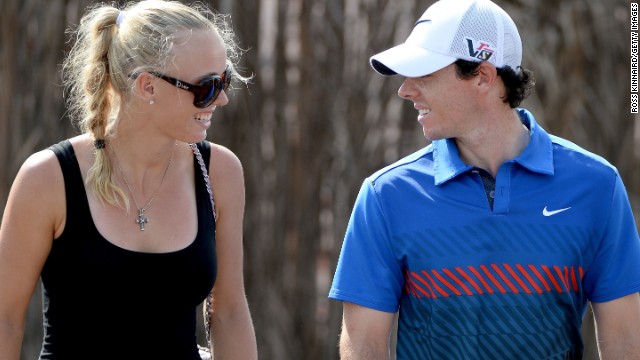 Sport's power couple back together?
The pair have been dating since September 2011, but if media rumors were to be believed their romance has endured some difficult moments, particularly as both slipped down the rankings in their respective sports in 2013.
But the pair were clearly firmly an item when strolling down the fairways at the World Tour Championship in Dubai in November as the Dane followed McIlroy every step of the way in the European Tour finale.
Read: 15-love: Top tennis romances
It also signaled a return to form for McIlroy, who ended the year by claiming victory at the Australian Open last month.
Wozniacki also regained her place in the top 10 of the WTA rankings with her sole tournament win of 2013 coming at the back end of the year in Luxembourg.
It served as promise that both will restore their respective fortunes, with two-time major winner McIlroy also looking to move back to the No.1 spot now occupied by his Nike stablemate Tiger Woods.