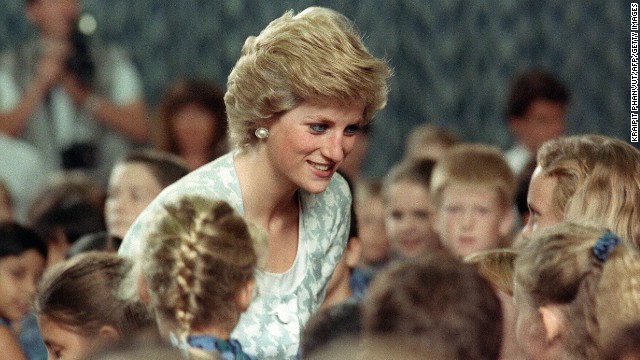 Diana, Princess of Wales listens to children during a visit to the British international school in Jakarta, Indonesia, on November 6, 1989.
The future princess, Lady Diana Spencer on her first birthday at Park House, Sandringham, on July 1, 1962.
Diana is seen during a summer holiday in Itchenor, West Sussex, in 1971.
Diana, at age 14, is "kissed" by her pony, Scuffle, in 1974.
Before marrrying Prince Charles, Diana worked as a nanny. Here she is seen with two of her charges in 1980, the year before she married.
Lady Diana and Prince Charles in 1980.
Prince Charles and Diana arrive at Goldsmith Hall in London for a charity recital in March 1981.
Lady Diana attends the Royal Ascot horse race on June 18, 1981.
Diana and Charles were wed on July 29, 1981. The princess, clad in an Emanuel wedding dress, leaves St. Paul's Cathedral with her husband.
Diana and Charles leave St. Mary's Hospital after the birth of their first son, Prince William, on July 22, 1982, in London.
Prince Harry shows a bit of his personality, which doesn't appear to please his mother, on June 11, 1988, on the balcony of Buckingham Palace.
Diana sits on Banana Beach during a trip to the West Indies on Januray 4, 1993.
Diana and Harry are accompanied by family friend Catherine Soames and her son Harry during a pre-Easter skiing trip in Lech, Austria, on March 24, 1994.
Diana is seen at the American Red Cross headquarters in Washington on June 17, 1997. Diana was passionately involved in the British Red Cross Landmine Campaign.
Life of Princess Diana
Life of Princess Diana
Life of Princess Diana
Life of Princess Diana
Life of Princess Diana
Life of Princess Diana
Life of Princess Diana
Life of Princess Diana
Life of Princess Diana
Life of Princess Diana
Life of Princess Diana
Life of Princess Diana
Life of Princess Diana
Life of Princess Diana