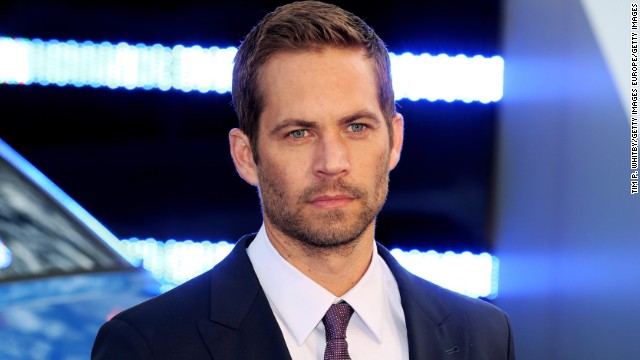 Paul Walker, a star of the "Fast & Furious" movie franchise, died Saturday, November 30, 2013, in a car crash. He was 40. Here's a look at his career through the years:
Walker, left, and Vin Diesel appear in a scene from "Fast & Furious 6." Walker's role as Brian O'Conner in the franchise helped to make the actor a star.
Walker and Jordana Brewster appear in "Fast 5."
Kevin Rankin and Walker appear in "Pawn Shop Chronicles," a film about a missing wedding ring that sets off a wild goose chase.
Walker also had a starring role in the upcoming film "Hours," which is about a father trying to keep his daughter alive after Hurricane Katrina.
The actor was part of a band of thieves in the movie "Takers."
Walker appears in the action film "Into the Blue," which also starred Jessica Alba.
Walker appears in "The Fast and the Furious," the first movie in the franchise.
Walker and Reese Witherspoon in a scene from the film "Pleasantville."
Walker, center, appeared in "Skulls" with Leslie Bibb and Joshua Jackson in 2000.
Walker and Freddie Prinze Jr. co-starred in the popular film "She's All That."
Brooklynn Proulx and Walker appear in the film "The Lazarus Project."
Walker, left, and Barry Pepper were U.S. Marines in the drama "Flags of Our Fathers."
Tyrese Gibson and Walker appear in "2 Fast 2 Furious."
Paul Walker: Life in the Fast Lane
Paul Walker: Life in the Fast Lane
Paul Walker: Life in the Fast Lane
Paul Walker: Life in the Fast Lane
Paul Walker: Life in the Fast Lane
Paul Walker: Life in the Fast Lane
Paul Walker: Life in the Fast Lane
Paul Walker: Life in the Fast Lane
Paul Walker: Life in the Fast Lane
Paul Walker: Life in the Fast Lane
Paul Walker: Life in the Fast Lane
Paul Walker: Life in the Fast Lane
Paul Walker: Life in the Fast Lane
Paul Walker: Life in the Fast Lane
STORY HIGHLIGHTS
Walker's charity will get part of proceeds from "Fast & Furious 6's" home entertainment sales
The actor died while supporting his organization, Reach Out Worldwide
The family has asked that others donate to the charity in lieu of flowers
(CNN) -- "Fast & Furious 6" studio Universal is doing its part to honor Paul Walker's memory.
After the actor's death in a fiery car wreck Saturday, the studio has pledged to give a percentage of the proceeds from the home entertainment sales of "Fast & Furious 6" to Walker's charity, Reach Out WorldWide.
The 40-year-old founded the organization, which works with local experts to provide disaster relief, in January 2010, after Haiti was devastated by an earthquake.
On the day of his death, Walker was attending a holiday toy drive for the organization.
"With the passing of Paul, the world has lost a man who spent a great deal of his life in service to others," the chairman of Universal Pictures, Donna Langley, said in a statement Tuesday. "We share in the deep grief of his family, friends and the countless fans who love him. We keep Paul's memory alive and honor his legacy through continued support of Reach Out WorldWide, the non-profit he founded to give hope to those who must rebuild after they have experienced natural disasters."
"Fast & Furious 6" was a juggernaut at the box office when it was released in May, and went on to earn $238 million domestically and $788 million worldwide. The DVD and Blu-ray will be released on December 10.
Walker's family has requested that grieving fans and friends donate to Reach Out WorldWide in lieu of sending flowers. "It's comforting for them to know that the son, brother, and father they love so much is equally adored, respected, and appreciated by so many," the actor's family said in a statement. "Paul founded the organization with the genuine desire to help others, and it's important to his family to keep his memory alive through ROWW."
The seventh installment of Universal's blockbuster "Fast" franchise was in the works at the time of Walker's death, and it's still unclear what will become of the project, which is scheduled to bow in July 2014.
In the meantime, Walker's "Fast & Furious" co-stars are trying to cope with a stunning loss.
Jordana Brewster, who worked closely with Walker in a number of the "Fast" films, said in a statement that Walker "was an enormous presence in my life for the past fourteen years."
As others have, Brewster made it a point to note Walker's generous spirit. "While many would be satisfied with material success it made Paul more convinced of the need to help others," the 33-year-old star said. "He never spoke of his immense generosity or philanthropic endeavors unless I prodded, however. This is what made Paul, Paul. He lived with integrity, humanity and humility and seemed most happy when talking about his daughter, Meadow. I don't know anyone who lived each moment more fully and loved life more than Paul; making his loss all the more heartbreaking."
Brewster's comment is part of an incredible outpouring of messages from people in the entertainment industry. After news of his death spread, even those who said they didn't know Walker well acknowledged that they'd heard about his kindness.
Michelle Rodriguez, another actress who's worked with Walker, tweeted on December 2 that she's "gonna carry this torch for you brother, with a forced smile on my face and Im gonna open my heart just cause your telling me to."
Other "Fast" stars, like Tyrese Gibson and Vin Diesel, have joined fans in mourning at the crash site. Gibson has shared what he calls words of healing with fans, and Diesel posted a farewell message to Walker on his Facebook page.
"Pablo, I wish you could see the world right now... and the profound impact, your full life has had on it, on Us... on me," he wrote. "I will always love you Brian, as the brother you were... on and off screen."
CNN's Jane Caffrey contributed to this report.