'Everything is broken:' Syrian army retakes Damascus suburb at heavy cost
December 3, 2013 -- Updated 1719 GMT (0119 HKT)
STORY HIGHLIGHTS
Reclaiming southern, eastern suburbs of Damascus from rebels is Syrian regime priority
Syrian troops retook Sbeineh from opposition fighters after brutal siege in November
Government says Sbeineh was key supply line to other suburbs for opposition troops
Sbeineh, Syria (CNN) -- Sbeineh was once a thriving town on the southern outskirts of Damascus. Residents of the Syrian capital came to buy their furniture here and many factories, now abandoned, still line the main street into town.
But the grinding, two-and-a-half-year war here has reduced Sbeineh to rubble. Its residents first fled when the town fell into the hands of rebels battling to bring an end to the reign of Syrian President Bashar al-Assad. But in early November the Syrian army reclaimed Sbeineh after a long and costly siege.
The military pounded rebel positions with tanks, artillery and heavy machine guns for weeks in the lead-up to the siege. Assad's men then raided the town, taking it back house by house. Various opposition groups that had occupied Sbeineh blamed each other for losing the battle, saying some rebel fighters had put up very little resistance against government troops.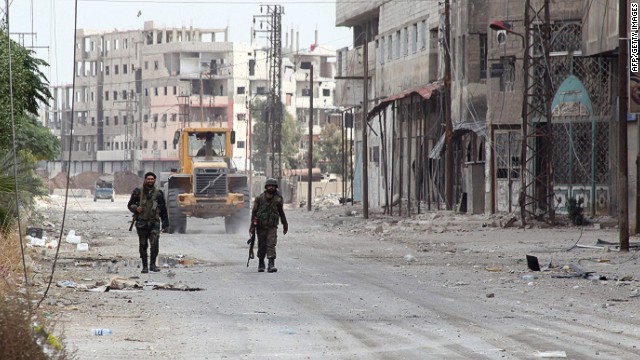 Syrian troops patrol the deserted streets of Sbeineh, south of Damascus, on November 8 after retaking the suburb from rebel forces.
Most of the town was reduced to rubble as a Syrian army siege reclaimed the rebel-held suburb in early November.
Sbeineh's residents first fled when the town fell last year into the hands of rebels battling to bring an end to the reign of Syrian President Bashar al-Assad.
Syrian troops who moved in on Sbeineh after the siege discovered tunnels the rebels had used to get weapons and ammunition to the front line.
Syrian troops also uncovered a series of mini-factories they say rebels used to make mortars, rockets and improvised bombs.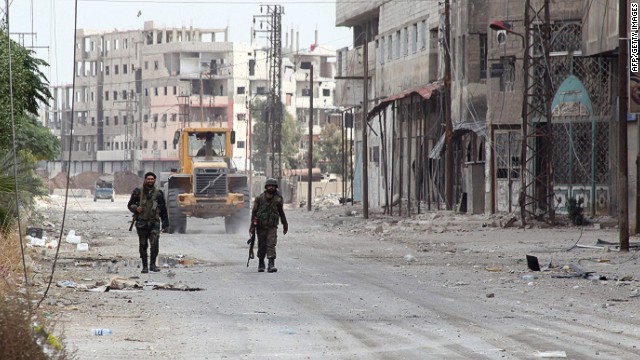 Syrian troops retake Sbeineh after siege
We toured the destroyed town with a detachment from the Syrian army led by a soldier who goes by the name of Abu Aksam.
"Is this their freedom?" Abu Aksam said, walking past a pock-marked building. "Everything is broken."
The soldiers walked us through a block of interconnected houses, where the rebels who occupied Sbeineh for nearly a year punched holes through the walls in order to move safely from apartment to apartment, rather than fall prey to a sniper's scope out in the streets.
Government soldiers also uncovered a series of tunnels that the rebels were using to get supplies towards the front line. In one apartment we find a huge hole in the ground leading down to a tunnel used to smuggle weapons and ammunition to a sniper's vantage point at the other end.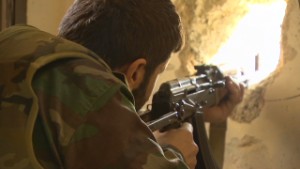 Inside the battle for Damascus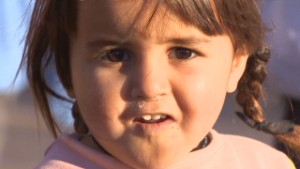 Syrian children living with war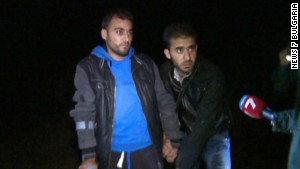 Bulgaria: Coping with Syrian refugees
"Our soldiers took heavy casualties from this position," Abu Aksam said. "It was very difficult to get this done, but we did it, and we will keep going until the end because we believe in our country."
Syrian troops showed us various locations in Sbeineh they claim served as headquarters for rebel groups ranging from the moderate Free Syrian Army to the Islamist Jabhat al-Nusra. Aksam also took us to a room that he says served as weapons-manufacturing workshop for opposition fighters. Aksam says rebels used these improvised mini-factories to make mortars, rockets and improvised bombs.
"They used the tools to make mortars and rockets and used gas cylinders to make very large bombs," he said, standing amid the debris inside the room.
The government says Sbeineh was vital for resupplying its fighters in the southern outskirts of Damascus. Losing areas around the capital dealt a heavy blow to the Syrian regime's efforts to win the war, and the government has made it a priority to take the suburbs back.
The Syrian army's victory at Sbeineh was a strategic triumph for the government as it tries to unseat rebels from the large swaths of territory they've taken east and south of the capital. But while the soldiers rejoice at their hard-fought win, the real losers are the citizens of this once vibrant suburb who won't be able to return any time soon.
Read more: Front line battles take Syria's suburbs back to 'stone age'
Read more: Suicide bombing in central Damascus kills four

Part of complete coverage on
March 11, 2014 -- Updated 1401 GMT (2201 HKT)

Until clearer information comes to light, here's a summary of what we know, and what we don't.
March 11, 2014 -- Updated 1453 GMT (2253 HKT)

Turns out it's not as hard as you think to board a plane with a stolen passport.
March 10, 2014 -- Updated 1923 GMT (0323 HKT)

Was it a bomb? Mechanical failure? A hijacking gone awry? Pilot error? Here are four scenarios that aviation experts are discussing.
March 10, 2014 -- Updated 0300 GMT (1100 HKT)

Aaron Miller says even those with little knowledge of Ukraine should spot the myths we've heard.
March 10, 2014 -- Updated 2214 GMT (0614 HKT)

The father of Sandy Hook Elementary School shooter Adam Lanza said his son would have killed him if he'd had the opportunity.

Track star Oscar Pistorius is accused of killing his girlfriend, Reeva Steenkamp. Follow live updates of South Africa's trial of the century.
March 10, 2014 -- Updated 1342 GMT (2142 HKT)

Too lazy to have a shower? Worry no more, there's a lotion for that.
March 10, 2014 -- Updated 0500 GMT (1300 HKT)

A man-eating tiger is sparking terror in India, having killed at least 10 people in 6 weeks. Sumnima Udas reports.
March 11, 2014 -- Updated 0204 GMT (1004 HKT)

Just call it the Fake Leap Forward.
March 10, 2014 -- Updated 0156 GMT (0956 HKT)

There are five kinds of online user review -- and four of them are almost completely worthless.
March 11, 2014 -- Updated 0656 GMT (1456 HKT)

Browse through images you don't always see on news reports from CNN teams around the world.

What we commonly call the Web is really just the surface. Beneath that is a vast, mostly uncharted ocean called the Deep Web.

Today's five most popular stories