'Everything is broken:' Syrian army retakes Damascus suburb at heavy cost
December 3, 2013 -- Updated 1719 GMT (0119 HKT)
STORY HIGHLIGHTS
Reclaiming southern, eastern suburbs of Damascus from rebels is Syrian regime priority
Syrian troops retook Sbeineh from opposition fighters after brutal siege in November
Government says Sbeineh was key supply line to other suburbs for opposition troops
Sbeineh, Syria (CNN) -- Sbeineh was once a thriving town on the southern outskirts of Damascus. Residents of the Syrian capital came to buy their furniture here and many factories, now abandoned, still line the main street into town.
But the grinding, two-and-a-half-year war here has reduced Sbeineh to rubble. Its residents first fled when the town fell into the hands of rebels battling to bring an end to the reign of Syrian President Bashar al-Assad. But in early November the Syrian army reclaimed Sbeineh after a long and costly siege.
The military pounded rebel positions with tanks, artillery and heavy machine guns for weeks in the lead-up to the siege. Assad's men then raided the town, taking it back house by house. Various opposition groups that had occupied Sbeineh blamed each other for losing the battle, saying some rebel fighters had put up very little resistance against government troops.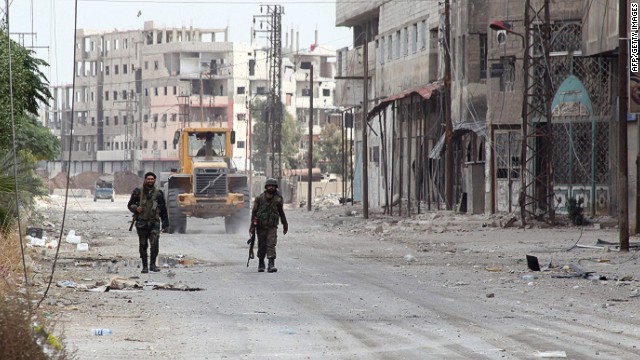 Syrian troops patrol the deserted streets of Sbeineh, south of Damascus, on November 8 after retaking the suburb from rebel forces.
Most of the town was reduced to rubble as a Syrian army siege reclaimed the rebel-held suburb in early November.
Sbeineh's residents first fled when the town fell last year into the hands of rebels battling to bring an end to the reign of Syrian President Bashar al-Assad.
Syrian troops who moved in on Sbeineh after the siege discovered tunnels the rebels had used to get weapons and ammunition to the front line.
Syrian troops also uncovered a series of mini-factories they say rebels used to make mortars, rockets and improvised bombs.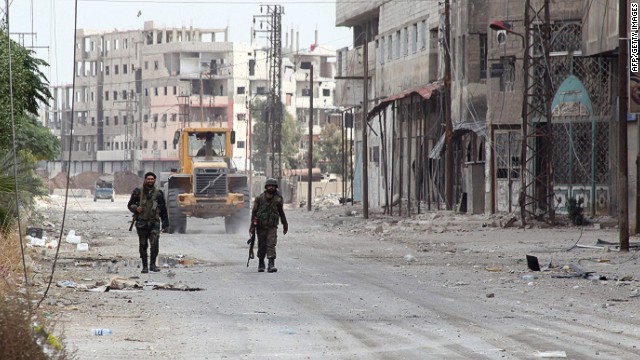 Syrian troops retake Sbeineh after siege
We toured the destroyed town with a detachment from the Syrian army led by a soldier who goes by the name of Abu Aksam.
"Is this their freedom?" Abu Aksam said, walking past a pock-marked building. "Everything is broken."
The soldiers walked us through a block of interconnected houses, where the rebels who occupied Sbeineh for nearly a year punched holes through the walls in order to move safely from apartment to apartment, rather than fall prey to a sniper's scope out in the streets.
Government soldiers also uncovered a series of tunnels that the rebels were using to get supplies towards the front line. In one apartment we find a huge hole in the ground leading down to a tunnel used to smuggle weapons and ammunition to a sniper's vantage point at the other end.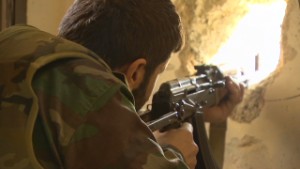 Inside the battle for Damascus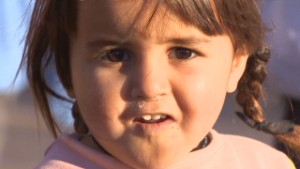 Syrian children living with war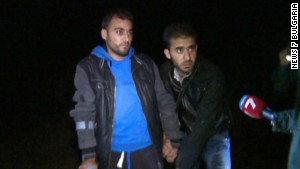 Bulgaria: Coping with Syrian refugees
"Our soldiers took heavy casualties from this position," Abu Aksam said. "It was very difficult to get this done, but we did it, and we will keep going until the end because we believe in our country."
Syrian troops showed us various locations in Sbeineh they claim served as headquarters for rebel groups ranging from the moderate Free Syrian Army to the Islamist Jabhat al-Nusra. Aksam also took us to a room that he says served as weapons-manufacturing workshop for opposition fighters. Aksam says rebels used these improvised mini-factories to make mortars, rockets and improvised bombs.
"They used the tools to make mortars and rockets and used gas cylinders to make very large bombs," he said, standing amid the debris inside the room.
The government says Sbeineh was vital for resupplying its fighters in the southern outskirts of Damascus. Losing areas around the capital dealt a heavy blow to the Syrian regime's efforts to win the war, and the government has made it a priority to take the suburbs back.
The Syrian army's victory at Sbeineh was a strategic triumph for the government as it tries to unseat rebels from the large swaths of territory they've taken east and south of the capital. But while the soldiers rejoice at their hard-fought win, the real losers are the citizens of this once vibrant suburb who won't be able to return any time soon.
Read more: Front line battles take Syria's suburbs back to 'stone age'
Read more: Suicide bombing in central Damascus kills four

Today's five most popular stories
Part of complete coverage on
November 24, 2014 -- Updated 0051 GMT (0851 HKT)

Where do hip young things hang out in Taiwan?
November 24, 2014 -- Updated 0118 GMT (0918 HKT)

Stunning stations where your first priority won't be finding the nearest exit.
November 24, 2014 -- Updated 1043 GMT (1843 HKT)

A 30-year-old woman has been charged with attempting to kill a baby police say spent five days down a drain before being discovered by cyclists.
November 21, 2014 -- Updated 0121 GMT (0921 HKT)

If it wasn't for a comic's skit, Bill Cosby would still be America's favorite father, says expert.
November 21, 2014 -- Updated 1550 GMT (2350 HKT)

Obama orders the most sweeping overhaul of U.S. immigration in decades, prioritizing the deportation of "felons, not families."
November 18, 2014 -- Updated 2106 GMT (0506 HKT)

Fighters loyal to ISIS are now in control of Derna, a city on Libya's Mediterranean coast.
November 21, 2014 -- Updated 2319 GMT (0719 HKT)

China and likely other countries have the capacity to shut down the U.S. power grid, says the NSA.
November 19, 2014 -- Updated 1945 GMT (0345 HKT)

The founder of a U.S. nonprofit that works with returning soldiers is named CNN's Hero of the Year.
November 17, 2014 -- Updated 1738 GMT (0138 HKT)

A Syrian cleric condemns ISIS and its execution of U.S. hostage Peter Kassig.
November 18, 2014 -- Updated 1729 GMT (0129 HKT)

TV anchor wears the same suit for a year. Female colleague wears new outfit daily. Who gets criticized?
November 21, 2014 -- Updated 1204 GMT (2004 HKT)

Each day, CNN brings you an image capturing a moment to remember, defining the present in our changing world.

Browse through images from CNN teams around the world that you don't always see on news reports.