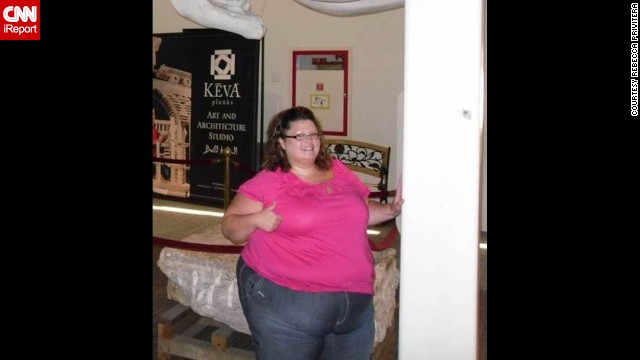 In 2006, Rebecca Privitera's weight was in the high 200s. She lost a pregnancy at 24 weeks and felt like her body had turned on her. She knew she had to lose weight, but it would be years before she actually did.
Privitera had to buy two wedding dresses; by the time her wedding came along in April 2011, her original dress no longer fit. She had to send her measurements overseas to get a second one custom made at the last minute.
During her honeymoon in Florida, Privitera wasn't able to go to the beach for long periods because she was so uncomfortable. She was at her peak weight of 381 pounds and remembers crying in the car on the way home.
Privitera couldn't afford weight loss surgery or expensive diet plan programs, so she used at-home workout DVDs to get healthy and fit. She is 20 pounds away from her goal weight of 150 pounds after two years of weight loss.
Privitera ran her first half-marathon in October 2013. She is already enrolled in another one for the spring.
Privitera now teaches weekly exercise classes at her local community center.
Privitera used to wear a size 28 pants and had to have panels or elastic put in so they would fit her. She now wears a size 10.
Losing weight while working out at home
Losing weight while working out at home
Losing weight while working out at home
Losing weight while working out at home
Losing weight while working out at home
Losing weight while working out at home
Losing weight while working out at home