Francis Bacon painting auctioned for more than $142 million, breaks record
November 26, 2013 -- Updated 1313 GMT (2113 HKT)
STORY HIGHLIGHTS
"Three Studies of Lucian Freud," painted in 1969, sold for $142,405,000
Christie's says it's the most money ever paid for a piece of artwork at an auction
The previous record for a work of art sold at an auction was Edvard Munch's "The Scream"
The sale was part of an auction with the highest sale total in history
(CNN) -- A painting by artist Francis Bacon sold for $142,405,000 on Tuesday, breaking the record as the most expensive piece of art ever auctioned, according to a statement from the auction house.
"Three Studies of Lucian Freud" was sold after six minutes of bidding in the room and on the phone at Christie's in New York City, according to spokeswoman Elizabeth Van Bergen.
Painted in 1969, it is known as one of Bacon's most iconic works, as it features Lucian Freud at the apex of his relationship with Bacon, according to the auction house's statement.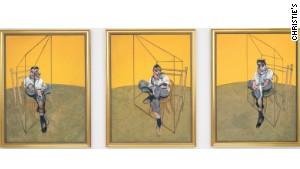 "Three Studies of Lucian Freud" was painted by Francis Bacon in 1969.
The triptych, a three-panel piece of art, features Freud sitting on a wooden chair in varied positions, the statement said.
The painting was part of a record-breaking auction that grossed $691,583,000, the highest total for an auction sale in art market history, according to Christie's.
The sale of Post-War and Contemporary Art broke 10 auction records with three pieces sold for more than $50 million, 11 for over $20 million and 16 for over $10 million.
Painting bought in $46 lot worth $390,000
Jeff Koons's "Balloon Dog" fetched $58.4 million, a record for any piece of art sold at auction by a living artist.
The previous record for a work of art sold at an auction was Edvard Munch's "The Scream," painted in 1895. It sold for more than $119 million dollars in 2012 at Sotheby's New York, according to the statement.
Bacon's previous record for his work was more than $86 million for another triptych painted in 1976 and sold in 2008 at Sotheby's New York, according to the statement.
Chinese artist's 'Last Supper' sets record for Asian contemporary art
Salvador Dali art donated to Goodwill, auctioned online

Today's five most popular stories
Part of complete coverage on
CNN Style
October 28, 2014 -- Updated 1347 GMT (2147 HKT)

The Green Vault in Dresden Castle houses one of the largest collections of jewels and objets d'art in Europe.
October 27, 2014 -- Updated 1610 GMT (0010 HKT)

Forty-three years before the first issue of Playboy hit newsstands, Egon Schiele released some of the most shocking nudes of the century.
October 24, 2014 -- Updated 0345 GMT (1145 HKT)

The Chinese leadership has called for less "weird architecture" to be built in the country. Does it mean the end of structures like these?
October 24, 2014 -- Updated 1403 GMT (2203 HKT)

Luxury enthusiasts, rejoice: Fondation Louis Vuitton is bringing its upscale tastes to the art world with a new museum.
October 22, 2014 -- Updated 1334 GMT (2134 HKT)

Today, mourning a loved one means donning the most formal black outfit in one's closet. But 150 years ago, it meant buying a whole new wardrobe.
October 20, 2014 -- Updated 1427 GMT (2227 HKT)

Some artists are obsessed with making things tiny. Others are into vastness. Here are incredible works from both ends of the size spectrum.
October 17, 2014 -- Updated 1221 GMT (2021 HKT)

Close one eye, and it could almost -- almost -- pass for a regular underground train. Close the other, and it looks like a space shuttle from Star Trek.
October 16, 2014 -- Updated 1431 GMT (2231 HKT)

Soup that is rumored to be radioactive; 10 people sharing a single silk hat. It could only be Frieze London, one of the world's leading art fairs.
October 22, 2014 -- Updated 1422 GMT (2222 HKT)

Contemporary Chinese art can be a thorny jungle for the uninitiated. Here are the movements and artists you need to know.
October 17, 2014 -- Updated 0939 GMT (1739 HKT)

In spite of all the sexier pictures around us, the titillating pin-ups of the early 20th century are still in demand.
October 9, 2014 -- Updated 1150 GMT (1950 HKT)

Iris has autism and cannot speak, but her stunning paintings sell for thousands of dollars.
October 27, 2014 -- Updated 2113 GMT (0513 HKT)

Here's a look at the world's finest feats of facial hair, from sculpted sideburns to manicured mustaches.