Francis Bacon painting auctioned for more than $142 million, breaks record
November 26, 2013 -- Updated 1313 GMT (2113 HKT)
STORY HIGHLIGHTS
"Three Studies of Lucian Freud," painted in 1969, sold for $142,405,000
Christie's says it's the most money ever paid for a piece of artwork at an auction
The previous record for a work of art sold at an auction was Edvard Munch's "The Scream"
The sale was part of an auction with the highest sale total in history
(CNN) -- A painting by artist Francis Bacon sold for $142,405,000 on Tuesday, breaking the record as the most expensive piece of art ever auctioned, according to a statement from the auction house.
"Three Studies of Lucian Freud" was sold after six minutes of bidding in the room and on the phone at Christie's in New York City, according to spokeswoman Elizabeth Van Bergen.
Painted in 1969, it is known as one of Bacon's most iconic works, as it features Lucian Freud at the apex of his relationship with Bacon, according to the auction house's statement.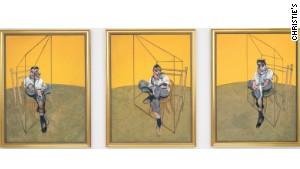 "Three Studies of Lucian Freud" was painted by Francis Bacon in 1969.
The triptych, a three-panel piece of art, features Freud sitting on a wooden chair in varied positions, the statement said.
The painting was part of a record-breaking auction that grossed $691,583,000, the highest total for an auction sale in art market history, according to Christie's.
The sale of Post-War and Contemporary Art broke 10 auction records with three pieces sold for more than $50 million, 11 for over $20 million and 16 for over $10 million.
Painting bought in $46 lot worth $390,000
Jeff Koons's "Balloon Dog" fetched $58.4 million, a record for any piece of art sold at auction by a living artist.
The previous record for a work of art sold at an auction was Edvard Munch's "The Scream," painted in 1895. It sold for more than $119 million dollars in 2012 at Sotheby's New York, according to the statement.
Bacon's previous record for his work was more than $86 million for another triptych painted in 1976 and sold in 2008 at Sotheby's New York, according to the statement.
Chinese artist's 'Last Supper' sets record for Asian contemporary art
Salvador Dali art donated to Goodwill, auctioned online

Today's five most popular stories
Part of complete coverage on
CNN Style
November 21, 2014 -- Updated 1343 GMT (2143 HKT)

Italian photographer Antonio La Grotta has been capturing abandoned nightclubs that are falling apart in typically glamorous Italian fashion.
November 20, 2014 -- Updated 1541 GMT (2341 HKT)

Bernhard Lang's aerial photos capture the unexpected symmetry and patterns of common public spaces.
November 19, 2014 -- Updated 1641 GMT (0041 HKT)

How the disembodied head, which seems to have a life of its own, was spirited into the gem seems to be something of a mystery.
November 19, 2014 -- Updated 1115 GMT (1915 HKT)

Paris Photo again drew huge crowds this year, including actresses, designers, artists and, of course, the photography world's elite.
November 18, 2014 -- Updated 1928 GMT (0328 HKT)

Condé Nast has unearthed portraits of the biggest stars of the 20s and 30s, including Fred Astaire and Greta Garbo.
November 13, 2014 -- Updated 1106 GMT (1906 HKT)

The most "complicated" handmade watch in the world has been sold at auction for an historic $24.4 million.
November 11, 2014 -- Updated 1331 GMT (2131 HKT)

Artists are using a new vocabulary to commemorate lives lost at war. How to you convey the collective grief of a nation in a single work of art?
November 18, 2014 -- Updated 0137 GMT (0937 HKT)

It's a side of Iran the rest of the world doesn't normally get to see -- the kaleidoscopic interiors of the country's intricately designed mosques.
November 10, 2014 -- Updated 1459 GMT (2259 HKT)

Illustrator and design educator Laurence Zeegen looks back at the rise of illustration over the last 50 years.
November 10, 2014 -- Updated 1145 GMT (1945 HKT)

These beautiful weapons from the 19th century were a showcase for craftsmanship and a symbol of American power.
November 7, 2014 -- Updated 1535 GMT (2335 HKT)

Who says you need a printer to churn out digital images? The Human Printer is recreating them by hand, one dot at a time.
November 17, 2014 -- Updated 1057 GMT (1857 HKT)

As violence threatens to annihilate some of history's greatest monuments, we count the cost of our irreplaceable losses.