Lesson learned for Sergio Garcia after 'horrible' Tiger slur
November 11, 2013 -- Updated 1616 GMT (0016 HKT)
STORY HIGHLIGHTS
Sergio Garcia talks to CNN's Shane O'Donoghue about "fried chicken" controversy
Comments made following a fractious pairing between Woods and Garcia at Players Championship
Spaniard says fallout was "horrible" but insists he has learned from affair
(CNN) -- Tiger Woods was whacking golf balls across a bridge in Turkey last week, but back in Spain, Sergio Garcia is still feeling the need to build them following the "fried chicken" saga earlier this year.
Speaking to CNN's Living Golf, Garcia once again struck a chord of contrition over the comments he made about the World no.1 last May.
"I didn't mean it in a bad way. When I was driving back to the hotel, I started thinking about it," Garcia told Shane O'Donoghue.
"Obviously, I didn't expect that question at all and you try to be funny and it comes out the wrong way I guess," he added.
Garcia made the comment during a private dinner at Wentworth golf club a couple of weeks after he and Woods had endured a fractious third round at the Players Championship -- the Spaniard complained that the gallery following Woods had disturbed him during a shot.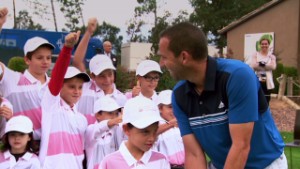 Sergio Garcia on giving back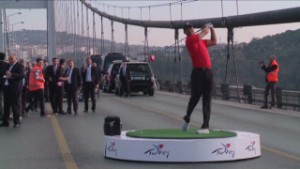 Tiger talking Turkey!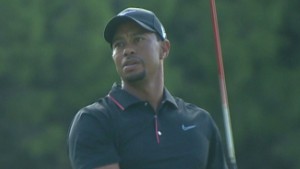 Tiger helps Turkey make history
When asked in jest if he would be inviting Woods for dinner during the then upcoming U.S. Open, Garcia replied: "Yeah, we will have him around every night. We will serve fried chicken."
Fried chicken is a common food in the American South, but when used in reference to African-Americans can often imply a negative stereotype.
Read: Tiger Woods reveals 'nerdy' side
Fellow Ryder Cup star Graeme McDowell perhaps summed up the slip best on Twitter: "Private/humor filled environment but he (Garcia) shouldn't have said it #slip."
The remark echoed U.S. golfer Fuzzy Zoeller's infamous slur on Woods' following his maiden major win at the Masters in 1997.
"Tell him not to serve fried chicken next year," Zoeller said to reporters in an attempt to make humor of the fact that Woods was the first African-American to win the tournament. Tradition dictates that the reigning Masters champion choose the menu for the Champions Dinner the following year.
Woods tweeted that Garcia's comments were "wrong, hurtful and clearly inappropriate" and even the Spaniard's equipment makers TaylorMade weighed in calling the comments "offensive."
Garcia issued an unreserved apology via the European Tour but recoils when asked to recall the media storm that followed the jibe.
"It was horrible, but what's done is done. Everybody knows how I feel about it, so I think they should be fine with it and if not, it's kind of their problem," he said.
"The most important thing is learning from all those things.
"I'm making sure that all those experiences make you stronger, a better person and things like that. I think that I've learned from those things and I just need to keep getting better at it, and hopefully keep making people happy."

Today's five most popular stories
October 13, 2014 -- Updated 1449 GMT (2249 HKT)

There have been many dark days for Oliver Wilson, but golf's unluckiest loser is finally riding an upward swing of his career roller coaster.
October 7, 2014 -- Updated 1648 GMT (0048 HKT)

They dress like it's the 1930s and they swing antique equipment that eschews cutting-edge technology -- this is hickory golf.
September 15, 2014 -- Updated 1609 GMT (0009 HKT)

CNN's Living Golf focuses on women's golf, charting the growth of the sport from royal pastime to multi-million dollar machine.
October 1, 2014 -- Updated 0846 GMT (1646 HKT)

"I don't know how to paint happy," says golf's poster girl Michelle Wie. "I think it releases a lot of the darker feelings in me."
September 29, 2014 -- Updated 1213 GMT (2013 HKT)

If you're a U.S. golf fan, or Tom Watson, look away now.
September 25, 2014 -- Updated 2318 GMT (0718 HKT)

A ban on uploading social media pictures from the course at Gleneagles was dropped for the Ryder Cup.
September 24, 2014 -- Updated 1052 GMT (1852 HKT)

A spot of shopping, the odd spa day and some serious flag waving. Welcome to the life of a Ryder Cup WAG.
September 23, 2014 -- Updated 1301 GMT (2101 HKT)

Tom Watson has learned plenty in the 21 years since he was last U.S. Ryder Cup captain, but social media is proving to be problematic.
September 22, 2014 -- Updated 1243 GMT (2043 HKT)

Patriotism will reach fever pitch when the USA and Europe collide in golf's Ryder Cup ... and it looks like Rickie Fowler has let it go to his head.
September 22, 2014 -- Updated 1342 GMT (2142 HKT)

Pressure is inescapable in the cauldron of Ryder Cup competition -- pressure and ping pong.
September 23, 2014 -- Updated 1150 GMT (1950 HKT)

Millions of golf fans were watching on television with great anticipation. All Martin Kaymer could think about was getting his phone out.