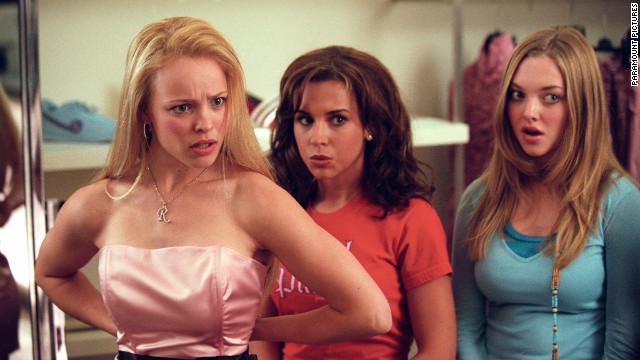 Just as bullying has shifted over the years, Hollywood has shifted how bullies are portrayed in film and TV. Take a look back at some of pop culture's best-known bullies. Rachel McAdams, left, plays Regina George, the meanest of the "Mean Girls," in the 2004 film, and she's particularly cruel and controlling toward her friends.
Matt Dillon, second from left, is the head bully in charge of runt Chris Makepeace, right, who hires a very large classmate to take on his tormenter in the 1980 film "My Bodyguard."
In the classic tale of a bullied kid who fights back, "The Karate Kid," Ralph Macchio, right, is confronted by Johnny Lawrence (William Zabka), a member of the fearsome Cobra Kai dojo.
Jason Isaacs, left, as Lucius Malfoy and Tom Felton as the mean and creepy Draco Malfoy in "Harry Potter and the Deathly Hallows -- Part 1."
Rainn Wilson, left, as Dwight Schrute and David Koechner as the crude, rude office jokester Todd Packer in "The Office."
Roy Stalin (Aaron Dozier, seated center) is the captain of the high school ski team who terrorizes John Cusack's character, Lane Myer, right, in "Better Off Dead."
In "Some Kind of Wonderful," Craig Sheffer plays Hardy Jenns, boyfriend of Lea Thompson's character, left, and a world-class jerk.
Biff Tannen (Thomas F. Wilson) terrorizes Marty McFly Jr. (Michael J. Fox) in "Back to the Future II."
In "Valley Girl," Julie's boyfriend Tommy (MIchael Bowen) is handsome but mean as a snake.
The jocks wreak havoc on dorks like Robert Carradine's character, Lewis Skolnick, center, in "Revenge of the Nerds."
On "Glee," Tina and Kurt (Jenna Ushkowitz and Chris Colfer) get guff from high school toughs Karofsky and Azimio (Max Adler and James Earl III).
Naya Rivera plays acid-tongued cheerleader Santana on "Glee."
In the holiday classic "A Christmas Story," Zack Ward plays Scut Farkus, who's always gunning for a fight.
The dark comedy "Heathers" was the original "Mean Girls." From left are stars Winona Ryder, Kim Walker, Lisanne Falk and Shannen Doherty.
James Spader played the classic rich slimeball Steff opposite Molly Ringwald in "Pretty in Pink."
Lucy, far right, is a killjoy who always dampens the mood of sad sack Charlie Brown in the "Peanuts" cartoons.