'From Fatman to Ironman': Dad loses 135 pounds on his way to the finish line
Join the conversation
CNN iReport
November 4, 2013 -- Updated 1932 GMT (0332 HKT)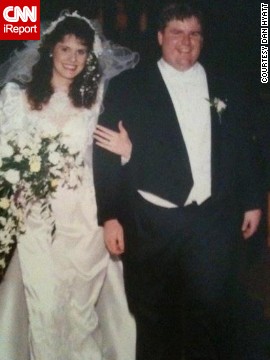 Dan Hyatt married his wife, Shelley, on April 15, 1994, and they had three children. He was always big, but she didn't think much of his weight until he ballooned to more 300 pounds. "I'm not ready to be a widow," she thought at the time.
By 2011, Hyatt was morbidly obese. "I was so wrapped up in the fat me and my inability to see past it that I was cranky and a bear to live with. When you're convinced that you are always going to be fat, it's hard to see you any other way."
But Hyatt has never turned down a challenge. This photo was taken at the Penguin Plunge in Ottawa, Illinois, on January 7, 2012. "The guys I worked with said I would never jump in the freezing water. This should've been their first indication that I could do anything I set my mind to."
"The hardest part of this entire thing was dealing with the naysayers," he said. "People are naturally skeptical and negative, so until I lost a lot of weight, I was accused of lying about swimming 1 mile or running 6 miles or whatever. Now they can go look at the race websites, see my name and my time, and they can't argue with it anymore."
Completing a half Ironman in July was Hyatt's proudest accomplishment to date. "When you get to that finish line ... it brought tears to my eyes," he said. "At the same time, it was a stark reality that I'm only at half of where I need to be."
Hyatt ran his third marathon last month with his 9-year-old daughter Alora accompanying him for the last half mile. "She was proud to be able to run faster than her father. I told her that after running 25.5 miles, I was beat, but I kicked it in for the last 300 yards for the finish."
Hyatt sleeps better, feels more energized and is a much happier person now. He's even convinced his wife to take up running.
How a couch potato became a triathlete
How a couch potato became a triathlete
How a couch potato became a triathlete
How a couch potato became a triathlete
How a couch potato became a triathlete
How a couch potato became a triathlete
How a couch potato became a triathlete
STORY HIGHLIGHTS
Dan Hyatt went from 337 pounds to 202 pounds
Rather than set a weight loss goal, he trained for an Ironman
Though he's already come a long way, "I'm not going to quit," he says
Do you have a weight loss story? Share it with CNN iReport
Do you have a weight-loss success story to share? Tell us how you did it and you could be featured on CNN.com.
(CNN) -- Dan Hyatt's wife, Shelley, had been worried for a while by the time he hit 337 pounds.
Her husband had a short fuse and a bad attitude because he hated the way he looked and felt. He was on multiple medications for high blood pressure and used a CPAP machine at night to treat his sleep apnea. She tried to dance around the problem, but she was afraid of becoming a widow.
"A couple times I said something like, 'How much life insurance do you have?' " she said. "I was afraid if I said, 'I'm afraid you're going to die,' that would make it come true."
On January 13, 2012, Hyatt crawled to the top of a tower at the plastics plant where he worked, doubled over and struggled to catch his breath. That was when it finally hit him -- if he didn't lose weight, he might not live to see his three daughters graduate college, get married or have children of their own.
Read Dan Hyatt's story on CNN iReport
Heavy all his life from poor eating habits and little exercise, Hyatt had lost weight before only to gain it all back. So this time, he didn't set a weight loss goal.
He gave himself a bigger challenge: Compete in an Ironman triathlon in five years or less. Arguably the world's most grueling endurance race, the Ironman consists of a 2.4-mile swim, a 112-mile bicycle ride and a marathon 26.2-mile run with no break.
"I can't explain how my logic works, but I just decided, if I try to run the Ironman, even if I don't get there, I'm going to lose the weight and I'm going to get fit," said the 44-year-old from Ottawa, Illinois.
Eight months later, Hyatt had completed his first triathlon, run his first marathon and lost nearly 100 pounds. To date, he has lost 135 pounds and 12 inches off his waist by working out 12 to 14 hours per week -- swimming, running, cycling and doing yoga -- and sticking with a fairly rigid diet.