Space travel: U.S. company to offer 30 km-high balloon flights
October 24, 2013 -- Updated 0653 GMT (1453 HKT)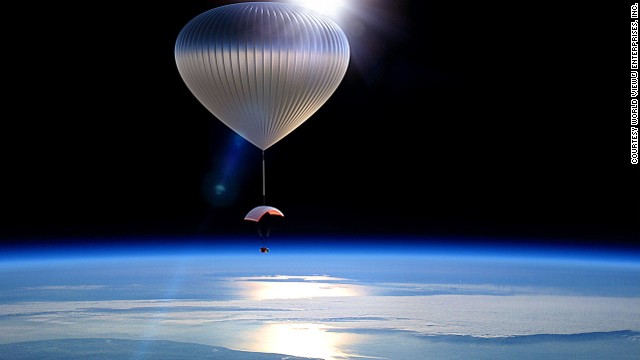 Arizona-based World View Enterprises plans to take travelers to the edge of space with a balloon and thinks it will look something like this.
The company claims it will be a gentle ride in a luxurious space capsule that fits eight passengers.
After a two-hour flight to about 100,000 feet, the ghettoblaster-looking space capsule will descend back to Earth with the help of a parachute.
The space capsule is lifted by a high altitude balloon to about 30 kilometers, around three times as high as a passenger reaches on commercial airplane flights.
"Affordable" space travel
Room with a view
Ready to land
The air up there
STORY HIGHLIGHTS
Arizona-based company plans trip to the edge of space in a "luxury capsule"
Lifted by a high altitude balloon, the capsule will travel to a height of about 30 kilometers
The first flight is expected to take off in three years
(CNN) -- Want space travel but don't have pockets deep enough for Richard Branson's Virgin Galactic or the courage levels to match Felix Baumgartner, the daredevil space-jumper? A balloon trip to (almost) space and back might just be the answer.
Arizona-based space travel company World View Enterprises says it plans to offer a trip to the edge of space in a luxurious eight-seat capsule for $75,000 per ticket.
It's somewhat more affordable considering Virgin Galactic charges $250,000, which also includes three days of training and two and a half hours in space.
The capsule will be lifted by a high altitude balloon that will rise up to about 30 kilometers (98,425 feet or almost 20 miles) and stay aloft for two hours before returning back to Earth, according to a company press statement.
Quiz: Do you have the smarts to be a space tourist?
That is not as high as Baumgartner's jumping point (128,100 feet or around 39 kilometers) last year but much higher than one can usually reach -- the average altitude for commercial flights is about nine or ten kilometers above ground, or 30,000 to 40,000 feet.
"Passengers will be among the few to have seen the curvature of the Earth with their own eyes," the statement touted.
"They will be able to gaze at the astounding views, the blackness of space, the brilliance of stars and the thin veil of atmosphere enveloping our planet."
The first flight is planned for 2016.
Component testing has already begun and sub-scale testing will soon be carried out as well, the company says.
The space capsule will be developed by Paragon Space Development Corporation, which is developing technology for Inspiration Mars, a 501-day mission around Mars.
Zero gravity flights: cheaper than space travel

Today's five most popular stories
Part of complete coverage on
November 16, 2014 -- Updated 2326 GMT (0726 HKT)

Take a trip to the Chinese town that has more relics than people.
November 13, 2014 -- Updated 1742 GMT (0142 HKT)
You know about reggae and Usain Bolt -- but you probably aren't aware of these other Jamaican superlatives.
November 14, 2014 -- Updated 1152 GMT (1952 HKT)

Artist creates brilliant tribute to Dutch impressionist painter -- a cycle route that glows in the dark
November 14, 2014 -- Updated 0633 GMT (1433 HKT)

European airlines beware: These 320kph trains are upping the travel game with roomy seats and onboard wi-fi.
November 13, 2014 -- Updated 1053 GMT (1853 HKT)
For such a relatively small collection of islands, the UK packs in an phenomenal range of beautiful scenery.
November 12, 2014 -- Updated 2237 GMT (0637 HKT)

Rovos Rail's epic trips out of South Africa pamper passengers with fine dining, vintage comfort and even a bathtub.
November 18, 2014 -- Updated 0137 GMT (0937 HKT)

Self-taught Iranian photographer gains rare access to shoot religious buildings as they've never been seen.
November 11, 2014 -- Updated 0345 GMT (1145 HKT)

The subject of erotica has a way of making people uncomfortable.
November 7, 2014 -- Updated 0037 GMT (0837 HKT)

UK's Heathrow Airport pairs destinations with fragrances to evoke long distance travel. We do too.
November 6, 2014 -- Updated 2100 GMT (0500 HKT)

Bumper cars, a freefall simulator and robot bartenders are just a few of the cool features on Royal Caribbean's new Quantum of the Seas.
November 2, 2014 -- Updated 2258 GMT (0658 HKT)

Up in the mountains and across deep chasms, these bridges are both spectacular and terrifying.