Syria's war: CNN's Nick Paton Walsh reflects on front line reports
October 16, 2013 -- Updated 1708 GMT (0108 HKT)
STORY HIGHLIGHTS
CNN's Nick Paton Walsh reflects on his reporting from Syria's front line
Paton Walsh won Emmy for outstanding writing in reports from Syria and Afghanistan
Paton Walsh on Aleppo in 2012: "People didn't really know where the front lines were"
(CNN) -- CNN senior international correspondent Nick Paton Walsh has won an Emmy and an Edward R. Murrow Award for his reports from the front line of the war in Syria.
Paton Walsh has reflected on his experiences in Aleppo, where he reported on the heart-wrenching cruelty of a conflict that has torn the country apart.
"Aleppo Airstrikes" is the account of indiscriminate shelling in the Syrian city of Aleppo. Walsh's piece to camera sees him crouching as a government bomber jet flies above. "It's that sound that terrifies ordinary residents of Aleppo daily," he says. Of the lone infant who survives the strike, Paton Walsh observes: "A year old, he was born into Syria's bloody revolution, and may yet survive it still."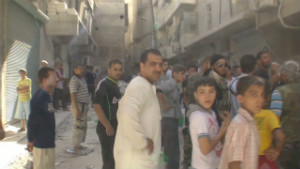 Aleppo civilians struggle with violence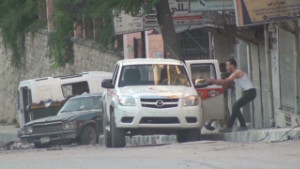 Rebels battle for 100 feet in Aleppo
In "Aleppo: Old City Fight," Paton Walsh goes right inside the fight for the historic old city. His report focuses on the improvised nature of the battle, with "pot-shots at nothing in particular" and what it could mean for the wider conflict.
Paton Walsh says of the scene in Aleppo in 2012: "People didn't really know where the front lines were. It was generally chaotic, and pretty much punctuated all day long with the sound of shelling, or jets flying in to hit civilian areas."
Paton Walsh was awarded the Emmy for outstanding writing for these stories and his report from Afghanistan on an epidemic of self-immolation among young married women in Herat.
In its submission to the Annual News and Documentary Emmy Awards, CNN highlighted Paton Walsh's "poetic writing," saying it contrasted "with the sobering environments from which his stories are usually drawn."
"His reports punch through the daily accounts of wounded and dead, and give us a fresh way to see the grinding pitilessness of war, and its quirky inconsistencies."

Part of complete coverage on
Syrian crisis
March 4, 2014 -- Updated 1328 GMT (2128 HKT)

Syria has submitted a revised proposal "that aims to complete the removal of all chemicals" from the country before the end of April.
February 18, 2014 -- Updated 1032 GMT (1832 HKT)

CNN's Arwa Damon reports on ISIS defector who says destroying ISIS as critical as defeating regime.
February 18, 2014 -- Updated 0353 GMT (1153 HKT)

The U.S. wants a United Nations resolution that will, among other things, bring humanitarian aid for refugees in Syria.
February 17, 2014 -- Updated 1259 GMT (2059 HKT)

When the radical Islamist militia ISIS arrived in the Syrian town of Addana a year ago, many welcomed them. What followed changed their minds.
February 17, 2014 -- Updated 1449 GMT (2249 HKT)

CNN obtained video clips from Syrian activists documenting the atrocities committed by members of the Islamic State in Iraq and Syria, known as ISIS.
February 18, 2014 -- Updated 2017 GMT (0417 HKT)

On Crossfire, Danielle Pletka discusses what the U.S. needs to do to resolve the Syria crisis.
February 6, 2014 -- Updated 0101 GMT (0901 HKT)

Her almond-shaped brown eyes shine through her sunken face as a doctor lifts her sweater to reveal a tiny rib cage pushing against her skin.
February 4, 2014 -- Updated 1746 GMT (0146 HKT)

The Zaatari refugee camp in Jordan is home to around 100,000 Syrian refugees. CNN spent several days meeting the residents of the camp.
January 22, 2014 -- Updated 1959 GMT (0359 HKT)

Renowned war crimes prosecutors and forensic experts have found "direct evidence" of "torture and killing" by the Assad regime.

Traumatized children who have witnessed the horrors of war are being helped to read -- and rebuild a normal life. CNN's Becky Anderson reports.
January 23, 2014 -- Updated 1207 GMT (2007 HKT)

A battle zone tour organized by the Syrian government for CNN and several other media outlets Wednesday was more than bizarre.
January 22, 2014 -- Updated 1735 GMT (0135 HKT)

CNN's Atika Shubert meets with the family of a little girl who was wounded in Syria, now living in a refugee camp.
January 27, 2014 -- Updated 1456 GMT (2256 HKT)

110 year old, Jabari Alawali walked for over 10 hours to reach Jordan from Syria.
Today's five most popular stories