Cronut mania spreads to London
October 14, 2013 -- Updated 1043 GMT (1843 HKT)
STORY HIGHLIGHTS
The cronut - half croissant, half doughnut - has finally arrived in UK bakeries
The pastry was created by French chef Dominique Ansel for his bakery in New York
Cronuts can sell for up to $40 on the pastry black market in New York
Editor's note: Going Global showcases entrepreneurs taking their businesses around the world, tackling issues like business strategy, marketing and international logistics.
(CNN) -- When the love child of the doughnut and the croissant was created by the Dominique Ansel Bakery in New York, fans queued for hours to sample the tasty hybrid snack.
With only 300 cronuts made each day sold at $5 a pop, they are so coveted that they can go for up to $40 on the pastry black market. Even supermodel Heidi Klum had to wait weeks to try one.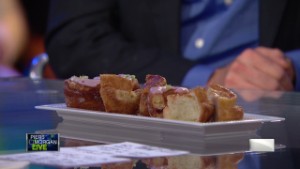 The 'Cronut' vs. the 'DKA'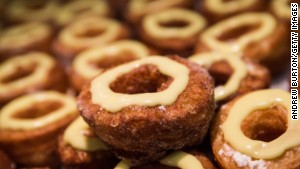 The 'Cronut' conquers New York
Though the cronut has gained worldwide attention on social media since its debut in May, few in the UK have had the chance to taste the unique pastry -- until now.
"It just went viral because it's new," Dominique Ansel told CNN'. "It's fun; it's unusual; it's good."
Read: Starbucks and UK baker in 'Duffin' kerfuffle
One British bakery described it as the most exciting pastry launch since the sausage roll.
But although they have proved extremely popular with British customers, the intense enthusiasm for cronuts in New York is unlikely to be replicated in London.
"Cronuts are called "Yum Yums" in this country and you can buy them in [the supermarket Waitrose. We've had them for decades," wrote Richard Turner, the owner of London's Hawksmoor steakhouse, in an email to his business partner.
Adalat Hussain, co-owner of the Wild and Wood cafe in Central London says British cronut-eaters are attempting to master the treat with a knife and fork. "I think using your hands is the best way," he says.
It just went viral because it's new. It's fun; it's unusual; it's good.
Dominique Ansel
Back across the pond, a young woman in the queue outside the Dominique Ansel Bakery declared the cronut a typically American invention.
"A croissant is a great pastry in the morning; a doughnut is a great pastry in the morning. Really to combine the two is representative of the American way. It's really efficient and delicious and fattening and great."
Read: There's more to Dominique Ansel than Cronuts
Dominique Ansel has copyrighted the term "cronut," prompting bakeries to come up with alternative names like "doissant", "croissant-doughnut" and "doughssant". The much-loved British bakery chain Gregg's launched the Greggsnut in September.
"There's nothing unique about it," says Hussain. "It's just a simple thing that's really taken off."
Now bakeries in the UK are desperate to create their own viral dessert -- anybody fancy a waggle (waffle meets bagel)? Or a crookie (croissant meets cookie)? How about a townie (tartlet meets brownie)?
Whatever your preference, it looks like this particular trend will be with us for a while.

Today's five most popular stories
October 3, 2014 -- Updated 1318 GMT (2118 HKT)

Ambitious companies that ignore the imminent rise of Virtual Assistants as the gateway to the Internet run the same risks as those that dismissed the disruptive innovations of Google in 1998.
September 25, 2014 -- Updated 1313 GMT (2113 HKT)

Navigating the jungle of start-ups and investors can seem seem daunting for freshly-minted entrepreneurs, but a reliable guide can make beating a path to success more achievable.
September 12, 2014 -- Updated 1419 GMT (2219 HKT)

Hope smells like eucalyptus and lemongrass for the farmers of Ikirezi. The Rwandan co-operative is a producer of essential oils, with ambitious plans to reconstruct communities still scarred by genocide.
September 11, 2014 -- Updated 0911 GMT (1711 HKT)

One entrepreneur learned the value of a positive, authentic culture. Without realizing it, he learned how to build one from scratch.
October 18, 2013 -- Updated 1531 GMT (2331 HKT)

The decline of print and rise in peer-reviewed websites are giving publishers a headache. How do you find an edge in the crowded marketplace?
October 4, 2013 -- Updated 1252 GMT (2052 HKT)

The World Bank's most recent report that ranks economies for ease of startups. Find out which country is the easiest to launch your business empire.

See the full coverage of CNN's Going Global, a show highlighting entrepreneurs taking their businesses around the world.