Tough to spot: Chelyabinsk meteor tinted by ancient crashes
October 10, 2013 -- Updated 1318 GMT (2118 HKT)
STORY HIGHLIGHTS
The space rock that blew up over Russia had been darkened by ancient crashes
"Dark asteroids are harder to detect because they reflect less light," scientist says
The meteor injured about 1,500 people when it crashed to Earth in February
Scientists have found about 100 pieces, the biggest of which is about 11 pounds
(CNN) -- The meteor that blew up over southwestern Russia in February had survived long-ago collisions that blackened its surface, making it harder to spot, a scientist who studied its pieces said Wednesday.
The roughly 60-foot space rock plunged into Earth's atmosphere and exploded over the Russian city of Chelyabinsk with the force of about 30 early nuclear bombs. Of the roughly 100 fragments found so far, the biggest weighs about 11 pounds (5 kilograms), said Maria Gritsevich, a researcher at the University of Helsinki.
Read more: Saving Earth from asteroids
Gritsevich and others who have studied those fragments have found the small asteroid was mostly made of ordinary rock.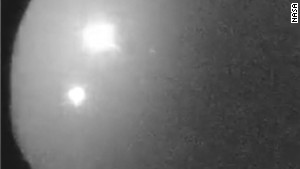 Watch this streaking asteroid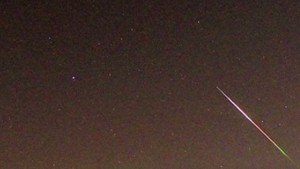 Perseid meteor shower lights up the sky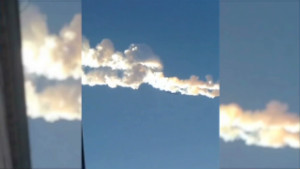 Russian meteor was like 'a rocket bomb'
But it was marbled with metallic elements such as iron -- and when the asteroid collided with other bodies floating around the solar system, the heat and force of that impact melted the metal, which seeped into fissures in the surface of the stone and blackened its surface.
"Dark asteroids are harder to detect because they reflect less light," Gritsevich, who presented her findings at an American Astronomical Society conference this week, told CNN.
Planet of sound: Meteor blast resonated around Earth
While most ordinary rocky asteroids reflect up to 20% of the sunlight that strikes them, and Earth reflects about 40%, dark asteroids reflect 5% of the light or less, she said.
The meteorites collected from the Chelyabinsk incident show varying signs of darkening, with some completely blackened, others made up entirely of light-colored stone and some with a mixture of coloration, Gritsevich said.
"All Chelyabinsk meteorites look different," she said. "You can clearly distinguish three different groups."
She said scientists are still working to determine the age of the Chelyabinsk meteor, the largest to hit Earth since the 1908 Tunguska incident in Siberia.
NASA estimates 4,700 'potentially hazardous' asteroids
The blast left more than 1,500 injured, mostly by glass from shattered windows, and raised concerns about humanity's vulnerability to stray asteroids.
Two months later, NASA announced a goal of sending a spacecraft out to seize and asteroid and tow it into orbit around the moon, where it could be studied by astronauts -- a project billed in part as a planetary defense mission. But it ran into opposition in Congress, where a House committee voted to block any funding for the mission in July.

Today's five most popular stories
Part of complete coverage on
October 21, 2014 -- Updated 0102 GMT (0902 HKT)

A 15-year-old pregnant girl is rescued from slavery, only to be charged with having sex outside of marriage, shocked rights activists say -- a charge potentially punishable by death.
October 22, 2014 -- Updated 0333 GMT (1133 HKT)

After sushi and ramen, beef is on the list of must-eats for many visitors to Japan.
October 20, 2014 -- Updated 1607 GMT (0007 HKT)

Airports judged on comfort, conveniences, cleanliness and customer service.
October 21, 2014 -- Updated 1440 GMT (2240 HKT)

Scientists use CT scans to recreate a life-size image of the ancient king.
October 22, 2014 -- Updated 0241 GMT (1041 HKT)

Despite billions spent on eradicating poppy production, Afghan farmers are growing bumper crops, a U.S. government report says.
October 20, 2014 -- Updated 1319 GMT (2119 HKT)

With so many new attractions on the way, the next few years are going to be a roller coaster ride.
October 16, 2014 -- Updated 0429 GMT (1229 HKT)

Thomas Malthus famously predicted that rising populations would create a food crunch: Could this be true?
October 21, 2014 -- Updated 0945 GMT (1745 HKT)

The lives of everyone close to Oscar Pistorius and the girl he killed are changed forever, his siblings say.
October 22, 2014 -- Updated 0453 GMT (1253 HKT)

Gene Simmons reflects on 40 years of KISS, and how even rock royalty needs sound business principles.
October 18, 2014 -- Updated 1033 GMT (1833 HKT)

From "Sick Man of Europe" to the world's fourth largest economy.
October 21, 2014 -- Updated 1331 GMT (2131 HKT)

Each day, CNN brings you an image capturing a moment to remember, defining the present in our changing world.

Browse through images from CNN teams around the world that you don't always see on news reports.