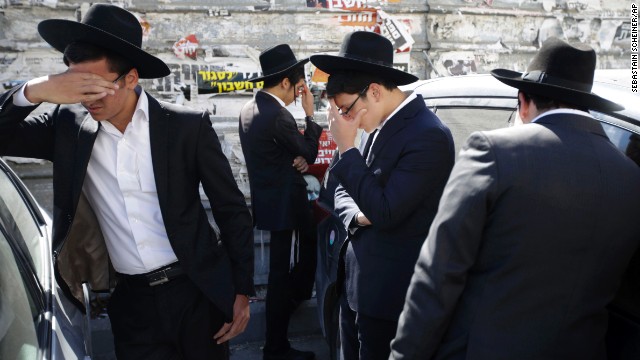 Mourners gather outside the Jerusalem home of
Rabbi Ovadia Yosef
, the former Sephardic chief rabbi of Israel, on Monday, October 7. Yosef, 93, died after medical complications from a stroke he suffered earlier this year. He was considered the leading authority in religious rulings in the realm of Jewish law and was a founder of the ultra-Orthodox Shas Party, playing a pivotal role in Israeli politics.
Israeli Prime Minister Benjamin Netanyahu, center, escorts Yosef's body during the rabbi's funeral in Jerusalem on October 7.
Orthodox Jews watch Yosef's funeral procession on October 7 in Jerusalem.
Yosef's body gets carried up stairs during the funeral procession.
Orthodox Jews sit next to the rabbi's body on October 7 in Jerusalem.
Police try to hold back Orthodox men and children from reaching the vehicle carrying the rabbi's body.
A man weeps outside Yosef's home in Jerusalem after hearing about the rabbi's death.
A woman makes a phone call in a hallway near Yosef's room at the Hadassah Ein Kerem Hospital in Jerusalem. The rabbi died at the hospital.
Rabbi Ovadia Yosef, Israeli spiritual leader, dies
Rabbi Ovadia Yosef, Israeli spiritual leader, dies
Rabbi Ovadia Yosef, Israeli spiritual leader, dies
Rabbi Ovadia Yosef, Israeli spiritual leader, dies
Rabbi Ovadia Yosef, Israeli spiritual leader, dies
Rabbi Ovadia Yosef, Israeli spiritual leader, dies
Rabbi Ovadia Yosef, Israeli spiritual leader, dies
Rabbi Ovadia Yosef, Israeli spiritual leader, dies