Zlatan Ibrahimovic: Parisians take a bite out of Paris Saint-Germain star
October 2, 2013 -- Updated 1534 GMT (2334 HKT)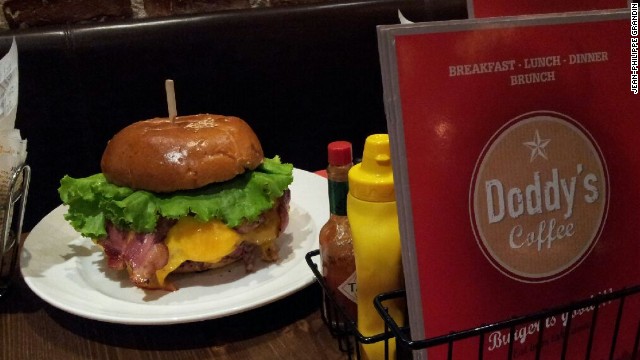 Behold the "Zlatan burger", a mountain of meat dedicated to Paris Saint-Germain's star striker Zlatan Ibrahimovic. The $41 monster is the brainchild of French cafe manager Jean-Philippe Grandin.
The mercurial striker arrived at the Parc des Princes in 2012. His career has seen him play for some of Europe's biggest clubs, including Ajax, Inter Milan and Barcelona, winning eight league titles in four different countries.
PSG fanatic Grandin wanted a burger worthy of his team's towering forward. It weighs over one kilogram, including a 600 gram burger, three different types of cheese and a custom-made bun.
Ibrahimovic's first season in Paris ended in glory. The Swede scored 30 league goals as PSG stormed to the French First Division title.
As this picture shows "Le Zlatan" towers over other burgers on the menu at Doddy's Cafe. "We have a lot of homemade burgers on the menu, I wanted to invent an extraordinary burger," declared Grandin.
'Le Zlatan'
'Je suis Zlatan'
Mountain of meat
Burger of champions?
'An extraordinary burger'
STORY HIGHLIGHTS
A Paris cafe manager has dedicated a burger to Zlatan Ibrahimovic
"Le Zlatan" weighs over one kilogram and contains a 600 gram burger
It is the brainchild of avid Paris Saint-Germain fan Jean-Philippe Grandin
Ibrahimovic's 30 league goals powered PSG to the 2012-13 French title
(CNN) -- Zlatan Ibrahimovic may have cost Paris Saint-Germain $30 million, but you can get your own chunk of the Swedish striker for just $41.
A French restaurateur has unveiled "Le Zlatan", a monstrous 600 gram burger served up in homage to the moody PSG star.
While the real life Ibrahimovic can boast eight league titles in four different countries, his meaty equivalent is a mixture of minced beef and onions, bacon and three types of cheeses.
The stomach-busting meal is the brainchild of Jean-Philippe Grandin, manager of Doddy's Cafe in Boulogne-Billancourt, Paris and an ardent PSG fan.
Read: "Russia 2018 has nothing to hide"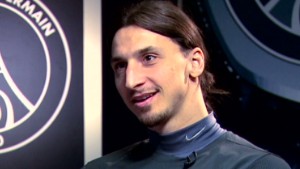 Exclusive: What makes Ibrahimovic tick?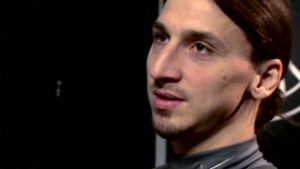 Ibrahimovic reveals biggest weakness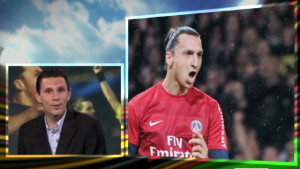 Ibrahimovic: Hero or villain?
"We have a lot of homemade burgers on the menu, but I wanted to invent an extraordinary burger," Grandin told CNN. "I am a supporter of Paris Saint-Germain and at the restaurant we show all of the PSG matches."
Coming inside a chunky custom-made bun, "Le Zlatan" stands head and shoulders above the regular burgers on the menu, weighing in at over one kilogram, including 250 grams of bread and 300 grams of cheese.
Grandin says this reflects the supremacy of Sweden international Ibrahimovic, who has also played for Ajax, Inter Milan and Barcelona during a glittering career, over every player in Ligue 1.
Read: Arsenal's perfect present for Wenger
"In our league we have an extraordinary player, Zlatan Ibrahimovic," added Grandin. "Zlatan is an amazing player, he is the biggest player in the French league."
And an extraordinary player deserves an extraordinary burger, which is pitched as a meal for two diners or a culinary Everest for one hardy, and hungry, soul.
With Ibrahimovic -- who scored 30 league goals during his first season with PSG -- extending his contract at the Parc des Princes until 2016, Grandin has no intention of immortalizing any other footballers in meat anytime soon.
"For the moment nobody can match him," he concluded.
"There is just one extraordinary player, so I cannot make another extraordinary burger."

Today's five most popular stories
Part of complete coverage on
October 28, 2014 -- Updated 1253 GMT (2053 HKT)

They splash the cash on the world's best players, now Real Madrid are giving the Bernabeu the same treatment with a bling makeover.
October 27, 2014 -- Updated 1309 GMT (2109 HKT)

Football world mourns South African captain Senzo Meyiwa who was shot and killed during a botched robbery in a township near Johannesburg.
October 21, 2014 -- Updated 1348 GMT (2148 HKT)

From the ancient ruins of Rome, a new empire rises. But the eyes of the city's newest gladiator light up at thoughts of the Colosseum.
October 21, 2014 -- Updated 1622 GMT (0022 HKT)

Once part of Germany's largest Jewish sports club, now he's the first ISIS suspect to stand trial in a country left shocked by his alleged radicalization.
October 17, 2014 -- Updated 1411 GMT (2211 HKT)

One goal in eight matches for new club Liverpool, and dumped by the Italian national team -- Mario Balotelli has yet to shine on his English return.
October 18, 2014 -- Updated 1819 GMT (0219 HKT)

Should a convicted rapist, who has served their time in prison, be allowed to resume their old job? What if that job was as a high-profile football player?
October 16, 2014 -- Updated 1247 GMT (2047 HKT)

After 10 years of golden glory, it's easy to see how Lionel Messi has taken his place among the football gods.
October 16, 2014 -- Updated 1034 GMT (1834 HKT)

When will the tears stop? A leading Italian football club is pursuing a new direction -- under the guidance of its new Indonesian owner.
October 13, 2014 -- Updated 2241 GMT (0641 HKT)

Norwegian 15-year-old Martin Odegaard is the youngest player ever to feature in a European Championships qualifying match.
October 10, 2014 -- Updated 1310 GMT (2110 HKT)

After revolutionizing cricket with its glitzy Twenty20 league, India has now thrown large sums of money at a new football venture.
October 2, 2014 -- Updated 1453 GMT (2253 HKT)

Get ruthless. That is Rio Ferdinand's message to soccer's authorities in the fight to tackle the scourge of racism.
September 10, 2014 -- Updated 1328 GMT (2128 HKT)

He's just 15 and the world is seemingly already at his feet. Norway's Martin Odegaard is being sought by Europe's top clubs.