Retro travel themes rule at London tattoo show
October 2, 2013 -- Updated 1416 GMT (2216 HKT)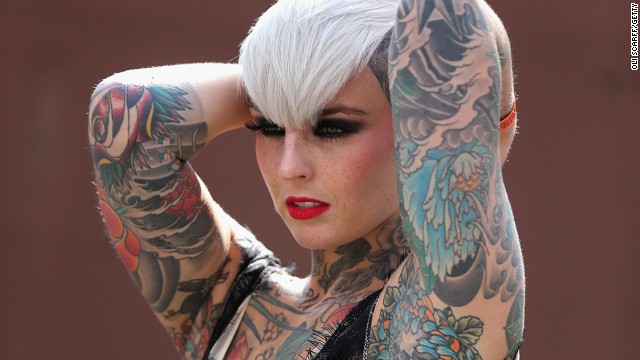 Retro themes were back in fashion at the London International Tattoo Convention over the weekend.
Sailing ships and anchors were much in evidence, emblazoned across many different body parts.
Samurai and sword-rich eastern scenes were also common, the organizers said.
Both themes were a reminder of how tattoos -- worn by sailors, explorers and other exotic types -- have long been intertwined with travel. The tattooed heads on show were harder to interpret -- but at least they returned to tattooing some of its outsider caché.
A final trend illuminated by the London show? Permanent tattoos are no longer permanent. You can scrub 'em off and set off around the world in search of more designs that other people will covet -- until everyone has one
Tattooed lady
Hello, sailor!
Orientalism
Ink head
Impermanent tattoos
STORY HIGHLIGHTS
Sailing ships, anchors among favorite designs at international tattoo convention
Exotic east another popular theme on display in London
Trends illuminate tattoos' long relationship with travel
London (CNN) -- Retro ruled at the Ninth International London Tattoo Convention over the weekend.
It was a reminder of how central the theme of travel has long been to tattoos.
How so?
Consider the vintage designs that proved so popular among the thousands of inky fans gathered from all over the world at the three-day meet.
Mermaids. Anchors and sailing ships. Coy 50s pin-ups. Gypsy girls.
It's the classic iconography of the sailor's bicep -- signifiers, in other words, of the professional, inveterate traveler.
Traditional swing
"There's definitely a swing back to traditional. The fashion is the old U.S. marine styles," Marcus Berriman, co-organiser of the convention, told the Guardian.
But another trend on show had an equally strong travel imprint.
Along with "[t]he old-school sailor stuff ... the Japanese are really in vogue now," Aimee Cornwell, a second-generation tattooist at the show told the paper, referring to designs thick with swords and samurais.
Such oriental themes hark back to the allure of the exotic, when wearing a tattoo so often symbolized that you'd been somewhere foreign -- possibly very foreign -- and were therefore also probably a little suspicious.
Now all a tat need signify is that you know how to find your way to a trendy inner-city tattoo parlor.
Could it be that a return to rootless maritime themes and the mysterious east are an attempt to restore a demimonde thrill to a practice that's becoming so mainstream that the next radical statement could be to go entirely tattoo-free?
Or to tattoo your head -- another unmissable trend at the convention that one artist present called a potential "life-ruiner," and something she, like many of her fellow practitioners, never offered.
Scrubbed clean
Seen as one of the great follies of youth, tattooing -- especially when it's on someone's head -- can make you want to scream, "You can't scrub it off!"
Except that you can.
Painful and expensive it might be, but lasering can now return a tattooed body to a blank, if slightly smudgy, canvas.
Leaving you to travel the world in search of new tattoos.
Judging by the skilled artists present, by invitation only, at the convention, electrifying designs are on offer in a growing number of countries around the world.
And to think you just used to sew little flags on to your backpack to show all the places you'd traveled to.

Today's five most popular stories
Part of complete coverage on
October 28, 2014 -- Updated 0149 GMT (0949 HKT)

Luxury Action will turn your travel scripts into reality and film them. As long as you're willing to travel to this country ...
October 27, 2014 -- Updated 0913 GMT (1713 HKT)

As entertainment capital of the world, Los Angeles draws some of the best comic talent on the planet. Here's where to see it live.
October 27, 2014 -- Updated 0342 GMT (1142 HKT)

Not many people choose flights based on the quality of an airline's catering -- but those who do should check out Saveur's Culinary Travel Awards.
October 27, 2014 -- Updated 0251 GMT (1051 HKT)

On the island of rice, curry, tropical fruit and fresh seafood, eating is an honor to the taste buds.
October 23, 2014 -- Updated 1558 GMT (2358 HKT)

Sparsely populated (by humans at least), this East Africa country offers so much more than just Mt. Kilimanjaro.
October 24, 2014 -- Updated 1432 GMT (2232 HKT)

It's crowded and outdated, but Berlin's hexagon-shaped Tegel air hub has won a place in the city's heart.
October 23, 2014 -- Updated 0847 GMT (1647 HKT)

Shrine to a dead cat and a homage to fromage among Dutch capital's eccentric exhibitions.
October 22, 2014 -- Updated 0603 GMT (1403 HKT)

Slovenian Kickstarter project encourages travelers to hop on their suitcase and cruise through terminals to connecting gates.
October 20, 2014 -- Updated 1808 GMT (0208 HKT)

The guidebook asked staff, contributors and authors for well-known and lesser-known recommendations.
October 20, 2014 -- Updated 1607 GMT (0007 HKT)

An airport in Asia has stolen the crown from Manila's Ninoy Aquino, voted 'world's worst' three years in a row.