Retro travel themes rule at London tattoo show
October 2, 2013 -- Updated 1416 GMT (2216 HKT)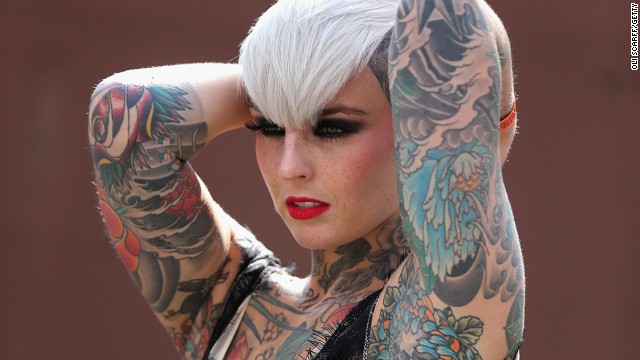 Retro themes were back in fashion at the London International Tattoo Convention over the weekend.
Sailing ships and anchors were much in evidence, emblazoned across many different body parts.
Samurai and sword-rich eastern scenes were also common, the organizers said.
Both themes were a reminder of how tattoos -- worn by sailors, explorers and other exotic types -- have long been intertwined with travel. The tattooed heads on show were harder to interpret -- but at least they returned to tattooing some of its outsider caché.
A final trend illuminated by the London show? Permanent tattoos are no longer permanent. You can scrub 'em off and set off around the world in search of more designs that other people will covet -- until everyone has one
Tattooed lady
Hello, sailor!
Orientalism
Ink head
Impermanent tattoos
STORY HIGHLIGHTS
Sailing ships, anchors among favorite designs at international tattoo convention
Exotic east another popular theme on display in London
Trends illuminate tattoos' long relationship with travel
London (CNN) -- Retro ruled at the Ninth International London Tattoo Convention over the weekend.
It was a reminder of how central the theme of travel has long been to tattoos.
How so?
Consider the vintage designs that proved so popular among the thousands of inky fans gathered from all over the world at the three-day meet.
Mermaids. Anchors and sailing ships. Coy 50s pin-ups. Gypsy girls.
It's the classic iconography of the sailor's bicep -- signifiers, in other words, of the professional, inveterate traveler.
Traditional swing
"There's definitely a swing back to traditional. The fashion is the old U.S. marine styles," Marcus Berriman, co-organiser of the convention, told the Guardian.
But another trend on show had an equally strong travel imprint.
Along with "[t]he old-school sailor stuff ... the Japanese are really in vogue now," Aimee Cornwell, a second-generation tattooist at the show told the paper, referring to designs thick with swords and samurais.
Such oriental themes hark back to the allure of the exotic, when wearing a tattoo so often symbolized that you'd been somewhere foreign -- possibly very foreign -- and were therefore also probably a little suspicious.
Now all a tat need signify is that you know how to find your way to a trendy inner-city tattoo parlor.
Could it be that a return to rootless maritime themes and the mysterious east are an attempt to restore a demimonde thrill to a practice that's becoming so mainstream that the next radical statement could be to go entirely tattoo-free?
Or to tattoo your head -- another unmissable trend at the convention that one artist present called a potential "life-ruiner," and something she, like many of her fellow practitioners, never offered.
Scrubbed clean
Seen as one of the great follies of youth, tattooing -- especially when it's on someone's head -- can make you want to scream, "You can't scrub it off!"
Except that you can.
Painful and expensive it might be, but lasering can now return a tattooed body to a blank, if slightly smudgy, canvas.
Leaving you to travel the world in search of new tattoos.
Judging by the skilled artists present, by invitation only, at the convention, electrifying designs are on offer in a growing number of countries around the world.
And to think you just used to sew little flags on to your backpack to show all the places you'd traveled to.

Today's five most popular stories
Part of complete coverage on
November 24, 2014 -- Updated 0118 GMT (0918 HKT)

These quirky and beautiful subway stops make standing cheek-to-cheek with 45 strangers almost seem fun.
November 21, 2014 -- Updated 1314 GMT (2114 HKT)

Luxury vintage Land Rover tours explore Bedouin backwaters without bashing up precious dunes.
November 20, 2014 -- Updated 0250 GMT (1050 HKT)

Cities around the world have closed the brew gap, but the Oregon city's innovative scene continues to lead the beer parade.
November 19, 2014 -- Updated 2249 GMT (0649 HKT)

From gourmet hotdogs to Sevillian tapas, the food served in these London restaurants is worth lining up for.
November 20, 2014 -- Updated 1545 GMT (2345 HKT)

Plans are underway to build the world's tallest -- and quite possibly most terrifying -- roller coaster at an Orlando, Florida, theme park due to open in 2017.
November 18, 2014 -- Updated 1932 GMT (0332 HKT)

The 7th Annual Cruise Critic Editors' Picks Awards highlight the top cruise lines for North American travelers in 18 categories.
November 19, 2014 -- Updated 0206 GMT (1006 HKT)

Joining the ranks of pilgrims tackling Adam's Peak rewards with a spiritual awakening, or at least a stunning sunrise.
November 18, 2014 -- Updated 1313 GMT (2113 HKT)

Beautifully designed travel document reveals image of Northern Lights when placed under UV light.
November 18, 2014 -- Updated 0525 GMT (1325 HKT)

New concept offering luxury rooms in ancient dwellings helps spare beautiful villages from falling into ruin.
November 21, 2014 -- Updated 2247 GMT (0647 HKT)

Are you the butcher or the cattle? Tainted meat-obsessed fans are following the tracks of their favorite "Walking Dead" survivors.
November 17, 2014 -- Updated 0521 GMT (1321 HKT)

People never cease to find amazing ways to make water more incredible than it already is. Here are some powerful examples