10 best places to start a business
October 4, 2013 -- Updated 1252 GMT (2052 HKT)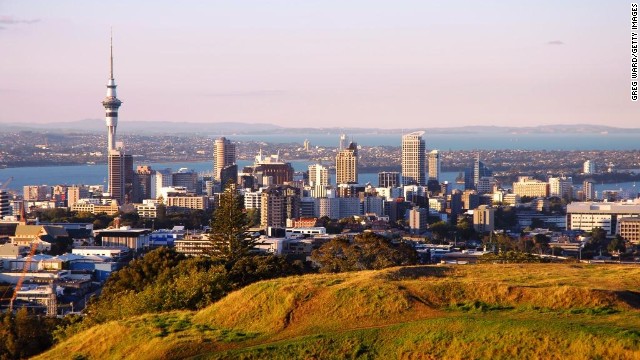 This is the second consecutive year that New Zealand has come first in the World Bank ranking. After registering a company name online, entrepreneurs can apply for tax-related accounts and incorporate the company at the same time.
Australia made starting a business cheaper a few years ago by lowering the registration fee. It now costs 426 Australian dollars (US$390).
Starting a business in Canada takes one online application, and five days for the company to receive the business number, according to the report.
One of the three steps of starting a business in Singapore is the traditional requirement of making a company seal, an ink stamp used as a signature on numerous documents.
Over the past five years, Macedonia has simplified the process of establishing a business by lowering capital requirements, reducing application procedures and time, and improving its online one-stop shop.
In addition to registering the company and creating a rubber stamp, Hong Kong requires companies to sign up for an insurance policy and for the local pension fund.
Georgia has removed layers of red tape in recent years, now requiring registration and opening a new bank account, which are expected to take two days.
Although it is not particularly easy to do business in Rwanda overall, it is relatively simple to start a company. The only requirement is to registering the business, which is free of charge if it is done online, and the certificate is ready in one to three days.
Launching a business in Belarus takes five days, about a third of the average time in Eastern Europe and Central Asia. It also does not require entrepreneurs put in a minimum capital.
The first step in opening a business in Ireland is for a company founder to swear that the company has complied with relevant laws.
No. 1: New Zealand
No. 2: Australia
No. 3: Canada
No. 4: Singapore
No. 5: Macedonia
No. 6: Hong Kong
No. 7: Georgia
No. 8: Rwanda
No. 9: Belarus
No. 10: Ireland
STORY HIGHLIGHTS
The World Bank's annual "Doing Business" report ranks countries and territories for how easy it is to run a company there
The ranking looks at how many steps it takes and how much capital is required
New Zealand is said to be the easiest place to start a company
Editor's note: Going Global showcases entrepreneurs taking their businesses around the world, tackling issues like business strategy, marketing and international logistics.
(CNN) -- The World Bank's most recent report that ranks economies for ease of doing business has found New Zealand to be the easiest place to start a small and medium-sized enterprise.
The rankings look at 185 economies around the world.
In measuring how easy it is to start a limited liability company, the report looks at how many steps are officially required or commonly done by entrepreneurs, as well as how many days it takes to go through those procedures.
The report also factors in the cost and the minimum capital required, with 0% of income per capita being best.
In New Zealand, it takes only one step and one day, the ideal number, to incorporate a company. Someone who wants to open a business just has to apply for registration online.
According to the report, the process costs 163.55 New Zealand dollars (US$129) and does not have a minimum capital requirement.
By contrast, the U.S. ranks 13, needing six steps in order to start a business with no minimum capital. The report based the U.S. statistics on requirements in New York City, as it used the largest business city of each country it studied.

Today's five most popular stories
October 3, 2014 -- Updated 1318 GMT (2118 HKT)

Ambitious companies that ignore the imminent rise of Virtual Assistants as the gateway to the Internet run the same risks as those that dismissed the disruptive innovations of Google in 1998.
September 25, 2014 -- Updated 1313 GMT (2113 HKT)

Navigating the jungle of start-ups and investors can seem seem daunting for freshly-minted entrepreneurs, but a reliable guide can make beating a path to success more achievable.
September 12, 2014 -- Updated 1419 GMT (2219 HKT)

Hope smells like eucalyptus and lemongrass for the farmers of Ikirezi. The Rwandan co-operative is a producer of essential oils, with ambitious plans to reconstruct communities still scarred by genocide.
September 11, 2014 -- Updated 0911 GMT (1711 HKT)

One entrepreneur learned the value of a positive, authentic culture. Without realizing it, he learned how to build one from scratch.
October 18, 2013 -- Updated 1531 GMT (2331 HKT)

The decline of print and rise in peer-reviewed websites are giving publishers a headache. How do you find an edge in the crowded marketplace?
October 4, 2013 -- Updated 1252 GMT (2052 HKT)

The World Bank's most recent report that ranks economies for ease of startups. Find out which country is the easiest to launch your business empire.

See the full coverage of CNN's Going Global, a show highlighting entrepreneurs taking their businesses around the world.