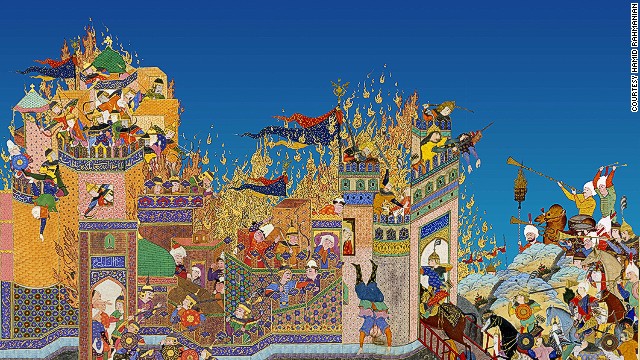 Persian filmmaker Hamid Rahmanian has made a contemporary translation of the Iranian epic, Shahnameh, for the digital age.
Rahmanian collected over 8,000 Persian miniatures and lithographs, which he then scanned, retouched, and used to create a multi-layered collage. Each page of his 500-page remastering is comprised of hundreds of individual elements.
The Shahnameh is the longest poem every written. It's is bigger than the Iliad and Odyssey combined.
A filmmaker and graphic artist, Rahmanian tried to give the illustrations a movie-like quality.
Ahmad Sadri, a professor of sociology and anthropology at Lake Forest College, translated the text into English prose.
Sadri worked to breathe life into the English translation, while making it relatable to a 21st century audience.
Though there is a long history of visual versions of the Shahnameh, illustrating the text has fallen out of fashion of late. Rahmanian's version is one of the first graphic renditions to hit the shelves in 100 years.
The Shahnameh's original author, Abol Ghassem Ferdowsi, spent 30 years gathering Persian folklore, myths and histories, before compiling it into his epic poem.
Many of the Shahnameh's tales, including that of Zaul and Rudabeh (pictured) were the basis for some of the English language's most famous stories.
Though the epic was written 1,000 years ago, the Persian narrative is as readable to today's Iranians as it was ancient Persians. The reason for this is that Farsi has remained fairly consistent over the years.
Despite its age, the Shahnameh has remained a touchstone of the Iranian psyche. Many children are still read to sleep with the ancient verses.
Fans of Shakespeare may find the tale of Bizhan and Manizheh familiar. The story depicts star crossed lovers from warring families.
The Shahnameh is often credited with preserving the Persian language following the Arab Conquest of the 7th century.
Rahmanian collected lithographs and miniatures from the 14th to 19th century. Some characters, he says, are compilations of 500 years of history.
Rahmanian envisions himself as a visual DJ. 'Instead of collecting sound and music and changing the tempo or tone to create a new composition, I created something with miniatures and lithographs,' he says.
Sheila Canby, head of the Metropolitan Museum's Department of Islamic Art, notes that Rahmanian uses a much more cinematic palette than his predecessors.
Rahmanian says the story of Zaul (pictured), who was raised by a mythical bird, is mimicked by modern tales, such as Disney's 'The Jungle Book'.
Canby, who wrote the forward, says Rahmanian's version is the 'Shahnameh for the Digital Age.'
An epic for the digital age
An epic for the digital age
An epic for the digital age
An epic for the digital age
An epic for the digital age
An epic for the digital age
An epic for the digital age
An epic for the digital age
An epic for the digital age
An epic for the digital age
An epic for the digital age
An epic for the digital age
An epic for the digital age
An epic for the digital age
An epic for the digital age
An epic for the digital age
An epic for the digital age