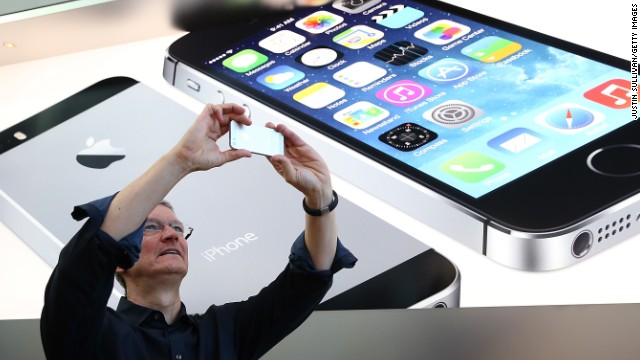 How much of an upgrade is the camera on the new iPhone 5S (as wielded here by Apple CEO Tim Cook)? CNN's Heather Kelly snapped a series of photos with both phones to compare.
The improved iPhone 5S flash modulates its settings for the situation instead of just emitting a blast of light. These images show how the flash on the iPhone 5 gives the guitar a washed-out look, left, while the iPhone 5S flash at right produces more contrast.
You see a similar difference when the flash is used to take photos of this cat. The iPhone 5 image, left, looks flat and muted, while the 5S shot on the right has more texture and depth.
The red color of this awning and the blue of the sky look richer and more saturated in the iPhone 5S picture on the right.
It's hard to tell much of a difference between these two shots of a boat, although the one on the right (with the 5S) has slightly richer tones and contrast.
The iPhone 5S has a larger sensor, which lets in more light and makes indoor or nighttime photos less murky. The 5S picture on the right is crisper and shows less flare from the airport lights than the iPhone 5 shot on the left.
The iPhone 5s camera has an action-shot feature called Burst Mode that snaps 10 frames per second -- ideal for trying to get a decent shot of a moving subject, as seen here. With an iPhone 5, you just have to hit the shutter button over and over and hope for the best.
Photos: iPhone 5S vs. iPhone 5
iPhone 5S vs. iPhone 5
iPhone 5S vs. iPhone 5
iPhone 5S vs. iPhone 5
iPhone 5S vs. iPhone 5
iPhone 5S vs. iPhone 5
iPhone 5S vs. iPhone 5