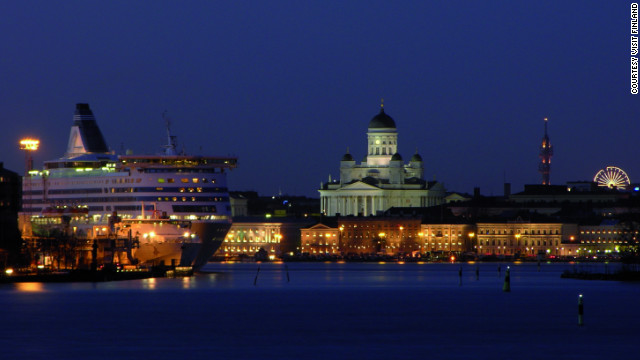 A dozen wallets were dropped in each of the following cities as part of a Reader's Digest experiment. Each contained a cell phone number, the equivalent of $50 in cash, coupons, business cards and a family photo. In Helsinki, Finland, 11 out of 12 wallets were returned, putting the city at the top of the honesty heap. "Finns are naturally honest," one of the good Samaritans who returned a wallet told Reader's Digest.
In Mumbai, nine out of 12 wallets were returned.
Eight out of 12 wallets were returned in Budapest.
New Yorkers also returned eight out of the 12 wallets dropped. "Everyone says New Yorkers are unfriendly, but they're really quite a nice people," wallet returner Richard Hamilton told Reader's Digest.
In Moscow, seven out of 12 wallets were returned.
The residents of Amsterdam also returned seven out of 12 wallets.
Half of the 12 wallets were reunited with Reader's Digest reporters in Berlin.
In Ljubljana, half of the wallets also were returned. "My parents taught me how important being honest is," said 21-year-old Manca Smolej.
London's residents fell below the 50% line in wallet reunification. Seven of the 12 dropped in London were pocketed.
Only five of 12 dropped were returned in Warsaw, too.
Only a third of those dropped in Bucharest were returned.
Rio denizens also returned only a third of the 12 wallets left unattended across their city.
Zurich's good Samaritan levels also left something to be desired with four out of 12 wallets returned.
In Prague, just a quarter of the 12 wallets made it back to the wallet-droppers.
Just two of the wallets dropped in Madrid were returned.
And the city with the lowest rate of wallet return? Lisbon, Portugal. Just one of the 12 wallets was returned, by a couple visiting from the Netherlands.
Helsinki, Finland -- No. 1 in honesty
Mumbai, India
Budapest, Hungary
New York
Moscow
Amsterdam, Netherlands
Berlin
Ljubljana, Slovenia
London
Warsaw, Poland
Bucharest, Romania
Rio de Janeiro
Zurich, Switzerland
Prague, Czech Republic
Madrid
Lisbon, Portugal