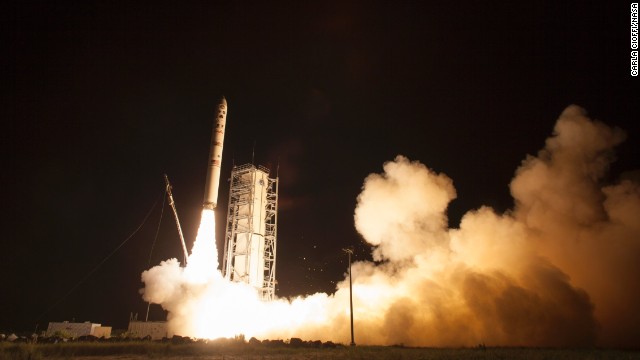 NASA's Lunar Atmosphere and Dust Environment Explorer (LADEE) observatory launches aboard the Minotaur V rocket from the Mid-Atlantic Regional Spaceport at NASA's Wallops Flight Facility on Friday, September 6, in Virginia.
LADEE is a robotic mission that will orbit the moon, where it will provide unprecedented information about the environment around the moon and give scientists a better understanding of other planetary bodies in our solar system and beyond.
David W. Thompson, chairman and CEO of Orbital Sciences, left, NASA Administrator Charles Bolden and Mrs. Jaqueline Bolden watch the launch on September 6.
A rocket carrying a NASA moon orbiter sits on the launch pad in Wallops Island, Virginia, on September 6. The Lunar Atmosphere and Dust Environment Explorer (LADEE) is designed to "orbit the moon to gather detailed information about the lunar atmosphere, conditions near the surface and environmental influences on lunar dust," NASA said.
During final preparations for launch, engineers mount the spacecraft onto a spin table and rotate it at high speeds to make sure it's perfectly balanced for flight.
The moon orbiter sits in the nose-cone at the top of the Minotaur V rocket, a ballistic missile converted into a space launch vehicle.
NASA engineers at the Wallops Flight Facility in Virginia load the spacecraft into the rocket's nose-cone. LADEE is the first spacecraft designed, developed, built and tested at NASA's Ames Research Center in Moffett Field, California.
Engineers prepare to put the rocket into place.
Photos: NASA launches moon orbiter
Photos: NASA launches moon orbiter
Photos: NASA launches moon orbiter
NASA launches moon orbiter
NASA launches moon orbiter
NASA launches moon orbiter
NASA launches moon orbiter
NASA launches moon orbiter