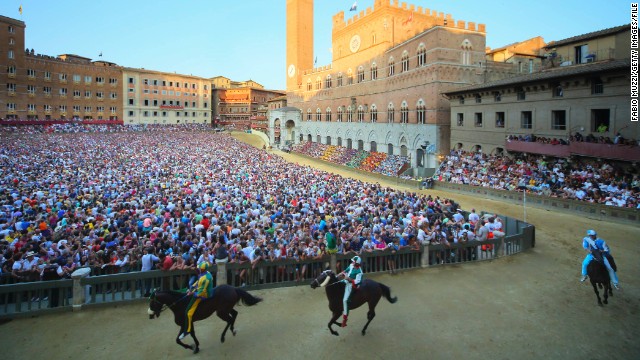 Each year, the pretty city of Siena in Tuscany is transformed into a medieval race track, with around 50,000 spectators cheering on 10 bareback riders. As the dust settles on this year's Palio di Siena, CNN takes a look at five weird and wonderful horse festivals from around the world.
Before the Pailo di Siena riders make their 90-second dash around the city, each horse is blessed by a priest for the race which dates back to the 17th Century.
It might look like the Four Horsemen of the Apocalypse, but these horses leaping over bonfires in San Bartolome de Pinares are part of St Anthony's Day eve celebrations. It is believed the animals are purified and protected during the controversial ritual.
From fire to ice, the White Turf racing festival takes place on frozen Lake St Moritz each year. Here, riders attached to harnesses ski behind their horses in the unusual sport of skijoring.
Head to the island of Sumba in Indonesia and you'll find a far more tropical climate at the Pasola Festival. Gutsy horsemen use blunt spears in a ritual battle believed to boost crops.
The elaborately attired warriors continue at Soma-Nomaoi festival in Japan, where samurai horsemen go head-to-head in three days of competitions.
Ride into the sunset
1. Palio di Siena, Italy
2. Luminarias Festival, Spain
3. White Turf, Switzerland
4. Pasola Festival, Indonesia
5. Soma-Nomaoi Festival, Japan
STORY HIGHLIGHTS
As the dust settles on Italy's Palio de Siena, CNN looks at wild horse festivals
Includes fire leaping in Spain and samurai battles in Japan
A world away from traditional races such as Royal Ascot or Kentucky Derby
Some ancient horse shows date back to 10th Century
Editor's note: Winning Post is CNN's monthly horse racing show. Click here for program times and latest features.
(CNN) -- Each summer, more than 50,000 people pour into a cobblestone square in Tuscany for a gut-wrenching 90-seconds.
That's all it takes for the flamboyantly dressed jockeys of Italy's legendary horse race -- Palio di Siena -- to race bareback around the medieval square.
It's been called the "most dangerous horse race in the world" -- about as far away as you can get from the genteel green lawns of Britain's Royal Ascot or the multimillion prize money bestowed on America's Kentucky Derby.
Now as the dust settles on this year's colorful Palio di Siena, CNN takes a look at five weird and wonderful horse festivals from across the world.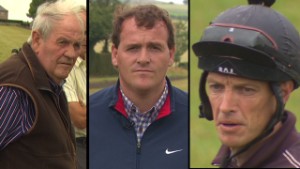 The Hannon family's racing dynasty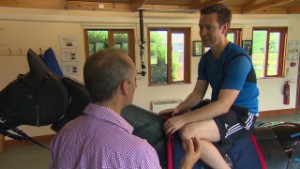 Are you fit enough to be a jockey?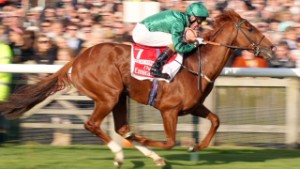 Horse racing's 'speed gene' test
Palio di Siena, Italy
On two days each year, the pretty town of Siena in northern Tuscany is transformed into an elaborate medieval race track, with 10 riders careering around the iconic city square three times.
Dating back to the 17th century, each rider represents their local neighborhood, competing not just for the coveted victory banner -- but good luck for the coming year.
Read: Hot to trot -- jockey fashion secrets
Luminarias Festival, Spain
Fire and horses may seem like an unlikely combination, but that's exactly the dramatic scene which takes place in a small town in central Spain each year.
Horse are ridden over blazing tree branches as part of the Luminaries Festival in San Bartolome de Pinares, in an effort to purify and protect the animals.
The controversial tradition, which has been criticized by animal welfare groups, dates back 500 years and is held on the eve of Saint Anthony's Day.
Watch: From camel racing to prized jockey
White Turf, Switzerland
From fiery Spain to snowy Switzerland -- there's not a bonfire in sight at the glitzy White Turf racing carnival, held on the frozen Lake St Moritz.
The remarkable competition includes skijoring, where horses thunder around the icy track while their riders hold on for dear life to a harness at the back, trailing behind on skis.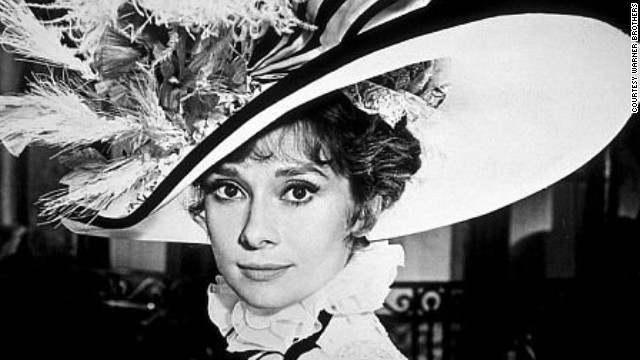 Don't let the demure appearance fool you. Audrey Hepburn, better known as Eliza Doolittle in 1964 film My Fair Lady, knew how to scream obscenities with the best of them -- especially at the races.
In this famous scene at Britain's most prestigious horse race -- Royal Ascot -- Hepburn shocks high society by yelling: "C'mon Dover! Move yer bloomin' arse!"
And where did she horrify high society? None other than Ascot's exclusive Royal Enclosure. The first class ticket area includes the best seats in the stand, luxury marquees (pictured) and private track side gazebos.
The plush marquees feature escalators, chandeliers and fine dining. Expect to mingle with royalty, lords and real fair ladies. "It's just incredibly beautiful," said Nick Smith, head of communications. "Imagine the smartest restaurants you've ever seen."
Of course, not just anyone can get in. Guests must be sponsored by someone who has attended four times. Overseas visitors can bypass the sponsorship, but their application -- including character references -- must still be approved by their country's High Commission.
Tradition rules at Royal Ascot, with Queen Elizabeth (pictured here with Camilla Duchess of Cornwall and Prince Charles) opening the event in a horse-drawn carriage. Her Majesty is also a keen thoroughbred owner, boasting 20 winning horses in the history of the festival.
Ascot has strict rules on clothing, with fashion police (pictured) keeping an eye out for inappropriate hemlines, footwear and headgear.
Top hats and demure dresses are a must for guests in the Royal Enclosure (pictured).
Over in the Silver Ring section -- offering the cheapest tickets -- it's a different story, with guests simply required to wear smart clothes.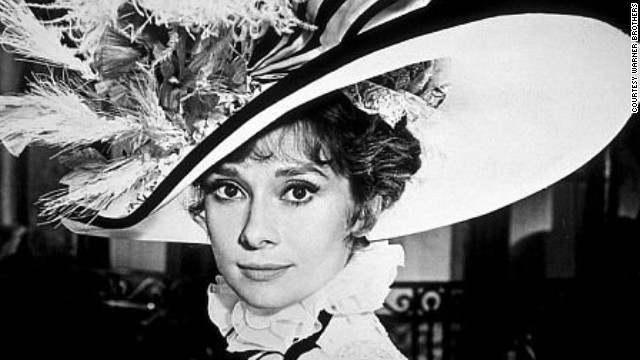 Royal Ascot: Lords and My Fair Ladies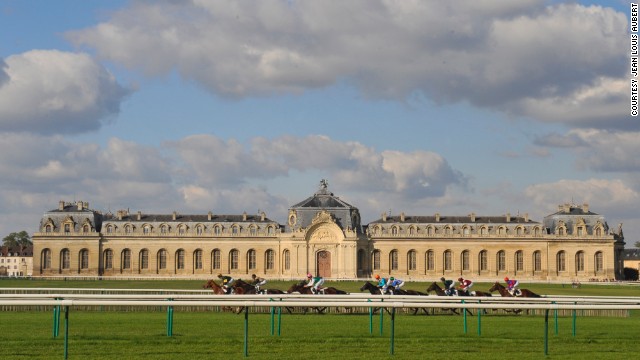 It might look like a palace, but this is in fact the Grand Stables in Chantilly, northern France.
Built by Prince Louis-Henri de Bourbon in 1719, the 180-meter-long building was the most impressive stable in the world, housing 250 horses and 300 hunting dogs.
In 1982, master rider Yves Bienaimé helped create a horse museum adjoining the Grand Stables, featuring an eclectic mix of equine artworks and a chance for the public to see rare species of ponies.
But by the turn of the 21st century, the building had become a worn shadow of its former glory. That was until the Aga Khan IV, billionaire and spiritual leader to the world's Nizari Ismaili Muslims, became involved in an ambitious plan to restore the elegant structure.
"I had done this sort of work in the developing world, restoring historic sites, but never here," said the Aga Khan (pictured center), who also has an office in Chantilly. The $3.3 million makeover was half funded by the renowned horse owner, with the remaining amount covered by the French Ministry of Culture, the region of Picardy and the Institut de France.
The rare artworks, including this wooden carving by German sculptors D. Muller and G. Denzel, come from a mixture of Chantilly's Condee Museum and private collections.
The historic site also has 30 breeds of horses, with trainers in distinctive red jackets putting on regular performances for visitors.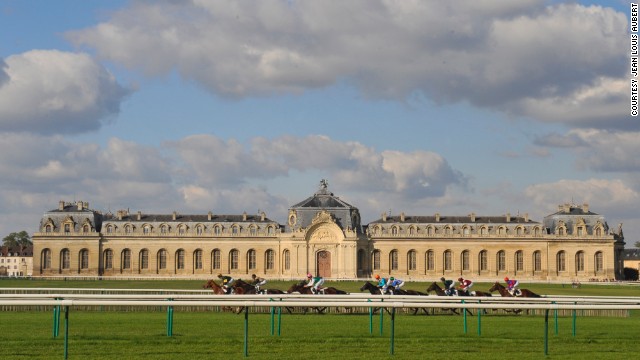 France's $3M horse museum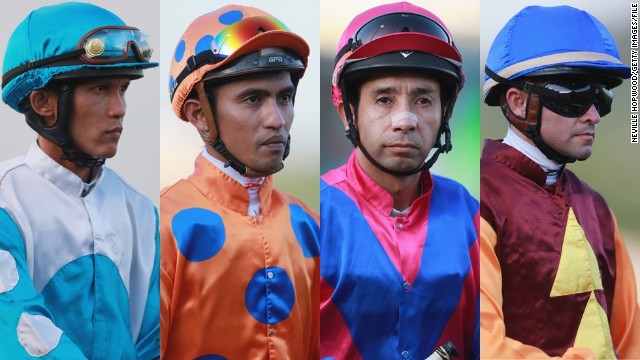 Colorful, shiny, and flamboyant. Welcome to the world of jockey silks. They might look like circus costumes, but these uniforms have a rich tradition and important function.
Dating back to the 18th century, jockey silks -- named after their original material -- are crucial to identifying horses galloping around a race track.
Each design is unique, with owners choosing from just 18 different colors, 25 shapes and 12 sleeves. Unless of course you inherit your silk from a family member. The British royal family's silks (pictured) have been handed down through generations.
While jackets were originally made from silk, today they are more likely to be made from a lycra and polyester mix, in specialized factories such as Allertons (pictured) in Britain.
"Beforehand, they were very much like a dress shirt," said Michael Rawson, Allertons managing director. "We've changed a few of the features such as adding elasticated cuffs and poppers down the front as opposed to buttons, which were always coming off."
"An owner could have three or four different horses running in the same race, but they would have to have different designs. The body and the sleeves may well be the same, but the caps would be different," said Rawson.
Jockey silks are more than simply uniforms, they can often sway punters placing a bet. "Those people who place a bet once or twice a year would certainly admit to choosing horses based on the colors and patterns," said Great British Racing spokesman Nick Attenborough.
Some horse's colors however, are so famous that they can never be used by another thoroughbred again. Australian champion Black Caviar -- who recently retired after an unbeaten 25-win career -- is now the only horse allowed its distinctive salmon pink and black-spotted silks.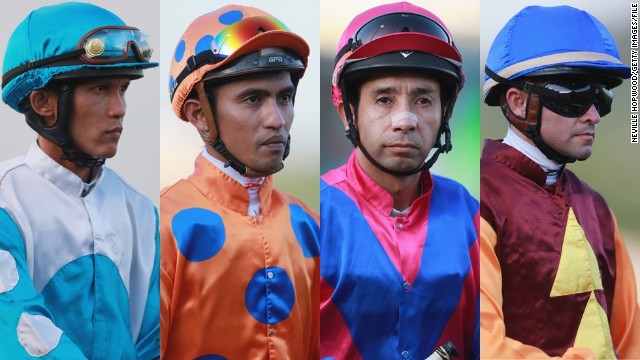 Dressed to impress
In such extreme weather -- around -20C -- fur coats are the order of the day for the champagne-sipping spectators who are perhaps better known for their luxury lifestyles than racing tips.
Read: Cool racing -- horses battle on snow
Pasola Festival, Indonesia
The glitz and glam of snow-capped St Moritz couldn't be further from the spear-wielding horsemen of Indonesia's annual Pasola Festival.
The fierce festival -- held on the island of Sumba -- sees two teams go head-to-head on elaborately decorated horses, throwing blunt spears at each other as part of an ancient ritual battle.
It is believed that every drop of blood spilled will bring a good harvest.
Soma-Nomaoi Festival, Japan
If you like your ancient festivals a little less violent, there's the 1,000-year-old Soma-Nomaoi wild horse chase in central Japan.
The three-day festival sees samurai horsemen compete in different challenges -- from racing over a one kilometer track to battling over sacred flags.
Dressed in extravagant armor, helmets, and carrying swords, the fantastical warriors appear to have stepped straight out from the 10th Century.