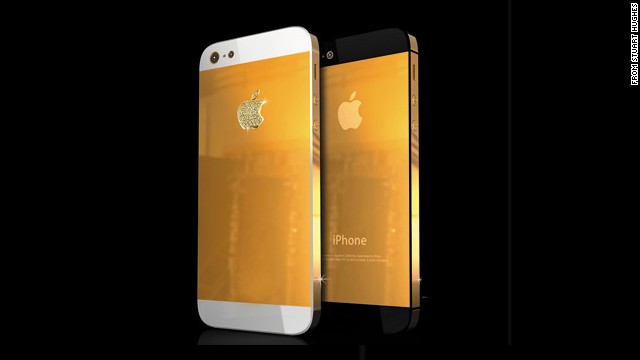 Apple is rumored to be adding a gold-colored iPhone to its usual black and white lineup. But it won't look quite like this. Luxury retailer
Stuart Hughes
carries this iPhone 5, made of 18-karat gold, with an Apple logo encrusted in diamonds. Price: $34,500.
Aesir phone
was designed in 2011 as a limited-edition device for rich consumers in Moscow. It only makes phone calls and cannot connect to the Internet.
The solid gold $57,000
Vertu
was Nokia's luxury phone arm before the Finnish phone maker sold it off. It has covered phones in gold, titanium, leather, gems and decorative dragons. "Gold is a color that is always in demand," says Vertu CEO Massimiliano "Max" Pogliani.
Mocha Gold
phone was offered exclusively in the Middle East in 2009. It featured 24-carat gold accents and a 5.1-megapixel camera, but no GPS.
Sony Ericsson's
In 2007 Nokia released an 18-karat, gold-plated, Sirocco version of its 8800 phone. Since discontinued, it originally retailed for more than $2,000.
this ceremonial golden phone
to Cuban dictator Fulgencio Batista in 1957, an event depicted in "The Godfather: Part II." The phone is now on display in a Havana museum.
As you can see, gold-colored phones have been around since long before Apple was born. A U.S. telecom company famously gave
Bling ring: Phones go for the gold
Bling ring: Phones go for the gold
Bling ring: Phones go for the gold
Bling ring: Phones go for the gold
Bling ring: Phones go for the gold
Bling ring: Phones go for the gold