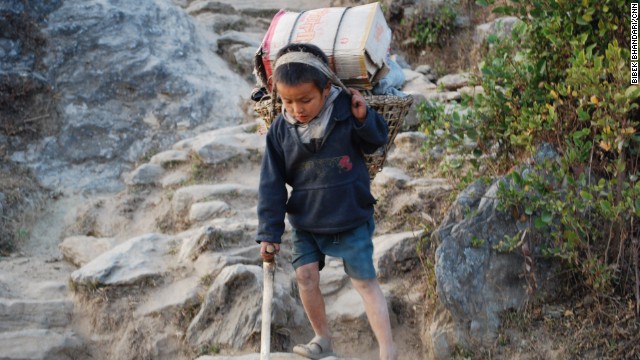 Though child labor is illegal in Nepal, an estimated 1.6 million children between 5-17 years are in the work force, according to the Nepal Child Labor Report. This 2010 photo shows a boy working as a porter in Nepal's Solukhumbu district.
A weary child porter takes a break in Nepal's Solukhumbu district in 2010. According to statistics published by the UN Development Program, 44.2% of Nepal's population lives under the poverty line. To make ends meet, some parents send their children to work.
A local NGO called the Nepal Goodwave Foundation operates a transit home in Kathmandu where 30 rescued child workers, all under 14, live, play and attend classes together. The Nepal government, in partnership with other NGOs, runs around 1,000 transit homes nationwide for rescued children.
Calloused hands and fingers are common among the rescued child laborers living in the Nepal Goodwave Foundation transit home.
The children at Nepal Goodweave Foundation start their day with yoga before they leave for school. According to coordinator Rajkumar Khadka, yoga is a stress reliever for the children, who are former child laborers.
Shanta Chaudhary, 32, is an activist fighting for change. A former bonded laborer herself, she made her way up to Nepal's interim parliament to represent her community and fight for their rights.
Former child laborers Maya Lama (front) and Rita Tamang became good friends after arriving at Nepal Goodwave Foundation's transit house. When they grow up, the girls said they want to become counselors and help children like themselves.
Nepal's vulnerable child laborers
Nepal's vulnerable child laborers
Nepal's vulnerable child laborers
Nepal's vulnerable child laborers
Nepal's vulnerable child laborers
Nepal's vulnerable child laborers
Nepal's vulnerable child laborers