Lug it or leave it: Baggage drop goes DIY
August 12, 2013 -- Updated 0229 GMT (1029 HKT)
STORY HIGHLIGHTS
Iberia is first European airline to allow passengers to print own luggage tags
Process could be seen as time-saving for customers and cost-saving for airlines
British Airways and U.S. airlines also experimenting with self tagged bags
(CNN) -- Under the guise of making check-in as seamless a process as possible, airlines have strived to put as much in the hands of the passenger as possible. The baggage-drop has been the one sticky area that continues to demand a level of interaction with staff. That is slated to become a thing of the past, however, as more carriers opt to handover that responsibility to flyers.
Last month, Iberia launched MyBagTag, a system of print-at-home luggage tags aimed at shaving minutes off the check-in process. Iberia is the first European carrier to introduce such a process.
"It's like the fast track at McDonald's," says Dimitris Bountolos, Iberia's customer experience director.
"Everything is more or less organized by the customer. They manage themselves, and it allows us to manage them faster."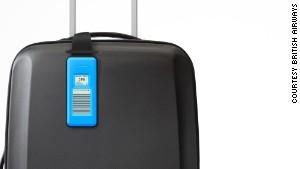 Bag to the future: British Airways' e-ink reusable luggage tag.
Passengers weigh their bags at home, fill in the weight and measurements online, then print out the tags on an A4 piece of paper, which they fold in fourths and stick in a reusable plastic sheaths (available for free at any Spanish airport). The extra effort at home pays off, says Bountolos.
When they're doing things themselves, it feels like time passes quicker than when they're standing around waiting for somebody.
Finola O'Sullivan, British Airways
"Traditionally, we get congested during the summer season. Customers can wait ten to 15 minutes to check in their bags," he explains. "We've brought that down to 30 seconds per customer."
Go inside an Airbus A380 on Google Street View
A handful of other airlines have been experimenting with self-bag tag over the last year. Alaska Airlines, American and Air Canada are a few of the carriers that have started to set up bag tag kiosks throughout a handful of airports. More are expected to embrace the concept in the next few years.
"It's a trend we'll see broadly across the industry over the next ten to 20 years," says Hunter Keay, a senior airline analyst at Wolfe Research.
"It certainly reduced the bottleneck at check-in, though ultimately it's about reducing costs for the airlines," he says. A savings, he adds, that could ultimately be passed on to customers.
Infographic: Which airlines have on board wi-fi?
British Airways, meanwhile, has taken a more technical approach, and is planning to introduce reusable electronic baggage tags by January 2015. The tags, in Kindle fashion, use e-ink, and customers upload their travel itinerary by checking-in using British Airways' smartphone app and holding their phones over the tag. Once at the airport, they can then drop-off their bags and go.
"It's not just about saving time, but giving customers choice," says Finola O'Sullivan, Birtish Airways' customer service delivery manager. Though she estimates the times savings are little more than a minute, it's the psychology of the thing that flyers value.
"When they're doing things themselves, it feels like time passes quicker than when they're standing around waiting for somebody," she says.

April 11, 2014 -- Updated 0212 GMT (1012 HKT)

Imagine you're a hotel company with a score of brands that seem, well, dated. All the flash amenities of yesteryear seem irrelevant today.
April 8, 2014 -- Updated 0414 GMT (1214 HKT)

The European firm has unveiled how passengers flying on its new A350 XWB might travel.
March 26, 2014 -- Updated 1335 GMT (2135 HKT)

Would you pay to cut in line for the toilets on a flight?
March 5, 2014 -- Updated 0218 GMT (1018 HKT)

Concorde is a thing of the past, but a number of companies are racing to release the first supersonic business jet.
March 3, 2014 -- Updated 0222 GMT (1022 HKT)

Though we're still in the early stages of 2014, it is already proving one of the most expensive years for the travel industry.
March 4, 2014 -- Updated 1715 GMT (0115 HKT)

At $83,200 a night, the Royal Penthouse Suite at Geneva's Hotel President Wilson is the most expensive hotel room in the world.
February 17, 2014 -- Updated 0348 GMT (1148 HKT)

From 'ascending rooms' and mini-bars to pillow menus and iPad-controls, discover the evolution of hotel room amenities.
February 17, 2014 -- Updated 1612 GMT (0012 HKT)

There's a new group of travelers in town -- and it hardly matters which town you're talking about.
February 13, 2014 -- Updated 0457 GMT (1257 HKT)

It's Boeing vs. Airbus as the heavy-weight plane makers face off at the Singapore airshow.
February 10, 2014 -- Updated 0203 GMT (1003 HKT)

How airlines are making in-flight maps more interactive and monetizing them.
February 4, 2014 -- Updated 0103 GMT (0903 HKT)

What do new planes have to endure during cold weather testing?

Today's five most popular stories