People we lost in 2013
People we lost in 2013
People we lost in 2013
People we lost in 2013
People we lost in 2013
People we lost in 2013
People we lost in 2013
People we lost in 2013
People we lost in 2013
People we lost in 2013
People we lost in 2013
People we lost in 2013
People we lost in 2013
People we lost in 2013
People we lost in 2013
People we lost in 2013
People we lost in 2013
People we lost in 2013
People we lost in 2013
People we lost in 2013
People we lost in 2013
People we lost in 2013
People we lost in 2013
People we lost in 2013
People we lost in 2013
People we lost in 2013
People we lost in 2013
People we lost in 2013
People we lost in 2013
People we lost in 2013
People we lost in 2013
People we lost in 2013
People we lost in 2013
People we lost in 2013
People we lost in 2013
People we lost in 2013
People we lost in 2013
People we lost in 2013
People we lost in 2013
People we lost in 2013
People we lost in 2013
People we lost in 2013
People we lost in 2013
People we lost in 2013
People we lost in 2013
People we lost in 2013
People we lost in 2013
People we lost in 2013
People we lost in 2013
People we lost in 2013
People we lost in 2013
People we lost in 2013
People we lost in 2013
People we lost in 2013
People we lost in 2013
People we lost in 2013
People we lost in 2013
People we lost in 2013
People we lost in 2013
People we lost in 2013
People we lost in 2013
People we lost in 2013
People we lost in 2013
People we lost in 2013
People we lost in 2013
People we lost in 2013
People we lost in 2013
People we lost in 2013
People we lost in 2013
People we lost in 2013
People we lost in 2013
People we lost in 2013
People we lost in 2013
People we lost in 2013
People we lost in 2013
People we lost in 2013
People we lost in 2013
People we lost in 2013
People we lost in 2013
People we lost in 2013
People we lost in 2013
People we lost in 2013
People we lost in 2013
People we lost in 2013
People we lost in 2013
People we lost in 2013
People we lost in 2013
People we lost in 2013
People we lost in 2013
People we lost in 2013
People we lost in 2013
People we lost in 2013
People we lost in 2013
People we lost in 2013
People we lost in 2013
People we lost in 2013
People we lost in 2013
People we lost in 2013
People we lost in 2013
People we lost in 2013
People we lost in 2013
People we lost in 2013
People we lost in 2013
People we lost in 2013
People we lost in 2013
People we lost in 2013
People we lost in 2013
People we lost in 2013
People we lost in 2013
People we lost in 2013
People we lost in 2013
People we lost in 2013
People we lost in 2013
People we lost in 2013
People we lost in 2013
People we lost in 2013
People we lost in 2013
People we lost in 2013
People we lost in 2013
People we lost in 2013
People we lost in 2013
People we lost in 2013
People we lost in 2013
People we lost in 2013
People we lost in 2013
People we lost in 2013
People we lost in 2013
People we lost in 2013
People we lost in 2013
People we lost in 2013
People we lost in 2013
People we lost in 2013
People we lost in 2013
People we lost in 2013
People we lost in 2013
People we lost in 2013
People we lost in 2013
People we lost in 2013
People we lost in 2013
People we lost in 2013
People we lost in 2013
People we lost in 2013
People we lost in 2013
People we lost in 2013
People we lost in 2013
People we lost in 2013
People we lost in 2013
People we lost in 2013
People we lost in 2013
People we lost in 2013
STORY HIGHLIGHTS
Ermen Benitez tells CNN en Español the family is awaiting medical reports
Christian Benitez died suddenly Monday at the age of 27
The forward passed away just a day after making debut for Qatari side El Jaish
Death prompts outpouring of emotion on Twitter for former Birmingham player
(CNN) -- Family members of Christian "Chucho" Benitez are still awaiting medical and autopsy reports to find out what killed the soccer star, his father said.
"We are hoping the documents tell us what happened," Ermen Benitez told CNN en Español on Tuesday.
They are also awaiting documents from the Qatari government so that his son's remains can be transported from Doha to Quito, Ecuador, he said.
Jose Chamorro, the player's agent, told an Ecuadorian television station that Benitez, 27, had suffered a heart attack and died Monday in a Qatari hospital where he was taken after complaining of abdominal pains.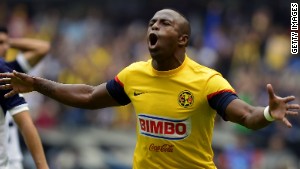 Football player Christian Benitez dies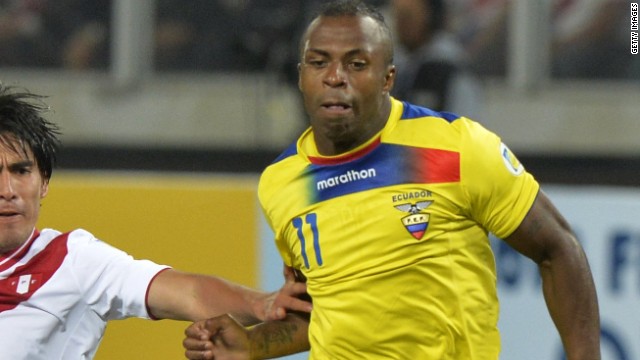 Christian 'Chucho' Benitez passed away Sunday after suffering heart failure. The 27-year-old, who was playing in Qatar, was admitted to hospital with severe stomach pains. Benitez died just hours after making his debut for new club, El Jaish.
Benitez spent a year on loan in the English Premier League with Birmingham City in 2009-2010. He made 36 appearances for City, scoring four goals and came up against Ecuador teammate Antonio Valencia, who plays for Manchester United.
Benitez scored 24 goals in 58 international appearances for Ecuador, following in the footsteps of his father Ermen Benitez, who also represented the national team. Last season, he helped Mexican side Club America win the Clausura title.
Marc-Vivien Foe died at the age of 28 after collapsing during a Confederations Cup semifinal while playing for Cameroon. Foe, who played for Manchester City and Lyon amongst others, was treated on the pitch but died after resuscitation attempts failed.
Antonio Puerta died after suffering a heart attack at the age of 22 while playing for Spanish club side Sevilla. The defender collapsed 35 minutes into the first game of the 2007-2008 season and was rushed to hospital where he passed away.
Former Espanyol captain Daniel Jarque died after suffering a cardiac arrest following a training session in Italy in 2009. Club doctors and paramedics tried to revive Jarque but without success. He was 26.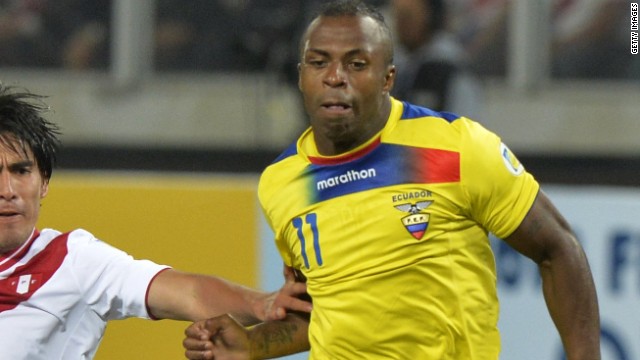 The life of Christian 'Chucho' Benitez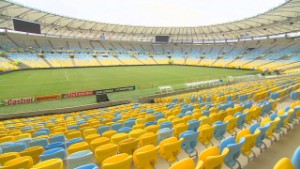 Tour Brazilian football's spiritual home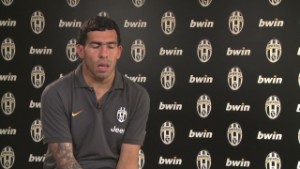 Carlos Tevez: Man City pressure too much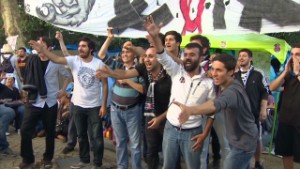 Turkey's football fans join protest
Ermen Benitez said his son never had any cardiac problems, and before he jointed Qatar's El Jaish club, he had a clean bill of health.
"When a football player is signed, they always do tests," he said. "And he passed."
Asked about a report that Benitez's wife had claimed the soccer star did not receive immediate medical attention at the hospital, Ermen Benitez said he didn't want to speculate until he had the medical report.
With many unanswered questions, one thing is clear: his family and fans are devastated.
Prayers and condolences pouring in from around the world have helped, said his father -- who is himself a former soccer star and remains the top league scorer in Ecuadorian football history.
"It fills me with a bit of calmness," he said, "but I am never going to see him again. Now the joy I had when I watched him playing is over."
Having played at the 2006 World Cup as a youngster, Benitez had developed into an important component of an Ecuadorian side bidding to reach next year's finals in Brazil.
His 24 international goals make him the third-highest scorer overall for Ecuador's national team.
In a statement on its website, El Jaish described Benitez's death as "a great loss for the team" and said the Ecuadorian player had "high morals."
The Ecuadorian Football Association said on its website that Benitez's remains were expected to arrive in Ecuador by Thursday morning.
Benitez made his name at El Nacional, a club where his father played with great success throughout the 1980s.
After leaving the Quito side, who posted a tribute on their website to Christian on Monday, the South American plied his trade with such success for Mexico's Santos Laguna that he alerted the interest of the English Premier League.
Joining Birmingham City on loan in 2009, the Ecuadorian made his debut at Manchester United and scored his first goal at Liverpool.
Despite a bright start, his impact faded over the season, prompting Birmingham manager Alex McLeish to return Benitez to Santos Laguna in 2010.
After leading the scoring charts, he joined rivals America in 2011 and helped the club win this year's Clausura title -- finishing as top scorer along the way.
He died on Monday, one day after playing his first game for new side El Jaish.
CNN en Español's Luis Bucci and CNN's Mohammed Tawfeeq and Karen Smith contributed to this report.