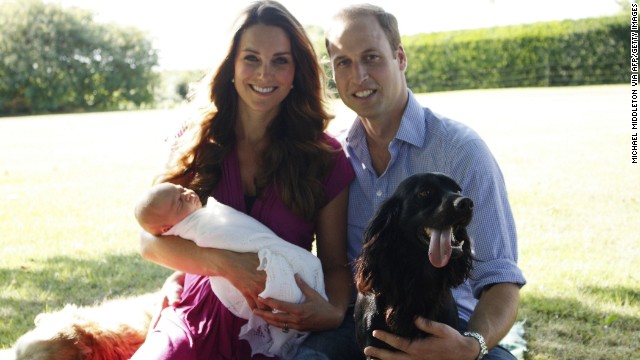 Catherine, Duchess of Cambridge, and Prince William, Duke of Cambridge, are pictured with their newborn boy, Prince George of Cambridge, and Tilly, left, a Middleton family pet, and Lupo, the couple's cocker spaniel. The new parents released two family photographs with their son, taken by Michael Middleton, Catherine's father.
The couple poses with Prince George in early August at the Middleton family home in Bucklebury, Berkshire.
The Duke and Duchess of Cambridge depart St. Mary's Hospital in London with their newborn son on Tuesday, July 23. The boy was born at 4:24 p.m. a day earlier, weighing 8 pounds, 6 ounces.
Catherine holds the baby outside the hospital for the public's first view.
The new parents stand in front of the Lindo Wing of the hospital.
A Kensington Palace spokesman said: "Mother, son and father are all doing well this morning."
Catherine hands the baby off to William.
"He's got her looks, thankfully," William said.
"It's very special," said William. The prince has already changed his first diaper, the couple told reporters.
The new parents leave the hospital with William carrying the boy out in a car seat and installing him in the back of a black SUV for the trip to Kensington Palace.
The newborn sits in his car seat for the ride home.
Prince William gets ready to depart St. Mary's Hospital.
Catherine waves to the crowd gathered outside the hospital.
Well-wishers see the royal couple off after getting a glimpse of the newest heir to the British throne.
Prince George, the royal baby
Prince George, the royal baby
Prince George, the royal baby
Prince George, the royal baby
Prince George, the royal baby
Prince George, the royal baby
Prince George, the royal baby
Prince George, the royal baby
Prince George, the royal baby
Prince George, the royal baby
Prince George, the royal baby
Prince George, the royal baby
Prince George, the royal baby
Prince George, the royal baby