Gallery: Messy mayhem at mud festival
July 23, 2013 -- Updated 0845 GMT (1645 HKT)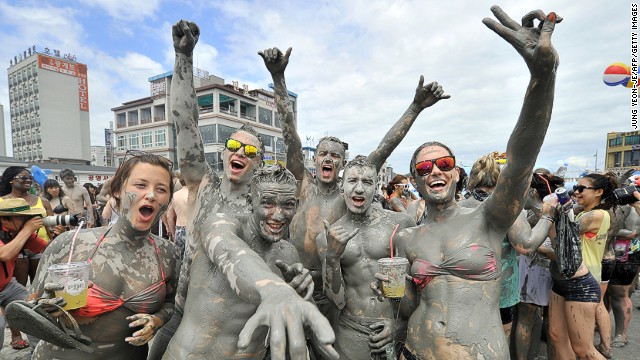 South Korea's most popular festival kicked off in South Chungcheong Province last weekend and will run until July 28. Festival organizers are expecting 3 million participants, with 10% from foreign countries.
Visitors engage in activities from mud facials to mud marathons. Mud fountains, slides and wrestling tubs are also popular.
Everyone gets horizontal inside the mud tub.
Wise move. You probably don't want to get it in your eyes, no matter how beneficial it is.
Thanks to the mud festival, local beaches "are so full of foreign tourists that one could mistake them for Europe or the United States," reported local news agency Yonhap.
The festival was originally launched to promote the cosmetic benefits of Boryeong's local mud. Mud packs and other cosmetic items are for sale at pop-up gift booths at the festival.
Festival organizers amped up the Family Zone this year to make it friendlier for traveling families.
Probably not the best idea to take your phone in there ...
On top of the mud fest, a local beer company is adding a rock festival and beer festival to the mix.
Face and body benefits maybe, but that stuff has got to be murder to get out of your hair.
Watch everything, for that matter.
Boryeong Mud Festival
It was the only place he felt like he belonged ...
Mud bath
Eye masks
Tourist magnet
Free facials
More than just friends
Her newest Facebook photo
Beer festival
Cosmetic benefits?
Watch your back
STORY HIGHLIGHTS
Millions of visitors get filthy in Boryeong, South Korea
Organizers aim to make mud festival more family friendly this year
Everything mud-related goes
Festival originally launched to promote cosmetic mud treatments
(CNN) -- Call it the world's biggest mud fight or its largest group cosmetic treatment -- either way, millions of visitors are making their way to Boryeong, South Chungcheong Province this week for South Korea's most popular festival.
The 16th annual Boryeong Mud Festival, which kicked off this past weekend and will run until July 28, hopes to beat its record of 3 million participants last year.
Organizers say this year's mud bath is expected to attract 300,000 foreign tourists, up 22,000 from last year. Korean media have reported that trains to Boryeong are already packed with dirt-ready foreigners.
50 greatest summer music festivals
This year's festival
Originally launched to promote the cosmetic benefits of the local mud, the festival has become an annual frenzy in which visitors take part in numerous mud-related activities, including mud wrestling and a mud marathon.
"This year, we amped up the Famiily Zone to meet the demands of people traveling with children," say event organizers. "There are many foreign families traveling to Korea just for the festival."
Local beer company Hite Jinro (maker of the best-selling selling liquor in the world) is throwing a rock festival in Boryeong for the first time this year and hosting K-Pop concerts and "garden beer parties" until August.
How to survive a Korean drinking session
To cater to the tastes of foreign visitors, some area restaurants are being converted into pizza and hamburger joints during the festival to provide dining options beyond traditional hoe-jip (Korean sashimi restaurants) or restaurants selling grilled shellfish.
July 19-28, 2013
1029-3, Sinheuk-dong, Boryeong-si, Chungcheongnam-do, South Korea
Korean, English, Japanese and Chinese travel hotline: +82 2 1330
The world's messiest festivals

Today's five most popular stories
Part of complete coverage on
October 28, 2014 -- Updated 0149 GMT (0949 HKT)

Luxury Action will turn your travel scripts into reality and film them. As long as you're willing to travel to this country ...
October 27, 2014 -- Updated 0913 GMT (1713 HKT)

As entertainment capital of the world, Los Angeles draws some of the best comic talent on the planet. Here's where to see it live.
October 27, 2014 -- Updated 0342 GMT (1142 HKT)

Not many people choose flights based on the quality of an airline's catering -- but those who do should check out Saveur's Culinary Travel Awards.
October 27, 2014 -- Updated 0251 GMT (1051 HKT)

On the island of rice, curry, tropical fruit and fresh seafood, eating is an honor to the taste buds.
October 23, 2014 -- Updated 1558 GMT (2358 HKT)

Sparsely populated (by humans at least), this East Africa country offers so much more than just Mt. Kilimanjaro.
October 24, 2014 -- Updated 1432 GMT (2232 HKT)

It's crowded and outdated, but Berlin's hexagon-shaped Tegel air hub has won a place in the city's heart.
October 23, 2014 -- Updated 0847 GMT (1647 HKT)

Shrine to a dead cat and a homage to fromage among Dutch capital's eccentric exhibitions.
October 22, 2014 -- Updated 0603 GMT (1403 HKT)

Slovenian Kickstarter project encourages travelers to hop on their suitcase and cruise through terminals to connecting gates.
October 20, 2014 -- Updated 1808 GMT (0208 HKT)

The guidebook asked staff, contributors and authors for well-known and lesser-known recommendations.
October 20, 2014 -- Updated 1607 GMT (0007 HKT)

An airport in Asia has stolen the crown from Manila's Ninoy Aquino, voted 'world's worst' three years in a row.