Gallery: Messy mayhem at mud festival
July 23, 2013 -- Updated 0845 GMT (1645 HKT)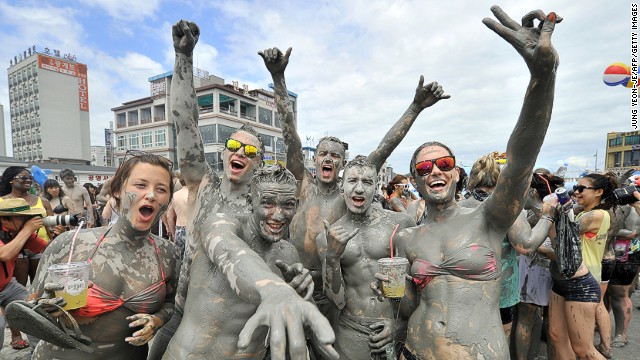 South Korea's most popular festival kicked off in South Chungcheong Province last weekend and will run until July 28. Festival organizers are expecting 3 million participants, with 10% from foreign countries.
Visitors engage in activities from mud facials to mud marathons. Mud fountains, slides and wrestling tubs are also popular.
Everyone gets horizontal inside the mud tub.
Wise move. You probably don't want to get it in your eyes, no matter how beneficial it is.
Thanks to the mud festival, local beaches "are so full of foreign tourists that one could mistake them for Europe or the United States," reported local news agency Yonhap.
The festival was originally launched to promote the cosmetic benefits of Boryeong's local mud. Mud packs and other cosmetic items are for sale at pop-up gift booths at the festival.
Festival organizers amped up the Family Zone this year to make it friendlier for traveling families.
Probably not the best idea to take your phone in there ...
On top of the mud fest, a local beer company is adding a rock festival and beer festival to the mix.
Face and body benefits maybe, but that stuff has got to be murder to get out of your hair.
Watch everything, for that matter.
Boryeong Mud Festival
It was the only place he felt like he belonged ...
Mud bath
Eye masks
Tourist magnet
Free facials
More than just friends
Her newest Facebook photo
Beer festival
Cosmetic benefits?
Watch your back
STORY HIGHLIGHTS
Millions of visitors get filthy in Boryeong, South Korea
Organizers aim to make mud festival more family friendly this year
Everything mud-related goes
Festival originally launched to promote cosmetic mud treatments
(CNN) -- Call it the world's biggest mud fight or its largest group cosmetic treatment -- either way, millions of visitors are making their way to Boryeong, South Chungcheong Province this week for South Korea's most popular festival.
The 16th annual Boryeong Mud Festival, which kicked off this past weekend and will run until July 28, hopes to beat its record of 3 million participants last year.
Organizers say this year's mud bath is expected to attract 300,000 foreign tourists, up 22,000 from last year. Korean media have reported that trains to Boryeong are already packed with dirt-ready foreigners.
50 greatest summer music festivals
This year's festival
Originally launched to promote the cosmetic benefits of the local mud, the festival has become an annual frenzy in which visitors take part in numerous mud-related activities, including mud wrestling and a mud marathon.
"This year, we amped up the Famiily Zone to meet the demands of people traveling with children," say event organizers. "There are many foreign families traveling to Korea just for the festival."
Local beer company Hite Jinro (maker of the best-selling selling liquor in the world) is throwing a rock festival in Boryeong for the first time this year and hosting K-Pop concerts and "garden beer parties" until August.
How to survive a Korean drinking session
To cater to the tastes of foreign visitors, some area restaurants are being converted into pizza and hamburger joints during the festival to provide dining options beyond traditional hoe-jip (Korean sashimi restaurants) or restaurants selling grilled shellfish.
July 19-28, 2013
1029-3, Sinheuk-dong, Boryeong-si, Chungcheongnam-do, South Korea
Korean, English, Japanese and Chinese travel hotline: +82 2 1330
The world's messiest festivals

Today's five most popular stories
Part of complete coverage on
October 13, 2014 -- Updated 0925 GMT (1725 HKT)

Based on the votes of over 330 industry experts, the 2014 winners include bars from 27 cities in 14 countries.
October 12, 2014 -- Updated 2231 GMT (0631 HKT)

Careening down an active volcano at 95 kph on a thin board? It happens only at Cerro Negro in Nicaragua.
October 10, 2014 -- Updated 1337 GMT (2137 HKT)

Tips and techniques for those who want to turn their vacation into a rewarding family history lesson.
October 9, 2014 -- Updated 1953 GMT (0353 HKT)

From savory power snacks to beloved Indian ice cream, here's how to do Delhi street food right.
October 8, 2014 -- Updated 2208 GMT (0608 HKT)

Long before our traveling friends had Facebook and Instagram to taunt us, they had postcards.
October 8, 2014 -- Updated 0625 GMT (1425 HKT)

After slurping down noodles in 1,000 stores, the "ramen guy" untangles the complex flavors of Japan's diverse dish
October 13, 2014 -- Updated 1655 GMT (0055 HKT)

Mayor of Paris says 125-year-old landmark's new attraction will prove to critics the city still has some magic.
October 10, 2014 -- Updated 0244 GMT (1044 HKT)

These days, some of the best running trails can be found in the world's busiest places.
October 7, 2014 -- Updated 0625 GMT (1425 HKT)

Midlife crisis males have nothing on Bugatti-obsessed brothers behind vast sports car collection.
October 7, 2014 -- Updated 1311 GMT (2111 HKT)

When it comes to air travel, courtesy and common sense are often the first two things to fly out the departure gates.