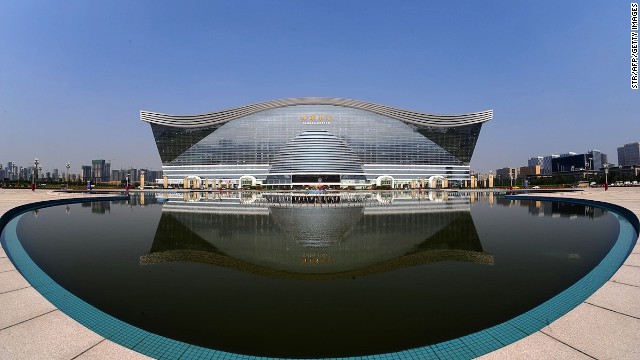 To put this in perspective, Chengdu's New Century Global Center is big enough to house 20 Sydney Opera Houses.
Rather than Opera Houses, inside are offices, hotels, theaters, high-end shopping malls, a water park and the essential faux Mediterranean village
That's a lot of work for two people.
With 1.7 million square meters of floor space, the building is three times bigger than the Pentagon. It has more palm trees than the Pentagon too.
Workers carry out a few last minute touches at the New Century Global Center's waterpark.
Chengdu is also currently expanding its subway line and plans to construct a new airport by 2020, further suggesting official ambitions to make the city an economic and cultural capital of western China.
Welcome to paradise. Paradise Island, that is.
Chengdu's New Century Global Center
Chengdu's New Century Global Center
Chengdu's New Century Global Center
Chengdu's New Century Global Center
Chengdu's New Century Global Center
Chengdu's New Century Global Center
Chengdu's New Century Global Center