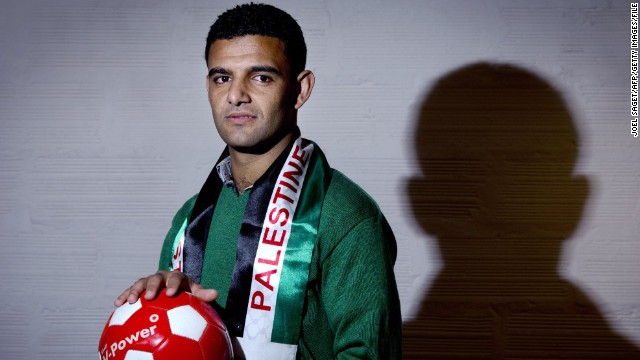 Mahmoud Sarsak's story became global news last year. The 23-year-old lost half of his body weight in a 93-day hunger strike after being held without charge in by the Israeli authorities for three years. Sarsak was accused of being involved in terrorist activities. His release came after the intervention of senior football figures such as FIFA president Sepp Blatter.
High-profile figures such as Archbishop Desmond Tutu signed an 8,000-signature calling for Sarsak's release. An open letter was also sent to British newspaper The Guardian.
Sarsak's eventual release in July 2012 sparked scenes of wild celebration. This picture shows his return to his hometown of Rafah.
An Israeli army tank is seen along the Erez crossing passage along the southern Israeli border with the Palestinian Gaza Strip in November 2012. Sarsak was arrested at the crossing in 2009.
This year Sarsak was part of a protest outside the UEFA Congress in London. Demonstrators were calling for a boycott of the European Under-21 Championship in Israel.
Palestinian youths watch a local football match, just before sunset, at a refugee camp in Rafah, in the southern Gaza Strip, during the Muslim holy month of Ramadan on July 28, 2012. Sarsak grew up in Rafah, with football as his only distraction. "It runs through the family blood," he says.
Spain won the last European Under-21 Championship, held in Denmark in 2011. Luis Milla's team beat Switzerland 4-0 in the final, with players such as Bayern Munich midfielder Javi Martinez and Chelsea playmaker Juan Mata starring for La Roja.
The first game of the 2013 UEFA Under-21 Championship was between hosts Israel and Norway on Wednesday at the Netanya Stadium, and finished 2-2.
Hunger strike
Help from above
Release and rejoice
Life on the line
Protests
Soccer salvation
Defending champions
Tournament opener
STORY HIGHLIGHTS
Ex-hunger striker says Israel should not be allowed to host European soccer event
Former Palestinian footballer was held without charge for three years by Israeli authorities
Mahmoud Sarsak has been campaigning against Israel staging U21 tournament
Israeli security official denies that Sarsak was tortured while being held in custody
(CNN) -- Mahmoud Sarsak is twice the man he used to be.
The diminutive Palestinian soccer player is sitting in a small cafe in central London, tired but otherwise surprisingly healthy for a man who had lost half his body weight during a hunger strike 12 months ago.
It is his first visit to the British capital but, like many who try to leave Gaza, his journey was long and far from easy.
"The Rafah border (between Gaza and Egypt) was closed for days because of the kidnapping of soldiers in Egypt. It was hectic," explains Sarsak, a talented striker who had once been called up to the Palestinian national team squad.
"I managed to cross the border by miracle. I was the last one to be allowed to cross."
But Sarsak says he wasn't in London to pursue his dream as a professional soccer player, or to spend time there as a tourist. He was there to protest outside the UEFA Congress, held recently in the UK capital, to campaign for a boycott of the European Under-21 Championship which started in Israel on Wednesday.
Read: Israelis release Palestinian ex-footballer imprisoned without charge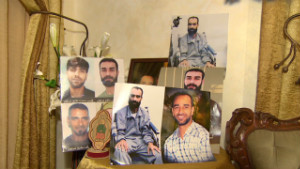 Palestinian prisoner on hunger strike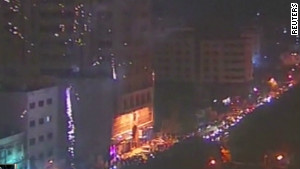 U.N. victory for Palestinians
"How did UEFA give this to Israel?" he says, shaking his head. "Why did they think it was acceptable despite knowing the violations of human rights the Israeli state conduct on a daily basis?"
Sarsak claims he has experienced this first hand. In fact, he says he is lucky to be alive.
This time last year he was on the verge of death, he says. The 23-year-old says he had lost half of his body weight in a three-month hunger strike after being held without charge in administrative detention by Israeli authorities for three years.
Under administrative detention, a person can be held indefinitely without charge or trial on secret evidence.
The Israelis have accused Sarsak of having links with the extremist organization Islamic Jihad and of being involved in terrorist activities. A senior Israeli security source with knowledge of his case, speaking on condition of anonymity, told CNN: "The individual in question was held in administrative detention due to security-related matters, including involvement in attacks on Israeli forces, and planned to perpetrate suicide bombings." But Israeli officials offered no specific response to questions about why Sarsak was released.
He was let free last July, emaciated and pale, after the likes of FIFA president Sepp Blatter intervened on his behalf, appealing to the Israel Football Association for help.
For much of the past year, campaign groups and famous names in soccer, including former Mali international Frederic Kanoute, have called for a boycott of the U21 tournament due to Israel's treatment of Palestinians, including athletes like Sarsak.
Read: Former Palestinian footballer vows to continue hunger strike
A petition was raised by the pro-Palestinian campaign group Red Card Israeli Racism, attracting more than 8,000 signatures. An open letter was also sent to British newspaper The Guardian in May, signed by Archbishop Desmond Tutu as well as a raft of other politicians and celebrities.
"UEFA is rewarding Israel's cruel and lawless behavior by granting it the honor of hosting the European Under-21 finals next month," the letter read.
"UEFA should not allow Israel to use a prestigious football occasion to whitewash its racist denial of Palestinian rights and its illegal occupation of Palestinian land."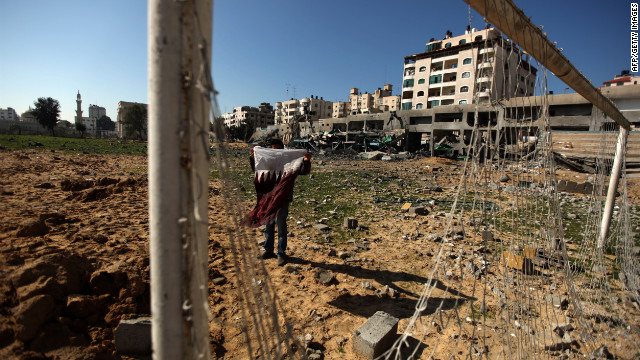 Palestine Stadium in Gaza City was bombed by the Israeli airforce last month during a conflict with the territory's ruling Hamas party.
Palestine's bid to be recognized as a state was bioosted last week when the U.N. General Assembly upgraded its status to non-member observer state -- a move which was opposed by Israel and the U.S.
Bilal Abu Samaan (right) and Ala Ayoub sit in the rubble of the bombed stadium.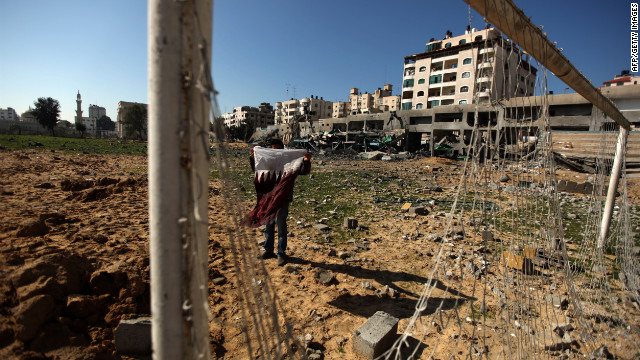 Soccer stars protest Gaza bombing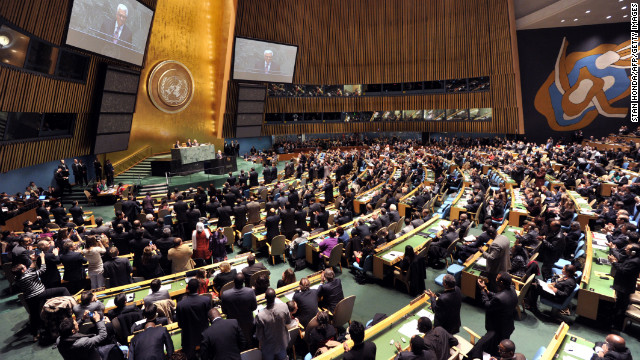 Palestinian Authority President Mahmoud Abbas is greeted by a standing ovation before speaking to the U.N. General Assembly about a vote on a resolution to upgrade the status of the Palestinian Authority to a nonmember observer state on Thursday, November 29, 2012, at U.N. headquarters in New York City.
Mahmoud Abbas gestures to members at the General Assembly after speaking.
Susan Rice, U.S. ambassador to the United Nations, applauds the speech of Ron Prosor, Israeli ambassador to the United Nations, before the vote.
Mahmoud Abbas makes his argument before the General Assembly.
Ron Prosor, right, Israeli ambassador to the United Nations, listens to the speech by Mahmoud Abbas.
Palestinian delegates are greeted by delegates from other member countries before the vote.
Mahmoud Abbas and the Palestinian delegates celebrate after the General Assembly votes to approve the resolution.
Palestinians celebrate in the West Bank city of Ramallah after hearing news of the successfully passed resolution at the General Assembly.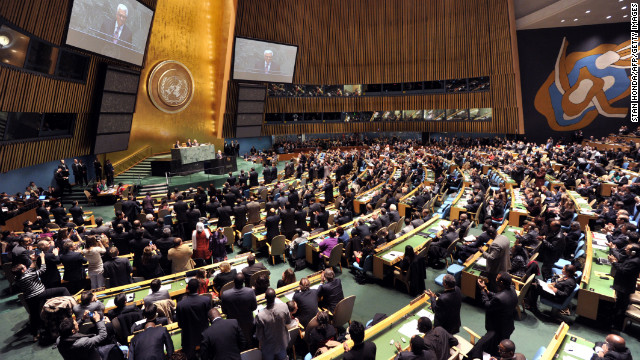 U.N. approves Palestinian upgrade
But, for some of those campaigning for a boycott of the tournament, they say the most damning evidence comes from Sarsak's own experiences while in detention.
"This (hunger strike) was the only way left to achieve my liberation," he claims. "The Israelis killed my hope, killed my dreams, killed everything. It was either to live in dignity or be buried underground."
Sarsak grew up in Rafah, a Palestinian city in southern Gaza, with little other than soccer.
"It runs through the family blood. All of my brothers played," he says.
"When I was growing up I looked up to Palestinian players. We didn't have TV so we didn't know anything of any international players. We looked up to them because they were so confident and happy. They made people smile. They brought spirit and life into the destructive places we were living in. That's what I wanted to do. Put smiles onto people's faces in such a hard place to live."
Read: FIFA wants action on hunger-striking player
It soon became clear that Sarsak had talent. At 14 he became the youngest player to represent the Rafah soccer team, and was called up for an international tournament in Norway. Soon he came to the attention of the Palestinian national team, which has been recognized by FIFA, soccer's global governing body, for more than 15 years.
But it wasn't until 2009 that Sarsak was offered a professional contract with a team in the West Bank. Finally he managed to secure the hard-to-come-by permit required by Palestinians to leave Gaza.
"I was delighted," Sarsak recalls of the day he left his home.
"Through football I would be able to help my family survive. I was on my way to establishing myself as an independent person. Building a home, building a family. The day before I traveled, all my friends came and celebrated. Everyone was delighted."
That dream turned sour. When he arrived at the Erez Crossing into Israel the situation quickly deteriorated, he said.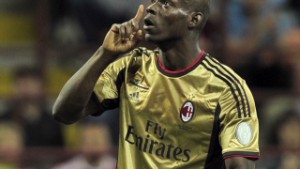 FIFA pass racism reforms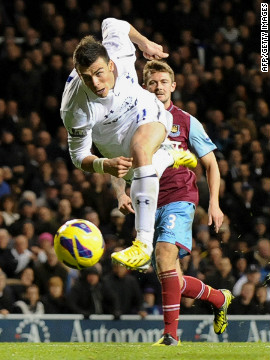 West Ham have already banned one fan for life after he was cautioned by police for "racially aggravated gesturing" during their match with Tottenham on Sunday. West Ham's fans are also reported to have aired songs about Adolf Hitler. The FA are to investigate. Tottenham won the game 3-1 with Gareth Bale (left) on the scoresheet.
Neither West Ham manager Sam Allardyce (L) or his Tottenham counterpart Andre Villas-Boas were keen to wade into the controversy. Allardyce told reporters at a post match press call: "I don't want to be a political animal -- I'm here to talk about football."
West Ham's Israeli midfielder Yossi Benayoun took to Twitter to express his view of the chants. He said: "I was very disappointed to hear some of the songs yesterday and it was embarrassing. But we need to remember that it was made by a minority group of fans and I'm sure the FA together with West Ham will do everything to find and punish them."
A group of Tottenham fans were attacked before their recent Europa League match with Lazio as they drank in the city center. One supporter is still in hospital suffering from stab wounds. West Ham's fans allegedly made reference to the incident in their chants.
A section of Lazio fans unfurled a "Free Palestine" banner during the 0-0 Europa League draw with Tottenham, which was marred by anti-Semitic chanting from the home supporters. Tottenham traditionally have a strong Jewish following.
Just last week Chelsea's complaint that Premier League referee Mark Clattenburg aimed racist language at midfielder Jon Obi Mikel was dismissed by the Football Association due to a lack of evidence.
Chelsea's John Terry (L) was found not guilty in a criminal court of racially abusing Queens Park Rangers defender Anton Ferdinand but received a four-match ban from the FA and a $356,000 fine for calling his opponent a "f*****g black c***."
Liverpool's Uruguayan striker Luis Suarez served an eight-match ban in the 2011/12 season for racially abusing Manchester United defender Patrice Evra. Suarez maintained his innocence but Liverpool were heavily criticized for their handling of the case.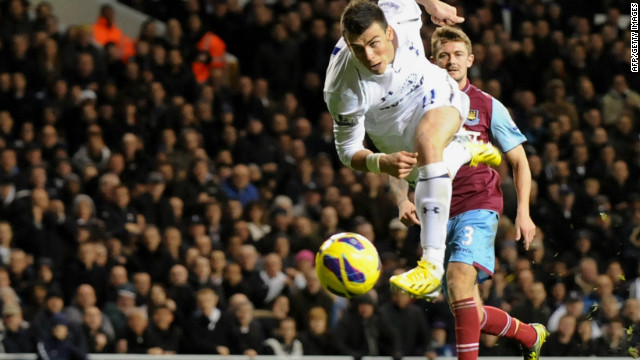 Hammers vow action on anti-Semitic chants
"A woman soldier and officer said I should go for an investigation. I wasn't worried as lots of people were being investigated," he said.
"I was surprised when my hands and legs were chained immediately. No-one else was. I thought, 'OK, something is happening.' "
It was the start of a three-year nightmare for Sarsak.
"They searched me and then put big black glasses on my eyes so I couldn't see. They took me with my chained arms and legs down into what felt like a big bunker underground. When I got there and took the glasses off I was sitting on a chair in front of an interrogator.
Read: FIFA grants Palestinian soccer $4.5M
"I was harassed, brutalized, hit on the head with the guns they were using. They took me off into an army center where they called my brother and told him I was in prison. I spent 45 days there. I saw death many times throughout that period."
Sarsak claims that during this period he was physically and psychologically tortured.
"A human being is being kept in a place not suitable for an animal. It is a two-meter-by-two-meter bunker," he recalls.
"Damp. No sun. No air. It is not a place where even animals should be. At first I had 18 days of investigation. I was chained to a chair. My eyes were closed. I was not allowed to sleep for 18 days. I was beaten up, humiliated. I was put in a fridge for a time where I was frozen almost to death and then straight from there to the hospital. Every time you go through these cycles you feel like you are going to die. And you could die at any moment under those conditions."
The Israeli authorities deny any allegation that Sarsak was tortured. "Any claims he was physically mistreated in any way are totally baseless," the senior security source said. They also believe that administrative detention is a vital, and legal, security tool.
"Administrative detention is legal under international law," Israeli government spokesman Mark Regev said when asked about the use of administrative detention and why Sarsak was not brought to trial.
Read: National soccer team without a nation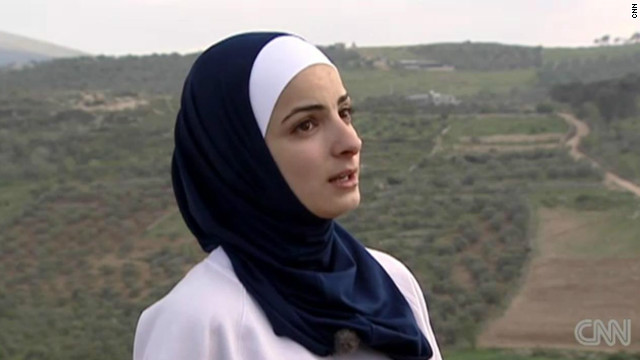 Woroud Sawalha will be one of four athletes competing under the Palestinian flag at the London Olympics, and the only woman.
Palestinian athletes have been training in substandard conditions against the backdrop of the region's continuing fight for independence from Israel.
The 20-year-old Sawalha competed at the world indoor championships in Turkey in March -- her first experience of top-level international competition.
Bahaa al-Farra, a 400-meter runner, has no proper track to train on near his home in Gaza and no starting blocks.
Al-Farra knows he faces an unequal struggle in London but he hopes to prove he can compete even without proper training facilities.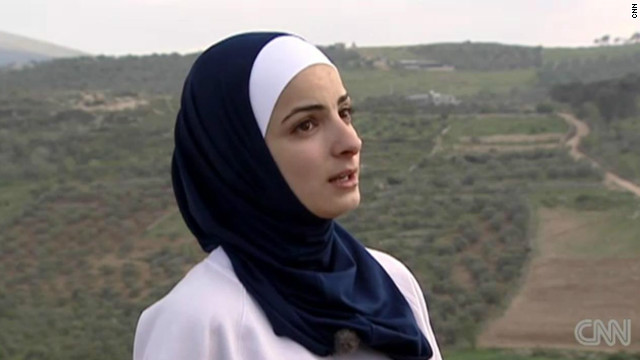 Palestinian athletes eager for Olympic chance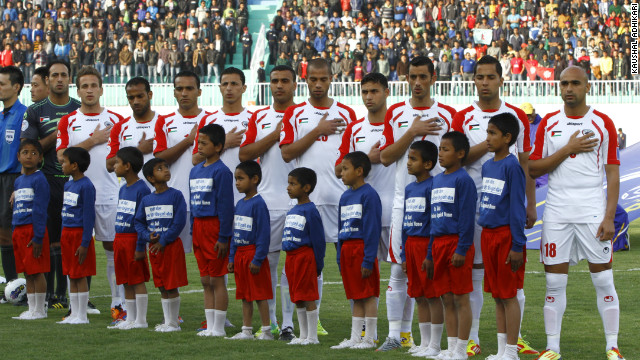 Palestine is one of 208 members of global football's governing body FIFA and is competing at the eight-team AFC Challenge Cup in Nepal.
Palestine took on Nepal in opening game of the AFC Challenge Cup on Thursday. The winner of the tournament will earn a place at the 2015 Asian Cup in Australia.
The Palestinian team celebrate their first goal against Nepal with members of the coaching staff on the touchline. Palestine won the match 2-0.
FIFA president Sepp Blatter pictured in Nepal on Thursday. He is seen here with Nepalese Prime Minister Baburam Bhattarai.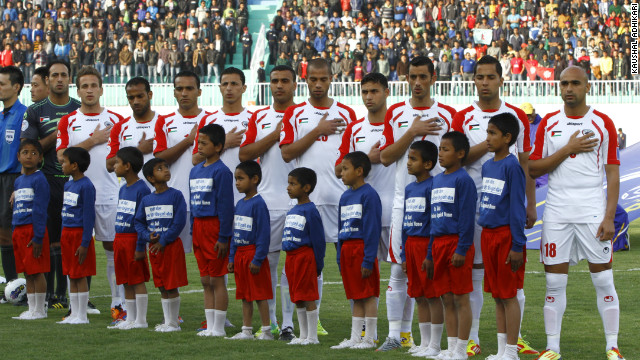 Palestine national football team
"We prefer not to use it, we prefer open court but sometimes this proves impossible. If you have sensitive intelligence material, hard-line terrorist groups will immediately and violently eliminate our intelligence sources. We use this sparingly. Where a situation like this arises we need to protect our security sources.
"The process is not arbitrary. There are checks and balances in place. You cannot be held for a few days before being brought before a judge. They can appeal all the way to the Supreme Court. The Israeli judiciary is fiercely independent and has no issue ruling against the government."
Sarsak maintains his innocence.
"If I actually had links with terrorists, why was I never charged? Never brought to trial justly?" he says.
"I spent three years in prison with no accusation. If I did have links I should have been brought to court. But in reality they had nothing on me. This was a false charge under which they kept me in prison. I lost three years of my life."
Back in London, later in the day, Mahmoud Sarsak joined a small but vocal protest outside the Grosvenor House hotel where the UEFA congress was taking place. He personally delivered the petition calling for the boycott of the tournament.
"I have great respect for the Palestinians," UEFA president Michel Platini told CNN when asked about the protests.
"We have solidarity with Palestinian football ... we have sent money, letters to press for the release of players and to get visas (but) Israel has just as many rights as anyone else to host a tournament. This shouldn't affect a youth tournament."
Read: Politics and football mix as Iran hosts Palestine
For the Israelis, the European Under-21 Championship is arguably the most prestigious international sports tournament ever held in the country. It is particularly poignant given that Israel used to be part of the Asian Football Confederation, even qualifying for the 1970 World Cup finals, until a boycott by its Arab neighbors forced the Israeli Football Association into the wilderness.
It was eventually accepted as a permanent member of UEFA -- European football's governing body -- in the 1990s. Tens of millions of dollars have been spent on hosting the tournament. Two state-of-the-art stadiums have been built, and two more renovated.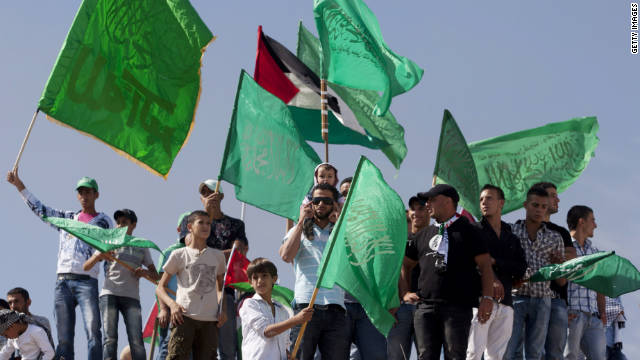 Palestinians celebrate the prisoner swap deal between Israel and Hamas on Tuesday, October 18. Israeli soldier Gilad Shalit was released Tuesday morning in exchange for 1,027 Palestinian prisoners.
Helicopters transporting Shalit and his family arrive in their home town of Mitzpe Hila, Israel, on Tuesday.
Israel freed 477 Palestinian inmates from Israeli jails shortly before Shalit was released, the first group of a batch of Palestinians being swapped for Shalit's freedom.
Shalit salutes Israeli Prime Minister Benjamin Netanyahu on Tuesday.
Israeli Defense Minister Ehud Barak, from left, Netanyahu, Gilad Shalit and his father, Noam Shalit, walk together at Tel Nof Airbase on Tuesday. Shalit was given medical checks that showed him to be in good health.
Israelis react after seeing the first images of Shalit on TV following his release.
Supporters of Shalit celebrate his release at his family's protest tent outside the prime minister's residence in Jerusalem.
Shalit learned about a week ago that he was going to be released, though he "felt it for the last month," he told Egyptian television after his release.
Palestinian prisoners cross to the southern Gaza Strip after being released from Israeli prisons.
A Palestinian prisoner hugs relatives as she speaks on a mobile phone in Ramallah, West Bank, following her release on Tuesday.
A Palestinian prisoner celebrates with relatives after being freed on Tuesday.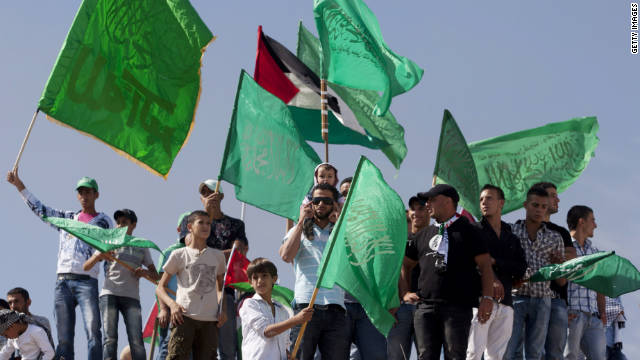 Israel, Palestinians exchange prisoners
"Four years of hard work by all involved are coming to fruition," Israel Football Association spokesperson Michal Grundland said.
"We hope viewers and tourists will see Israel for what it really is -- a vibrant country with a rich culture, an absolutely phenomenal place for young people and tourists to enjoy and have fun, peacefully -- and not what it is perceived to be from the way it is usually represented in the foreign media."
For many Israelis, talk of a boycott is counterproductive. They say soccer is one of the few areas in Israeli society where Arabs, who make up around 20% of the country's population, are well represented. Virtually every Israeli league side has Arab players, with the exception of Beitar Jerusalem -- one of Israel's best supported teams -- which has never had an Arab player on its team. Five Israeli Arabs have been called up to the Israel side for the tournament.
"(That is) a much higher percentage than in the general population," Grundland said. "Soccer in Israel is a uniting sport. Four of the five Arab Israelis in the squad will be part of the starting XI."
Read: American soccer star playing for Palestine
Yet, as the protesters chanted outside the Grosvenor House Hotel for the tournament to be stopped, others within Israel believe that boycotts harm the Palestinian cause. Only recently, distinguished British scientist Stephen Hawking controversially boycotted a major international conference in Israel over the treatment of the Palestinians, sparking a debate as to how effective such actions actually are.
"You call these groups calling for a boycott pro-Palestinian. They are not. They are nihilistic and anti-Israeli," said Regev.
"These groups calling for a boycott of football are the same groups who call for a boycott when the Israeli philharmonic orchestra plays overseas. They boycott Israelis. I challenge you to find one person calling for the boycott of this football tournament who isn't calling for other boycotts too. They demonize Israelis and harm the creation of a Palestinian state."
The two-week tournament, which began Wednesday with Israel drawing 2-2 against Norway, is expected to go ahead as planned. Sarsak will spend the next couple of weeks touring the UK, speaking at public meetings about his experiences and why he believes UEFA is wrong to allow Israel to host the tournament.
"Michel Platini came to Palestine and saw the real situation. He said that he will carry the Palestinian cause and would advocate against the oppression of the Palestinian people," Sarsak says.
"He has completely changed his mind. He has given Israel a present on a platter of gold by giving them the honor of hosting the tournament."
Sarsak has made a good physical recovery from his hunger strike. As the tournament kicks off, he says he is haunted by the memories of his detention, the time he has lost and the mental scars he still endures. But, one day, he hopes to play soccer again.
"I still want to pursue my dream," he says, "because the Israeli intention was to destroy my dream and stop me playing football."