In pictures: Onboard meals go flying as plane hits turbulence
June 5, 2013 -- Updated 1730 GMT (0130 HKT)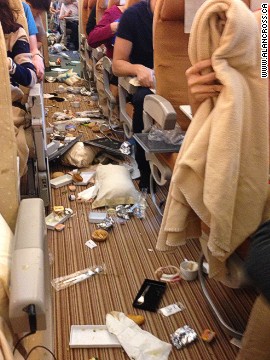 A Singapore to London flight suddenly dropped 20 meters after breakfast was served, leading to chaotic scenes onboard.
Cabin crew were told to return to their seats mid-way through the meal service.
Passengers snapped pictures of the in-flight chaos, and reported meal trays and even some people hitting the ceiling as the turbulence struck.
Coffee is served -- on the ceiling.
Minor injuries to passengers and crew were reported by the airline.
Singapore Airlines staff were commended for the way they handled the incident, and for how quickly they got everything back in order.
You'd hardly know anything had occurred after the clean-up operation.
Passengers were given luxury chocolates on landing -- the perfect panacea to in-flight meal mayhem.
Meal mayhem at 30,000 feet
Meal mayhem at 30,000 feet
Meal mayhem at 30,000 feet
Meal mayhem at 30,000 feet
Meal mayhem at 30,000 feet
Meal mayhem at 30,000 feet
Meal mayhem at 30,000 feet
Meal mayhem at 30,000 feet
STORY HIGHLIGHTS
Singapore to London flight dropped 20 meters leading to chaotic scenes during breakfast service
Minor injuries were reported on board the aircraft to passengers and crew
Passengers given compensatory chocolates on landing at Heathrow
(CNN) -- Images taken on a recent Singapore Airlines flight might suggest passengers had become unusually ferocious in their disdain for the onboard meal.
But this was no "Bugsy Malone"-esque food-flinging fiesta.
The plane hit turbulence shortly after breakfast was served, and the result was culinary carnage.
"Singapore Airlines flight SQ308 experienced moderate to severe turbulence en route from Singapore to London on 26 May," said airline spokesman Nicholas Ionides.
Brace yourself: Flights set to be bumpier, costlier
"Eleven passengers and one crew member sustained minor injuries when the aircraft experienced a sudden loss of altitude and were attended to by medical personnel on arrival at Heathrow Airport."
Passengers reported coffee cups, cutlery and even a few people were thrown about the cabin as the plane lost altitude.
Alan Cross, one of the passengers who took the images you see here, told CNN: "Everything violently rocketed off all the tray tables into the ceiling. You literally felt your stomach going into your throat."
The mess was cleaned up soon after and passengers were given chocolate gifts on landing in London.
In 2012: Turbulence injures passengers, crew as flight approaches Miami

Today's five most popular stories
Part of complete coverage on
November 16, 2014 -- Updated 2326 GMT (0726 HKT)

Take a trip to the Chinese town that has more relics than people.
November 13, 2014 -- Updated 1742 GMT (0142 HKT)
You know about reggae and Usain Bolt -- but you probably aren't aware of these other Jamaican superlatives.
November 14, 2014 -- Updated 1152 GMT (1952 HKT)

Artist creates brilliant tribute to Dutch impressionist painter -- a cycle route that glows in the dark
November 14, 2014 -- Updated 0633 GMT (1433 HKT)

European airlines beware: These 320kph trains are upping the travel game with roomy seats and onboard wi-fi.
November 24, 2014 -- Updated 0819 GMT (1619 HKT)

For such a relatively small collection of islands, the UK packs in an phenomenal range of beautiful scenery.
November 12, 2014 -- Updated 2237 GMT (0637 HKT)

Rovos Rail's epic trips out of South Africa pamper passengers with fine dining, vintage comfort and even a bathtub.
November 18, 2014 -- Updated 0137 GMT (0937 HKT)

Self-taught Iranian photographer gains rare access to shoot religious buildings as they've never been seen.
November 11, 2014 -- Updated 0345 GMT (1145 HKT)

The subject of erotica has a way of making people uncomfortable.
November 7, 2014 -- Updated 0037 GMT (0837 HKT)

UK's Heathrow Airport pairs destinations with fragrances to evoke long distance travel. We do too.
November 6, 2014 -- Updated 2100 GMT (0500 HKT)

Bumper cars, a freefall simulator and robot bartenders are just a few of the cool features on Royal Caribbean's new Quantum of the Seas.
November 2, 2014 -- Updated 2258 GMT (0658 HKT)

Up in the mountains and across deep chasms, these bridges are both spectacular and terrifying.