In pictures: Onboard meals go flying as plane hits turbulence
June 5, 2013 -- Updated 1730 GMT (0130 HKT)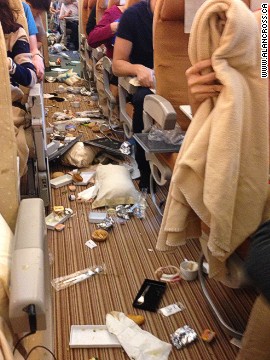 A Singapore to London flight suddenly dropped 20 meters after breakfast was served, leading to chaotic scenes onboard.
Cabin crew were told to return to their seats mid-way through the meal service.
Passengers snapped pictures of the in-flight chaos, and reported meal trays and even some people hitting the ceiling as the turbulence struck.
Coffee is served -- on the ceiling.
Minor injuries to passengers and crew were reported by the airline.
Singapore Airlines staff were commended for the way they handled the incident, and for how quickly they got everything back in order.
You'd hardly know anything had occurred after the clean-up operation.
Passengers were given luxury chocolates on landing -- the perfect panacea to in-flight meal mayhem.
Meal mayhem at 30,000 feet
Meal mayhem at 30,000 feet
Meal mayhem at 30,000 feet
Meal mayhem at 30,000 feet
Meal mayhem at 30,000 feet
Meal mayhem at 30,000 feet
Meal mayhem at 30,000 feet
Meal mayhem at 30,000 feet
STORY HIGHLIGHTS
Singapore to London flight dropped 20 meters leading to chaotic scenes during breakfast service
Minor injuries were reported on board the aircraft to passengers and crew
Passengers given compensatory chocolates on landing at Heathrow
(CNN) -- Images taken on a recent Singapore Airlines flight might suggest passengers had become unusually ferocious in their disdain for the onboard meal.
But this was no "Bugsy Malone"-esque food-flinging fiesta.
The plane hit turbulence shortly after breakfast was served, and the result was culinary carnage.
"Singapore Airlines flight SQ308 experienced moderate to severe turbulence en route from Singapore to London on 26 May," said airline spokesman Nicholas Ionides.
Brace yourself: Flights set to be bumpier, costlier
"Eleven passengers and one crew member sustained minor injuries when the aircraft experienced a sudden loss of altitude and were attended to by medical personnel on arrival at Heathrow Airport."
Passengers reported coffee cups, cutlery and even a few people were thrown about the cabin as the plane lost altitude.
Alan Cross, one of the passengers who took the images you see here, told CNN: "Everything violently rocketed off all the tray tables into the ceiling. You literally felt your stomach going into your throat."
The mess was cleaned up soon after and passengers were given chocolate gifts on landing in London.
In 2012: Turbulence injures passengers, crew as flight approaches Miami

Part of complete coverage on
September 23, 2014 -- Updated 1007 GMT (1807 HKT)

Which cities provide the most memorable party times? A self-proclaimed "nightlife connoisseur" names his top 10.
September 22, 2014 -- Updated 0344 GMT (1144 HKT)

Whether you're looking for a post-meeting pint or a wild night out, creativity is on the menu at these hot Hong Kong venues.
September 23, 2014 -- Updated 1028 GMT (1828 HKT)

Artists and migrants are moving out as a once-crumbling neighborhood goes upscale.
September 20, 2014 -- Updated 0502 GMT (1302 HKT)

They irrigate our farms, are an important means of transport and a source of eco-friendly power.
September 19, 2014 -- Updated 0828 GMT (1628 HKT)

Open House festivals allow snooping in homes and landmarks normally closed to public
September 19, 2014 -- Updated 0422 GMT (1222 HKT)

Ancient competitions held and yurt town set up to rejuvenate nomadic cultures.
September 19, 2014 -- Updated 0102 GMT (0902 HKT)
Playful sea lions, fearless boobies and the only ocean-going lizards in the world -- these islands offer amazing experiences for naturalists and tourists alike.
September 18, 2014 -- Updated 1200 GMT (2000 HKT)

A foreign language can be the best aphrodisiac, so we traveled the world in search of the hottest accents.
September 23, 2014 -- Updated 0657 GMT (1457 HKT)

Hidden from the rest of the world for decades, Myanmar's Lethwei boxing is experiencing a revival globally.
September 17, 2014 -- Updated 1117 GMT (1917 HKT)

This aging cargo work whale makes more than 60 flights each week, carrying parts for all of the Airbus programs.
September 15, 2014 -- Updated 0026 GMT (0826 HKT)

Former brothels, public toilets and war bunkers now provide eccentric watering holes for those willing to drink deep.
September 12, 2014 -- Updated 0338 GMT (1138 HKT)

Whether filled with electric blue sulfur flames or hissing lava, these mega mountains offer incredible vistas.

Today's five most popular stories