In pictures: Onboard meals go flying as plane hits turbulence
June 5, 2013 -- Updated 1730 GMT (0130 HKT)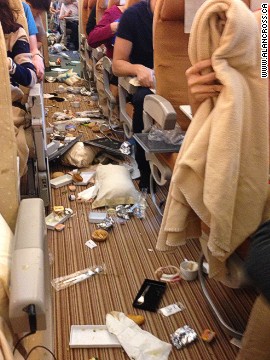 A Singapore to London flight suddenly dropped 20 meters after breakfast was served, leading to chaotic scenes onboard.
Cabin crew were told to return to their seats mid-way through the meal service.
Passengers snapped pictures of the in-flight chaos, and reported meal trays and even some people hitting the ceiling as the turbulence struck.
Coffee is served -- on the ceiling.
Minor injuries to passengers and crew were reported by the airline.
Singapore Airlines staff were commended for the way they handled the incident, and for how quickly they got everything back in order.
You'd hardly know anything had occurred after the clean-up operation.
Passengers were given luxury chocolates on landing -- the perfect panacea to in-flight meal mayhem.
Meal mayhem at 30,000 feet
Meal mayhem at 30,000 feet
Meal mayhem at 30,000 feet
Meal mayhem at 30,000 feet
Meal mayhem at 30,000 feet
Meal mayhem at 30,000 feet
Meal mayhem at 30,000 feet
Meal mayhem at 30,000 feet
STORY HIGHLIGHTS
Singapore to London flight dropped 20 meters leading to chaotic scenes during breakfast service
Minor injuries were reported on board the aircraft to passengers and crew
Passengers given compensatory chocolates on landing at Heathrow
(CNN) -- Images taken on a recent Singapore Airlines flight might suggest passengers had become unusually ferocious in their disdain for the onboard meal.
But this was no "Bugsy Malone"-esque food-flinging fiesta.
The plane hit turbulence shortly after breakfast was served, and the result was culinary carnage.
"Singapore Airlines flight SQ308 experienced moderate to severe turbulence en route from Singapore to London on 26 May," said airline spokesman Nicholas Ionides.
Brace yourself: Flights set to be bumpier, costlier
"Eleven passengers and one crew member sustained minor injuries when the aircraft experienced a sudden loss of altitude and were attended to by medical personnel on arrival at Heathrow Airport."
Passengers reported coffee cups, cutlery and even a few people were thrown about the cabin as the plane lost altitude.
Alan Cross, one of the passengers who took the images you see here, told CNN: "Everything violently rocketed off all the tray tables into the ceiling. You literally felt your stomach going into your throat."
The mess was cleaned up soon after and passengers were given chocolate gifts on landing in London.
In 2012: Turbulence injures passengers, crew as flight approaches Miami

Today's five most popular stories
Part of complete coverage on
October 28, 2014 -- Updated 0149 GMT (0949 HKT)

Luxury Action will turn your travel scripts into reality and film them. As long as you're willing to travel to this country ...
October 27, 2014 -- Updated 0913 GMT (1713 HKT)

As entertainment capital of the world, Los Angeles draws some of the best comic talent on the planet. Here's where to see it live.
October 27, 2014 -- Updated 0342 GMT (1142 HKT)

Not many people choose flights based on the quality of an airline's catering -- but those who do should check out Saveur's Culinary Travel Awards.
October 27, 2014 -- Updated 0251 GMT (1051 HKT)

On the island of rice, curry, tropical fruit and fresh seafood, eating is an honor to the taste buds.
October 23, 2014 -- Updated 1558 GMT (2358 HKT)

Sparsely populated (by humans at least), this East Africa country offers so much more than just Mt. Kilimanjaro.
October 24, 2014 -- Updated 1432 GMT (2232 HKT)

It's crowded and outdated, but Berlin's hexagon-shaped Tegel air hub has won a place in the city's heart.
October 23, 2014 -- Updated 0847 GMT (1647 HKT)

Shrine to a dead cat and a homage to fromage among Dutch capital's eccentric exhibitions.
October 22, 2014 -- Updated 0603 GMT (1403 HKT)

Slovenian Kickstarter project encourages travelers to hop on their suitcase and cruise through terminals to connecting gates.
October 20, 2014 -- Updated 1808 GMT (0208 HKT)

The guidebook asked staff, contributors and authors for well-known and lesser-known recommendations.
October 20, 2014 -- Updated 1607 GMT (0007 HKT)

An airport in Asia has stolen the crown from Manila's Ninoy Aquino, voted 'world's worst' three years in a row.